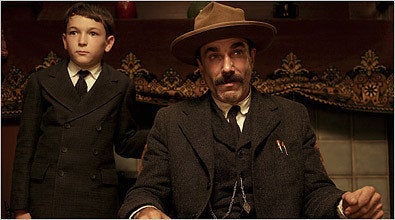 Daniel Day-Lewis is up for a best actor Golden Globe and is every list-maker's sure thing for an Oscar nomination in Paul Thomas Anderson's story of an oilman "There Will Be Blood," based on Upton Sinclair's 1927 novel "Oil!" Reviews are out as the picture opens in limited release, and they are all great.
The New York Times calls it "mesmerizing" and Lewis' performance "shattering":
With a story of and for our times, "There Will Be Blood" can certainly be viewed through the smeary window that looks onto the larger world. It's timeless and topical, general and specific, abstract and as plain as the name of its fiery oilman. It's an origin story of sorts. The opening images of desert hills and a droning electronic chord allude to the beginning of "2001: A Space Odyssey," whose murderous apes are part of a Darwinian continuum with Daniel Plainview. But the film is above all a consummate work of art, one that transcends the historically fraught context of its making, and its pleasures are unapologetically aesthetic. It reveals, excites, disturbs, provokes, but the window it opens is to human consciousness itself.
The New York Post goes as far as to call Lewis's performance the best of the century:
The best movie performance so far this century? No contest. There's Daniel Day-Lewis' awe-inspiring turn as a greedy oilman in "There Will Be Blood," and there is everyone else.

Between D-Day, the sheer ambition of Paul Thomas Anderson's historical epic and Robert Elswit's dazzling cinematography, this is a must-see movie - even though its emotional temperature rarely rises above freezing and the climax goes way, way, way over the top.
It looks like a period epic on the scale of "Giant" or "The Grapes of Wrath," but the larger-than-life subject of Paul Thomas Anderson's "There Will Be Blood" is one person - a loathsome, greedy, violent oilman played with mesmerizing brilliance by Daniel Day-Lewis.

Inspired by Upton Sinclair's novel "Oil!," Anderson's fifth feature follows its nasty antihero Daniel Plainview from his first mining discovery, in 1898 Southern California, to his Charles Foster Kane-like isolation in an empty mansion in 1927, the year Sinclair's novel was published.

Affecting the near spot-on vocal cadence of the late John Huston, Day-Lewis gives his most compelling performance since his Oscar-winning turn in 1989's "My Left Foot." But unlike that film's main character, the paralyzed artist Christy Brown, his character here - like Bill the Butcher in "Gangs of New York" - has no redeeming qualities.
The AP also loved it, and remarked over how Anderson has reinvented himself since "Boogie Nights" while highly recommending everyone see it in a theather:

But please do take the time to see it on the big screen, for Robert Elswit's sprawling, dreamlike cinematography; for Jack Fisk's elaborate production design; and for the modern, dissonant score from Radiohead guitarist Jonny Greenwood that will grab you and set you on edge from the first frames.

It's worth the emotional investment. "There Will Be Blood," which is both a threat and a promise, is one of those movies that will stick with you and change your mood for days.
Popular in the Community