On Tuesday the Columbia Journalism Review published a story entitled "Why aren't There More Minority Journalists?" It's an important question, and I'm glad CJR is asking it.
The statistics in the piece are pretty shocking. Between 1968 and 2014, "the number of black newsroom employees has increased from 'fewer than 5 percent' to 4.78 percent." In other words, it possibly hasn't increased at all.
The reason for the discrepancy between "minority" and white newsroom hires (I say "minority" in quotes because, statistically speaking, white people don't have much time left as the majority in America) isn't that fewer non-white candidates study journalism or apply for positions on the ground floor, as Ben Williams of New York Magazine once speculated. It's that fewer of them get hired, even though they apply at a similar rate to white candidates.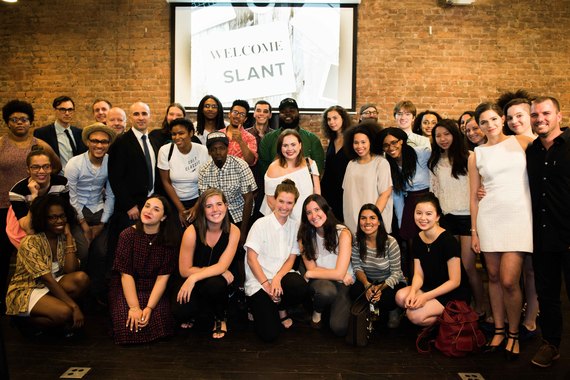 A group of Slant's staff writers and editors at our launch gathering, July 2015.
So the question, "Why aren't there more minority journalists?" actually has a concrete answer. And from the data, it looks like that answer is racism.
Recently, speaking about digital media at a conference, my fellow panelists and I were asked how we would fix the diversity problem in online news. I promised that at Slant, diversity wouldn't just be one priority among many; it is and will continue to be a top priority, never a conversation to shy away from.
The majority of full-time newsroom positions at Slant are currently occupied by editors who are not white. Over half of the individuals who have bylines on Slant - the writers, photographers, and videographers we publish - are not white.
Things aren't set up this way because of some kind of awkward, guilty mission to "add diversity" to the newsroom, which is the tone of conversations around diversity at many news outlets. Slant looks the way it does for two reasons.
1. Those are the people who applied for positions.
Plain and simple: the people who have positions on staff or writing for Slant demographically reflect the pool of candidates who applied for them. Considering the applicant pool, it would've required engineering on my part to avoid recruiting a diverse group of editors and journalists, not the other way around.
2. Audiences are demanding more diversity.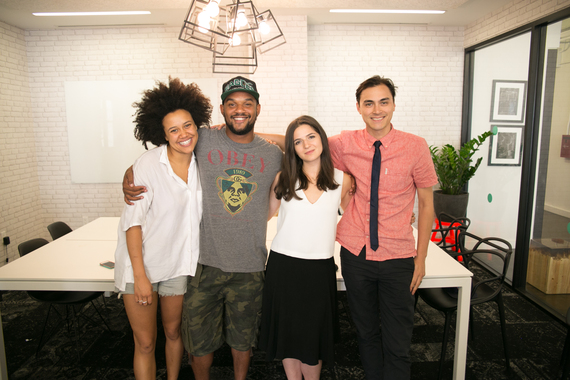 Editors: Jess Dickerson, Kyle Harvey, me, Daniel Johnson-Kim. Photo: Lauren Kallan
I know quite a few reporters and editors who are straight, white men, and who do a great job covering issues around race, gender, and ethnicity. I don't think you have to be black to add meaningfully to conversations about say, Ferguson or Baltimore.
But on the other hand, it really helps to know your subject. If a white police officer pulls a gun on a black teenager in a swimsuit, for instance, younger audiences in particular don't just want to hear about it from a white guy. The experience of growing up as a minority, and as a result, perhaps having a different relationship with authority, informs and enriches a journalist's reporting.
Young audiences are right to care about who's writing their news. They're right to be skeptical when a single version of events - one person's slant - is presented as authoritative. We need people talking about diversity in media, but at the end of the day, change won't happen because of a sanctimonious speech or an office memo. Diversity will come to newsrooms as more readers demand it, and the outlets that don't respond to this increasing demand will get left behind.
Popular in the Community