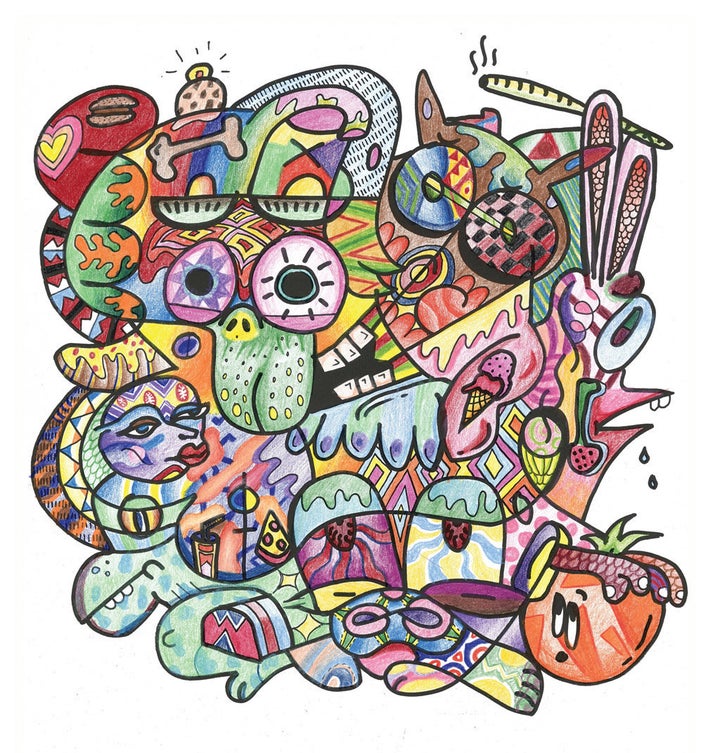 When contemplating the activities and accessories that best compliment marijuana, certain things flock to mind: pizza, "Planet Earth," philosophical discussions about modes of perception, pizza. You might not, however, have considered channeling your inner kindergartener and getting lost in the thick lines, intricate patterns and infinite possibilities of a coloring book. Until now. 
If it feels a little wrong to bust out your first grade coloring book while baked, worry not. Jared Hoffman's The Stoner's Coloring Book: Coloring for High-Minded Adults is the perfect combination of relaxing nostalgia and tripped out inspiration for the weed lover in your life. You'll never want to reach for the remote again. 
"As far as a coloring book specifically for stoners, it's about intuitive entertainment for high people that is easy, creative, and not totally devoid of meaning," Hoffman explained to The Huffington Post.
"Often when you get stoned you find yourself doing nothing for hours on end. And there's nothing wrong with that! But this is a way of doing nothing that exercises your creativity and makes you feel productive, plus you get a beautiful piece of art out of it. And coloring all these psychedelic pictures is doubly absorbing if you're baked. Out of personal experience I can say that it is hard to stop coloring once you've started."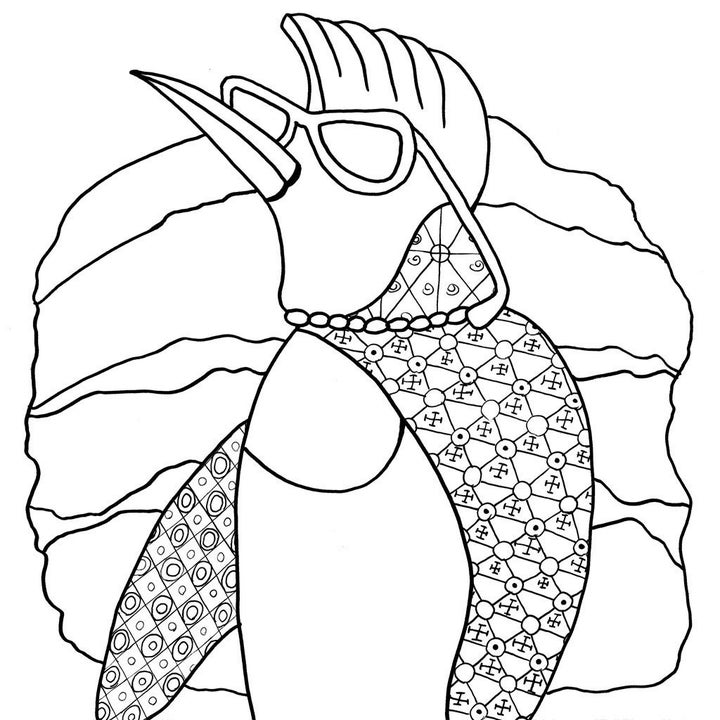 Hoffman is currently raising funds on Kickstarter to make his stoner fantasy more than just a pipe dream. He hopes to raise $6,420 by August 14, and if he makes it to $12,420, the book will feature a foil-blocked cover, perforated and bleed-proof pages and a rip-out pack of rolling papers. 
Hoffman has enlisted the help of many artists to contribute to his artistic vision, which combines psychedelic and graffiti-influenced styles to create melting black-and-white visions just begging for vibrant saturation. The Kickstarter budget exists, in part, to pay the artists for their work. If you're an artist who wants your high-minded designs featured, email Hoffman at stonerscoloringbook@gmail.com.
So, who is Hoffman's favorite artist to ogle while getting lit? "This is probably cliche, but my favorite has to be Vincent van Gogh. Those brush strokes are just so mesmerizing! Dude was definitely trippin' on something. I mean, he was Dutch." 
Bonus: for all the creative stoners of the world, let the following scenario float through your brain: "I would say my perfect coloring environment would be this: coloring while holding a blunt in my left hand, while sitting in a jacuzzi, with Seal singing 'Kiss From a Rose' barbershop quartet style just to the side." 
See a preview of Hoffman's 18+ coloring book below. 
PHOTO GALLERY
Outside The Lines, A Coloring Book
Calling all HuffPost superfans!
Sign up for membership to become a founding member and help shape HuffPost's next chapter