The atmosphere at the Capitol on Wednesday was beyond surreal.
Here was Gov. Bruce Rauner, nearly nine months into the 2016 budget year with no 2016 budget in sight, back at the Illinois House podium delivering his Budget Address for the 2017 budget year. His speech had much the same message as last year's -- "I won't support new revenue unless we have major structural reforms to grow more jobs and get more value for taxpayers. I'm insisting that we attack the root causes of our dismal economic performance," he said. But this year there was a twist.
On Wednesday he gave the Democrat-dominated General Assembly two choices:
Work with him to implement some of his Illinois Turnaround agenda items (term limits, legislative redistricting reform, lawsuit reform, workers' compensation reform, local control of collective bargaining, a property tax freeze) and he'd help pass tax increases to avoid deep cuts or
Grant him power to make cuts and move money around as he sees fit
After the speech, the General Assembly's Democratic leaders -- House Speaker Michael Madigan and Senate President John Cullerton -- were every bit as dismissive of Rauner's reform agenda as they were last year.
Madigan said Rauner was focused on an "extreme right agenda, which is based in extreme right economic theory that thinks that the government ought to be used to drive down wages and the standard of living." He later added that "no one in America has followed that theory since 1933."
Cullerton said Rauner's speech wasn't a Budget Address so much as "sketches for a budget."
Cullerton was dismissive of Rauner's oft-stated claim that, in the spirit of compromise, he has withdrawn many of the items on his Illinois Turnaround agenda.
"To the extent that he had 50 radical things and now he's down to three radical things I guess that's supposed to make me try to meet him in the middle," Cullerton said.
And that's where we are today, folks. Our community colleges and universities are no closer to seeing any state funding in FY 2016 than they were on July 1, when the fiscal year began. Those private non-profits that provide services to the disabled, elderly and otherwise disadvantaged are no closer to getting paid for work they've done under state contracts.
At a briefing on the budget after Rauner's speech, budget officials said it's likely that the FY 2016 budget may never exist. We may simply move on to FY 2017. Colleges will have to pick up the pieces and carry on. Students who were promised MAP grant financial aid for the 2015-2016 school year will be out of luck. The human services providers who survive beyond July 1 will need to start over financially.
Since this is an unprecedented situation, no one in the Capitol seemed to know how it would play out.
Rauner's budget offers a bottom line for each of the choices he laid out in his speech. In Option 1 (pass Turnaround reforms), the total budget would be $36.3 billion, with Rauner agreeing to roughly $3.5 billion in new revenue. Option 2 is a $32.8 billion budget created unilaterally by the governor.
Also included in Option 1 are a set of state government changes and reforms Rauner says will bring both immediate and long-term savings. Among are the sale of the James R. Thompson Center in Chicago, reducing the state's prison population, changing the state's procurement system and upgrading state government's outdated and inefficient information technology systems. Some would require passage of legislation to take effect while others, like changing overtime and pay raise policies, are part of negotiations between Rauner and the state government's largest employee union, AFSCME Council 31. (See chart below.)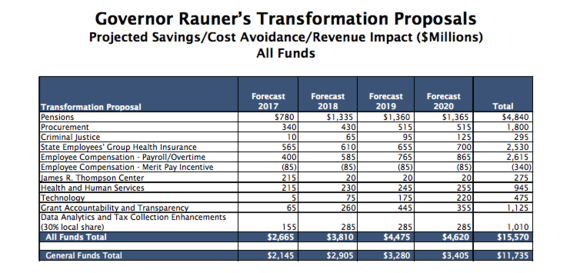 After spending Wednesday in the Capitol listening to people on both sides, however, my money says Rauner is going to end up with Option 3: No Turnaround Agenda items passed by the General Assembly in a form he finds acceptable; no granting of special authority to unilaterally create a budget, and -- as has been the case ever since he took office -- no recognition by the majority Democrats that any of his Turnaround components would help the Illinois economy one iota in the short- or long-term.
As I've noted before, the philosophical divide here is so wide that there's really no point in talking about one side meeting the other halfway.
There are, however, many ways of changing the script to achieve ends amenable to both sides. Charlie Wheeler, director the Public Affairs Reporting program at the University of Illinois-Springfield and a longtime Chicago Sun-Times Statehouse bureau chief, outlined many of them in Illinois Issues magazine way back in September. Here's one example:

To move the (workers' compensation) discussion forward, why not return to a practice quite common in years past, the agreed bill process? Representatives of business and labor used to meet on workers' compensation, unemployment insurance, and similar issues to hash out their differences and craft compromise legislation that completely satisfied neither side but which both could accept. Once business and labor signed off, the legislature and the governor would enact their work product. In similar fashion, the process today could combine, for example, tighter definitions for workplace injuries with closer oversight of insurance companies.
Unfortunately, the atmosphere in Springfield at the moment has reached such a toxic state that sensible compromises crafted in this manner simply are not discussed. Or they're dismissed as "non-budget issues" to be dealt with only outside the context of the budget (or budgets, as is now the case in our 2016-2017 budgetary netherworld).
Chicago State University students, whose school may close its doors next month if no state funding arrives, protested at the Capitol on Wednesday. They made sufficient noise to be heard in the House chamber during Rauner's speech.
Good for them. If anyone in that chamber believes those voices are merely the sound of unfortunate but necessary collateral damage in a battle of ideologies, Illinois is in bigger trouble than we ever imagined.
Calling all HuffPost superfans!
Sign up for membership to become a founding member and help shape HuffPost's next chapter