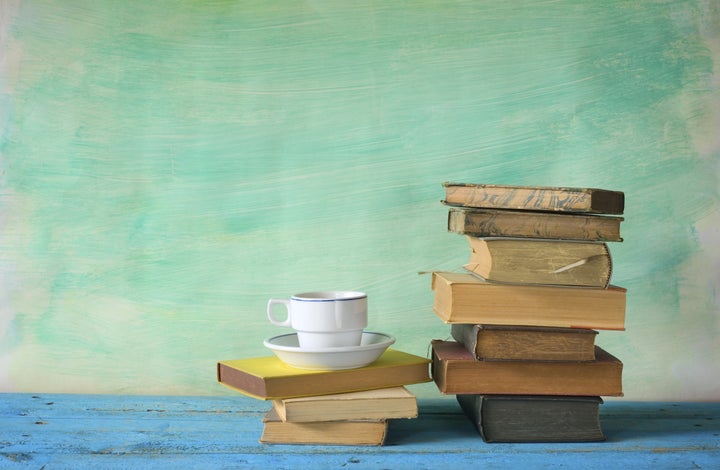 In fact, most literary types are pretty proud of the practice, steadfast in their desire to stuff shelves to maximum capacity. They're not looking to stop hoarding, because parting with pieces of carefully curated piles is hard and stopping yourself from buying the next Strand staff pick is even harder. So, sorry Marie Kondo, but the books are staying.
The desire to buy more books than you can physically read in one human lifetime is actually so universal, there's a specific word for it: tsundoku. Defined as the stockpiling of books that will never be consumed, the term is a Japanese portmanteau of sorts, combining the words "tsunde" (meaning "to stack things"), "oku" (meaning "to leave for a while") and "doku" (meaning "to read").
We were reminded of the term this week, when Apartment Therapy published a primer for those looking to complete book-hoarder rehab. Several blogs have written on the topic before, though, surfacing new and interesting details about the word so perfect for book nerds everywhere.
While most who've written on the topic of tsundoku use the word to describe the condition of book hoarding itself, The LA Times used the term as a noun that describes the person suffering from book stockpiling syndrome, or "a person who buys books and doesn't read them, and then lets them pile up on the floor, on shelves, and assorted pieces of furniture."
Tsundoku has no direct synonym in English, Oxford Dictionaries clarified in a blog post, defining the word as "the act of leaving a book unread after buying it, typically piling it up together with other such unread books." An informative subreddit provides even more context, explaining that "the tsundoku scale" ranges from just one unread book to a serious hoard. "Everyone is most likely to be 'tsundokursed' one way or the other," it warns.
According to Quartz, tsundoku has quite a history. It originated as a play on words in the late 19th century, during what is considered the Meiji Era in Japan. At first, the "oku" in "tsunde oku" morphed into "doku," meaning "to read," but since "tsunde doku" is a bit of a mouthful, the phrase eventually condensed into "tsundoku." And a word for reading addicts was born.
Speaking of addictions ― the term "bibliomania" emerged in England around the same time as "tsundoku." Thomas Frognall Dibdin, an English cleric and bibliographer, wrote Bibliomania, or Book Madness: A Bibliographical Romance in the 1800s, outlining a fictional "neurosis" that prompted those suffering from it to obsessively collect books of all sorts.
Bibliomania has a dark past, documented more as a pseudo-illness that inspired real fear than a harmless knack for acquiring books we won't have time to read. "Some collectors spent their entire fortunes to build their personal libraries," Lauren Young wrote for Atlas Obscura. "While it was never medically classified, people in the 1800s truly feared bibliomania."
Tsundoku seems to better capture the lighter side of compulsive book shopping, a word that evokes images of precariously stacked tomes one good breeze away from toppling over. While there's no English equivalent quite as beautiful, no one's stopping you from incorporating the Japanese word into your regular vocabulary.
"As with other Japanese words like karaoke, tsunami, and otaku, I think it's high time that tsundoku enter the English language," Open Culture wrote in 2014. "Now if only we can figure out a word to describe unread ebooks that languish on your Kindle. E-tsundoku? Tsunkindle?"
Popular in the Community