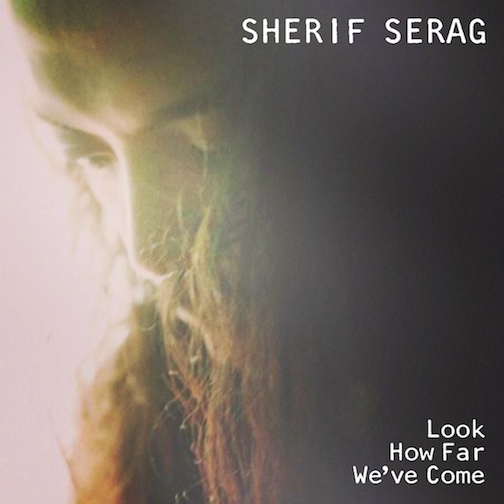 Maybe, I get a chance to breathe
Because fear is a suffocating thing
And, maybe I get a chance to see
Because love can be a very blinding thing
--Sherif Serag: "Suffocating Thing"
Singer/songwriter/musician Sherif Serag and I are sitting in his producer Omer Avni's Los Angeles studio, listening with joy to the final versions of the five tasty cuts that make up his first solo EP, Look How Far We've Come. Some of his genuine tunes have Top-40 potential written on them, and it's obvious that the American-raised but Egyptian-born musician and his Israeli-born producer/musician have combined to create some music magic.
Producer Omer, who has helped shape the musical dreams of a diverse group of artists, leans back from the audio console and smilingly says, "I'm a big fan of Sherif's honesty. Admitting to one's fears makes Sherif a brave songwriter and a rare bird in today's music scene. What separates him from many is one word, depth."
Blushingly modest Sherif cites a diverse array of influences from Middle Eastern rhythms, trumpeter Stan Getz's jazz stylings, legendary rappers Bone Thugs-N-Harmony, ska-punkers The Hippos, to Bob Dylan's heartfelt-confessions and observations, and Elvis Costello's quirky but brilliant tunes.
And while listening to his new EP, which will be released January 20 when he performs a record release party at The Viper Room in Los Angeles, I heard everything from a Pink Floyd-like "Wish You Were Here" opening to "Suffocating Thing" to its closing McCartney-esque plaintive vocals. There's also the GNR/Slash-like bluesy guitar (played by Omer) in the anthemic power ballad, "Home"; to the rousing sing-a-long of "Finally"; to the infectious, upbeat title song "Look How Far We've Come."
Hell hath no fury than that of an ego scorned
No life is lived better, than one constantly being born
--Sherif Serag: "Look How Far We've Come"
Listening to his lyrics and to what Omer said about Sherif's honesty, I asked him about what he inspired him about iconic Bob Dylan:
Growing up, when I discovered classic artists like Bob Dylan or Elvis Costello, I really got obsessed with lyrics, with the truthfulness of what they were singing. While I try to put a lot into my music, from the different influences I've had, the songs are lyric driven, you know, telling a story. But I learned how to play guitar listening to Green Day on the album Dookie, and I learned the guitar parts without taking lessons. I always wanted to do things like that, music that people can just pick up and play, nothing too complicated, so where most of the importance is in the message. A lot of mainstream music today isn't very lyric driven. My very cool mom introduced me to music, and back in her time, people bought records and pulled out the inner sleeves like it was a special surprise, and they wanted to read the lyrics, and know all the words.

Sherif wanted to play drums because of his childhood love of exotic Middle Eastern and Brazilian rhythms, but his first instrument was an Ovation guitar that he initially didn't even have an amp for. He talks about his early interest in songwriter Dylan:
One of my top Dylan records is Blood on the Tracks, which featured 'Tangled up in Blue', 'Shelter from the Storm,' and also my favorite 'Simple Twist of Faith' -- songs with real melodies, and words with some sense to them. 'Simple Twist' is like a masterpiece of simple but profound songwriting. A lot of his songs are sheer poetry but that particular one inspired me to take my lyric writing seriously, just because he puts some honest even painful thoughts and feelings so plainly and yet so powerfully. And it reaches in and grabs you. So that's what I try to do in music and performance.

Speaking of performance, Sherif and I drove along the famous Sunset Strip past legendary venues he's played many times before -- the Roxy, Whiskey, Avalon (Palace), and The Viper Room. He talks about when he was about 14, and the first show his mom let him go to -- a performance by The Hippos at the Roxy -- explaining, "I was blown away by their energy, and felt that's what I wanted to do. That changed my life."
He's actually played with a number of bands and modestly admits to becoming fairly popular on the LA music scene but he felt he needed to learn more about the business side of music. He attended the Musicians Institute, explaining:
They had an independent artist's program that teaches you about promotion and advertising, which is so relevant today with everything revolving around the Internet, YouTube, and social media. When I first started, maybe 15 years ago, it was about flyers you'd print up at Kinko's, hand them out, paste posters on walls, and sell CDs out of the back of your car -- which even megastars like Jay Z started with. Then the digital world kicked in and changed everything.

Now armed with more knowledge, Sherif says about the message of his EP, which will be available for download and on a special edition CD on January 20:
It's about accepting change and not wanting or feeling the need to constantly control -- kind of let things come, the good with the bad. So mostly accepting change is the thread through it...you can't control much in life.
Sherif's also now got a terrific tight-knit group together, including percussionist Eyal Dahan, bassist Jacob Delott, keyboardist Adam Peri, and his producer Omer Avni on guitars. Of his producer, Sherif enthuses:
Omer has what I lack, he has an ear for details. He comes in and adds in layers, like quick but cool solos, and makes it really sound fuller. He's an incredible producer and also a fine musician, so he sees it from that viewpoint, not from an engineer's point. He plays all the lead guitars on my new EP. He understands the artist and helps make the artist's stamp clear.

Ashley Jude Collie is a big fan of Sherif Serag's music and lyrics.
Popular in the Community