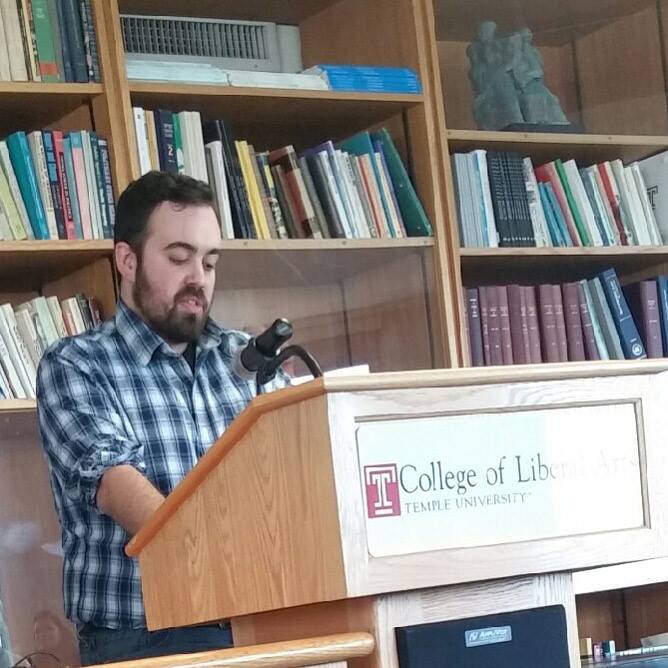 The young and extremely talented Josh Dale celebrates the second anniversary of his publishing imprint, Thirty West, and the following conversation comes out of this otherwise reticent gentleman.
Kiriti Sengupta: Founding a publishing imprint has become a trend with poets, especially in India. Is this the same in the US? Why did you establish The Thirty West?
Josh Dale: There are countless journals and presses within the U.S. that span every genre and niche imaginable. A simple hashtag chain on Twitter will reveal plenty. As far as my personal reasons for Thirty West Publishing House, it can get a bit convoluted, since my mental state has changed multiple times in the past 2 years. An unfortunate experience with a vanity press--along with some advisement from a close friend and a publishing course at Temple--became the catalyst of, what I assumed would be at the time, a self-publishing label. It was midway through 2016 that I decided to selflessly open the arms of my budding editorial talents to others. To date, we (TW Publishing) have published 6 authors independently, 8 poets in a limited print run broadside project, and 4 poets in a small anthology. 2018 is hoping to match or even double our roster of talented and passionate authors.
Sengupta: Owners of the small presses often claim that they publish and promote young talents. As the owner of The Thirty West do you claim the same? How quality conscious are you when it comes to publishing one's maiden book?
Dale: I am aware of that label, particularly Teen Sequins (an imprint of Gigantic Sequins). It is a wonderful thing to promote young talent, especially in such a sporadic world we currently live in. I was offered a juror position for the upcoming Scholastic Art and Writing Awards for 2018, which will certainly broaden my horizons on the youth scholars and prodigies of our time. As of now, we've published, and are currently in conversation with, adult authors, so I haven't considered Thirty West a label for the youth. However, I have hosted many poetry readings, boasting young talent in the open mic portion. On the point of 'quality-consciousness', I feel that answer can go in any which direction. All publishing venues have their baseline opinion on the work, that's just inherent. My masthead and I strive to make unanimous decisions on who to publish. I value their opinions as much as my own; without Chanel, B., and Ash, we wouldn't be where we are now. However, like most, we do uphold a baseline on grammar, themes, and overall delivery of the work. Granted, there is a learning curve with first-time authors, but if the work is too far estranged from the intent, be it pre or post-editing, then we just may not be the proper fit for the author. Entertaining manuscript samples via Submittable helps the vetting process (as a majority of presses already know).
Sengupta: A full-length book of poems and a chapbook of poetry. As publisher who is also a poet, what is your preference?
Dale: Hand-made chapbooks dwell in our core and we believe them to be both an introductory approach to the community and a secular hit. It disheartens me when a critic denounces the value of a chapbook, especially upon a limited-print scale. I feel their opinions are skewed or pretentiously biased. Just because a work isn't perfect-bound and shelved at major retailers, doesn't lessen the aesthetic quality of the work. In the world of E-books and self-publishing ventures like Createspace and Lulu, the market is inundated with contents, which don't necessarily mean a good thing. Lack of regulation, editorial quality, and mass-appeal pipe dreams suck up our(small presses) pathways to the surface, thus trudging through to make sales and communities. Granted, the natural progression of our press is to delve into perfect-bound books (we've already birthed one), but we will still uphold our hand-made signature that many of our fans are accustomed to.
Anyone who arranges 26 letters on a page can be considered a poet or author. Granted, there are some poets for better and for worse, poets that are divided by circumstance, generational shifts, and natural-born talent, but at the end of the day, there's always a reader for every writer and vice-versa.
Sengupta: Does your author-self make you accessible/approachable to poets you publish? Or, is it the other way round?
Dale: Certainly. I feel that all creatives sprout from the same drive; the communication of thought and expression. We all have the instinctual neurology to some extent. I've been friendly with/played with musicians at a younger age. I currently gravitate around poetry and prose. The medium has changed, but the appreciation remains. Granted, being a publisher has augmented my 'status' or 'authority'. My peers ask me for tips on publishing, critiques on their work, and where to submit their work. It's fulfilling to help others, but every now and then, I perform a reality check: I log into my Submittable and see all the declined pieces. I, too, am constantly honing my writing by submitting, attending poetry readings, workshopping, attending conferences, and the like. I feel that social media may be handy for the establishment of a poet/author, but it's not the secular motive of creating. Respect garnishes respect, and I take offense to those who think a minuscule amount of work/insight will grant them a spot on the NYT Bestseller List. I know scores of people who are cognizant of 'punching the time clock' and devoting the time to create, regardless if they make a dollar or a dime. In short, if we turn off the internet, the world will shrink, so why not build a sturdy home in which people can stop by to say hello; to seek refuge in?
Sengupta: Would you like to share the ways you promote a poet and his/her book?
Dale: We at Thirty West focus on individualized attention we give to each author, typically every 3-4 months. If a limited-edition is desired, we provide a pre-designed questionnaire to learn more about our author's vision for the work. Straying not far from that, we like to provide as many edits as possible within our time constraints. Prose takes more time, naturally, but poetry can be streamlined depending on the author's progression. We take great pride in our cover and/or limited edition reveal to our readers. It's a special blend of craftsmanship, cooperation, and artistic prowess. We do boast our authors' publications at our reading series, Thirty West Presents, along with our web-based promotions.
Sengupta: Any plans to make The Thirty West a global name?
Dale: Thirty West has shipped publications globally and will be publishing, for the first time, two European authors (so far) in 2018. It is quite a leap forward, despite only being around for 2 years, but we wouldn't want to have it any other way.
Related
Popular in the Community