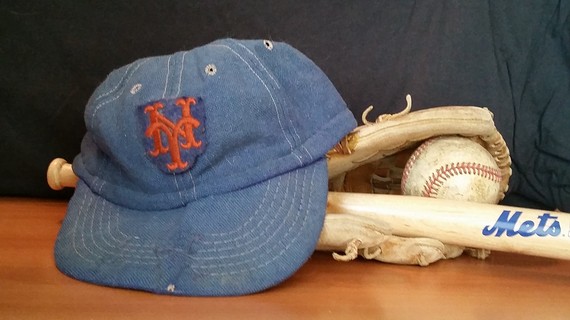 I don't know when I first became a New York Mets fan or for that matter why I became one. It was just always that way and something that seemed somehow predestined. Growing up in a household with three older brothers, all of whom are Yankees fans, this innate love for the orange and blue was sometimes very painful. You see, I was barely four years old when the 1969 Miracle Mets were "Amazin'''. My formative years as a baseball fan were sandwiched somewhere in between the "Ya Gotta Believe" Mets of 1973 and the brash 1986 Mets who miraculously stole Game 6.
The years when I donned my worn-out Mets cap and wore a baseball glove bigger than my head were lean years for my beloved team. I can recall playing catch with my brother long past dusk on a warm summer evening. We would stay out as late as we could, until the night sky became so dark that we could no longer see the ball. In those days, my radio, a virtual appendage, would be crackling that evening's Mets game. I would listen to my team, lose another game, as I threw the baseball and pretended I was a big leaguer striking out the Mets' opponents to win the ballgame. Nonetheless, they were my team and so, I quickly embraced the mantra of all Mets fans at the time; "There's always next year."
As the 2015 Mets clinched the division title, their first in nine years, a drought similar to the one I experienced as a young boy, I can't help but look back and wonder, "Why did I become a Mets fan?" A question usually reserved for that moment after I've uttered some choice expletives or hurled something at my TV screen. Was it the perpetual smile of Mr. Met who grinned no matter what was happening on the field? Was it my days of baseball cards at summer camp or the musty basement where I would sit on rainy days with my fellow campers, mesmerized as a film projector clanged out the black and white footage of the 1969 Miracle Mets? Was it some deep-seated psychological need to root for the underdog, the proverbial younger brother of New York baseball? Maybe it was their cheery uniforms of bright orange and blue with the logo of the majestic city skyline on the sleeve. Well, I don't have an answer to this question and I probably never will as my special bond with this team occurred long before I can even remember. I've often wondered if perhaps I never even chose to be a Mets fan. Maybe, somewhere along the line, the fallible yet endearing Mets chose me. Regardless I wouldn't change it for the world.
Every year as a young boy, I would hold out hope. I always thought that this would be the year; ignoring what experts or the baseball standings told me. I never gave up on the Mets until they were mathematically eliminated from the playoffs. Even then, I would look at the morning sports page half-expecting a retraction of the previous day's misprint that would leave my team in contention for first place. There was though, 1975, when I had my first glimpse into what it would be like to root for a winning team. By any standard, a less than stellar season, the Mets ended that year in fourth place, a mere 10 and half games behind the first place Pittsburg Pirates. That mediocre, yet better than I had previously experienced finish ignited in me a spark of hope. A hope that sustained me during a 10-year drought, when my lovable and underwhelming team finished in last place virtually every season.
Eventually as I grew older, my team began to have more success. No longer a boy, I was a young man of 20 when I cried tears of joy as I saw the Mets win the World Series for the first time in 1986. Since then, the Mets have had several successful years returning to the post season in 1988, 1999, 2000, 2006 and now 2015. Sure, they haven't won the World Series since 1986 and there have been some very disappointing seasons. Nevertheless, the years I spent rooting for this team, I learned an invaluable lesson about winning and losing. As a Mets fan, I have learned to be hopeful during the difficult years and to savor and appreciate the times when they are good. It is not always easy to remain hopeful; especially on that first day after the regular season ends when you know your team hangs up their cleats and puts up the "gone fishin'" sign. Nonetheless, this is the lesson we learn as a Mets fans because giving up on our team is not an option. This unrelenting optimism is something that the Mets have gifted me.
Baseball and particularly being a Mets fan can be painful but if we spend all our times lamenting over the losses we can lose sight of the wonderful moments that have happened on the way. As we head into the post season there is no way of knowing what will be the outcome. Will we see a miraculous game six as we did in 1986 or will we witness a deflating loss like the one we saw in 2006? Regardless of what takes place, I will be savoring every moment of every game and of every pitch in the post season. As we know these are special times that don't come around too often. This year as I watch another final game of another Mets season I will make the same statement I make every year, "There's always next year," except my hope is that next year we will start the season as Major League Baseball's reining champions. Let's Go Mets!
Calling all HuffPost superfans!
Sign up for membership to become a founding member and help shape HuffPost's next chapter