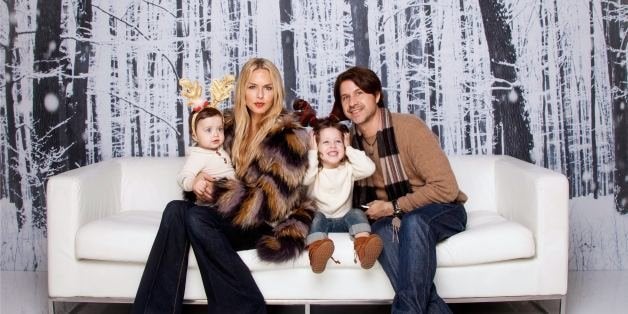 How has the family you came from shaped you and your vision of the future?
My family has always been supportive and loved me unconditionally throughout my life. They believed that anything was possible and taught me to always be fearless and pursue the things I was passionate about. Most importantly, they encouraged creativity and artistic expression. Without my family I don't think I would be where I am today.
What do you think we can all do to make the world a better place?
I believe that we must do everything in our power to affect change in our environment and take care of our earth. If we exercise environmental sustainability as much as we can and are more responsible and aware of the land that we live on, the world can be a much better place. As a whole we also need to be more philanthropic, both on a local and global level -- there is always something we can do to help.
Can you share a memory or influence from your mom, dad, an aunt/uncle, or grandparent that has impacted how you see the world?
When I was a child, my great Uncle Jerry, a World War II veteran who had earned a purple heart and numerous medals, would share countless stories. My other grandfather was a holocaust survivor who lost much of his immediate family. Having grown up listening to these stories, it put so much into perspective for me. They experienced tremendous hardship and displayed incredible resilience and integrity and remained so strong for their families. They reminded me to always be grounded and grateful for the basics -- food, shelter, safety and the freedoms that we sometimes take for granted. They are my true heroes.
How are you showing/teaching your children about the world around them, and about helping others?
I have been increasingly involved in Baby2Baby over the years, and in an effort to get my family more involved, I've recently had my son Skyler attend some of the Baby2Baby events with me. I am also involved in the Make-A-Wish Foundation and St. Jude's Hospital and often have Skyler and Kaius attend their events with me as well. There's nothing more rewarding than seeing them happy helping others. At the annual Baby2Baby holiday party this past year, Skyler gave away so many gifts and toys -- it was a proud moment to see him start to understand the importance of giving back. I'm so grateful to be involved in organizations like these where I can teach my sons to be hands-on and actively participate in philanthropy. It's something I want my kids to prioritize no matter how hectic life gets. Also this year my family is starting a new tradition -- every time my boys get a gift or a toy, I want them to donate something they already have.
What kind of world do you want for your family in 2030?
My greatest dream for the future is for an environmentally sound world. I hope people all over the globe can come together and make bigger strides in the environment and that we can all learn to prioritize the preservation of our natural habitat and live in a more eco-friendly and sustainable world. I wish for universal acceptance and understanding of all beliefs, religions and cultures. I want to envision the world in 2030 as a peaceful place, where individuality is embraced and people are not judged and persecuted for their differences.
You share, they give: Each time you 'like' or share this post via the social media icons on this post or comment below, Johnson & Johnson will donate $1 (per action) up to $300,000, to improve the health and wellbeing of moms and kids worldwide through MAMA, Shot@Life, U.S. Fund for UNICEF and Girl Up. $1 provides 1 life-saving measles vaccine for a child in the Philippines through Shot@Life.
* via the Donate A Photo app for iOS and Android. Johnson & Johnson has curated a list of trusted causes, and you can donate a photo to one cause, once a day. Each cause will appear in the app until it reaches its goal, or the donation period ends. If the goal isn't reached, the cause will still get a minimum donation.
Related