Just when you think you've seen it all...
In the US, we have vending machines that offer frozen snickers bars, condoms, and headphones for iPods.
In 2008, it was noted there were 5,263,900 vending machines in Japan. Almost half of their machines offer cold drinks, and some offer alcoholic beverages. They also offer eggs, electronics, and even adult videos.
Recently in the news, a German firm, TG-Gold Supr Markt, installed vending machines in the Frankfurt Airport. What does it dispense? You guessed it: gold bars!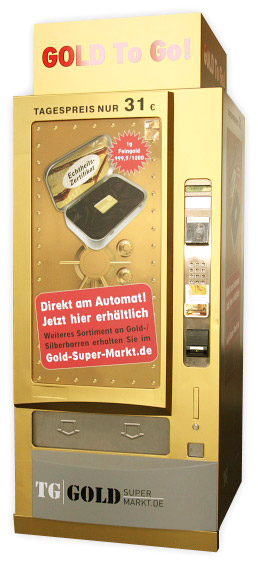 You can buy one-gram gold bars, 10-gram bars, and even gold coins. The prices will fluctuate by the hour just like the price of gold. They plan to add 500 machines throughout Germany and then open shop in the UK.
And to think I get excited when I see the machines with the frozen Drumsticks!
I wonder if the gold coins will be newly mint, or vintage? Hmmm.
If you are traveling through the Frankfurt airport and make a purchase, tell us about it here!
Happy Hunting!
Popular in the Community