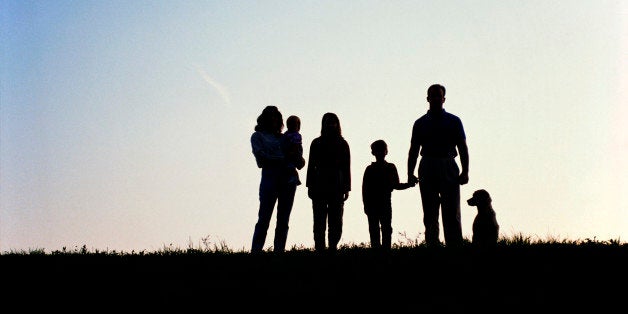 There is a saying that you can't choose your family, but I want to refute that claim. I have chosen my family, and our shared bond and love is as thick as any connected by blood. In fact, four out of every five families in this country do not consist of the two-parent, nuclear family. But they are families just the same. There is an undeniable trend in the U.S. for families to define themselves how they choose.
I know how important the American ideals are, and I love our country, which took me in and allows me to live my life freely as myself. And yet the U.S. lags behind on issues that are important to me, particularly when it comes to paid sick days and other workplace policies that support working families. We're currently scrambling to catch our policies up to the realities of our workforce. We must also make sure the definition of family catches up along with them.
I was born and raised in Malaysia. I came to the U.S. for college and upon finishing my degree, I feared returning to my home country. I'm transgender. The political and cultural climate of my home country was unsafe for me based on my sexual orientation, gender identity, and political beliefs. Fortunately, I was granted political asylum to stay in the U.S. and am proud to have called Portland, Oregon home for the last 7 years.
I am a living example of how our definition of family is growing and evolving as we do. In the course of my life's journey, I have been separated from every member of my blood family by 8,000 miles. Yet, I still lean on a family for support in times of distress and in times of celebration. So, I have built a family of affinity that is every bit as strong, committed, and caring as my blood family.
It is often issues of health that reveal the true bonds of family. When I had gender transition surgery it was my chosen family that took care of me, drove me to and from the hospital, and provided emotional support. It is my affinity-based family members who are named in my living will and health care directive.
Last month, Oregon became the first place in the U.S. to include an expanded definition of family in a piece of proposed legislation allowing all workers to use sick time to care for a loved one. The language in the bill would have allowed working Oregonians to use paid sick days they earned to care for themselves or their family "of blood or affinity." Such a landmark passage would have meant our statewide paid sick days legislation would extend to, among others, multigenerational families, families with unmarried partners and LGBTQ families.
This idea might be new to state legislatures but the nation's largest employer, the federal government, has used the "blood or affinity" standard in its internal employee regulations for over 50 years. With more than 2 million federal workers, it is especially noteworthy that the federal government has allowed workers to use paid sick days under this broad definition since 1994. That's over 20 years of recognizing families as they truly are!
Unfortunately, Oregon is going to miss its opportunity to be ahead of the curve and inclusive of all families. This language was dropped from the bill during the amendment process. Oregon has always been a leader for change, and I was proud that Oregon might once again be a role model for the nation. I'm disappointed, but hope that the rest of America still takes note.
It's time for national action on paid sick days and other measures that support all families and their ability to provide for and care for each other. The issue of workplace laws that allow us to do this is gaining traction -- from Oregon to New Jersey to the White House, state and city legislatures (and the President!) are taking up the call. But as we pass laws to help more families to thrive, instead of just survive, we must make sure that we don't leave any families behind.

Our families take many forms, including blended families, single-parent families, LGBTQ families, chosen families, multi-generational families, and multi-national families. As our families evolve, so too must the laws that protect us. Paid sick days bills recognize that we each need to be able to care for our loved ones without jeopardizing our livelihoods. Why are some families excluded from that? We need protections that allow workers to care for family members defined by "blood or affinity" so that we don't exclude families that don't fit into the outdated mold of the two-parent, nuclear family.
My family does not look like me. We don't share the same DNA. But our family ties are real and our economic stability is interdependent.
We must make sure the rights of each person and their families are equally protected. When families, based on blood or affinity, have the rights, resources and recognition they need to thrive, our community and economy will benefit from the resilience and stability these families foster. Oregon has started this conversation, but that's not good enough. I'm hoping that Oregon and other states across the country to take up the banner and ensure all families, no matter who's in them, can thrive.
Popular in the Community