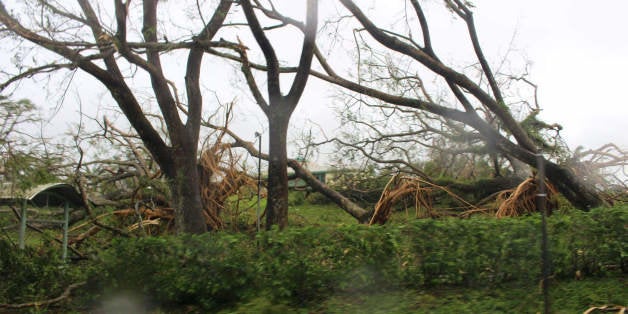 There are some things you can't adapt to. Earlier last March, as delegates from around the world were still debating the Sustainable Development Goals that will be presented later this month, Cyclone Pam slammed into the Pacific Island nation of Vanuatu.
The cyclone made landfall with wind speeds upwards of 200 miles per hour, enough to rip trees from the ground and send them hurtling through the air. The storm killed more than 20 people and displaced more than 3,300. Nine out of 10 buildings in the country were destroyed. In the aftermath, Vanuatu's President Baldwin Lonsdale told the BBC that the storm had "wiped out" all of the country's recent development gains and that they would have to rebuild "everything."
Vanuatu is not alone. Around the world, developing countries and vulnerable communities are learning that there is no such thing as sustainable development, or development of any kind, if we can't avoid the worst impacts of climate change.
Small Pacific Islands aren't the only countries at risk. India is already spending more on climate adaptation (nearly 2.8 percent of GDP) than on the entire health sector. And while developing countries are the most at risk, wealthier nations aren't immune, either. In California, the ongoing drought will cost the state's economy $2.7 billion and nearly 21,000 jobs this year. Meanwhile, Europe is largely failing to handle a refugee crisis that pales in comparison to the forced migration that could result from unchecked climate change. "You think migration is a challenge to Europe today because of extremism, wait until you see what happens when there's an absence of water, an absence of food, or one tribe fighting against another for mere survival," Secretary of State John Kerry warned at a climate conference in Alaska this summer.
The string of climate disasters unfolding around the world are a brutal reminder that we will never achieve the Sustainable Development Goals if we can't dramatically reduce greenhouse-gas emissions.
World leaders seem to recognize this reality, at least on paper. In the introduction to the goals, they write, "Climate change is one of the greatest challenges of our time and its adverse impacts undermine the ability of all countries to achieve sustainable development." They note with "grave concern" the significant gap between what's required to limit global warming below 2°C or 1.5°C and the emissions-reductions pledges that are currently on the table for the UN Climate Talks in Paris later this year. And they write poetically about our need to act, "We can be the first generation to succeed in ending poverty; just as we may be the last to have a chance of saving the planet."
Whether or not they rise to the challenge, however, is firmly TBD. Goal 13, the Climate Goal, comes with an asterisk acknowledging that the "United Nations Framework Convention on Climate Change is the primary international, intergovernmental forum for negotiating the global response to climate change." That's a wonky way of saying that the real work on climate won't happen under the Sustainable Development Goals, but within the framework that countries are looking to finalize this December at the UN Climate Talks in Paris.
That leaves a tremendous amount of work to do between now and the end of the year. So far, the world isn't on the right track. "Many countries will need to drastically alter policies in favour of people and planet if they take this new to do list for the planet seriously," explains Daniel Mittler, political director of Greenpeace International. "These goals will mean nothing unless governments at the Paris climate summit complete the task and agree to phase out fossil fuels and switch to 100 prercent renewable energy for all by 2050."
While the Sustainable Development Goals offered some beautiful poetry on climate change, the climate agreement in Paris will need to offer more straightforward prose -- and some hard-hitting numbers. How quickly will developed countries reduce emissions? Will they deliver the $100 billion a year in climate finance promised by 2020? Can they keep 80 percent of fossil-fuel reserves in the ground?
Over the coming months, 350.org and allies around the world will be embarking on the Road Through Paris to push for a climate agreement that moves the world away from fossil fuels -- and then keep pushing to make sure that transition actually happens in a just and equitable way. We're going to need your support. Whether it's divesting an institution you're a part of from fossil fuels or joining a major mobilization during the Paris Climate Talks, now is the time to get off the sidelines and into the game.
The stakes couldn't be higher. As Kiribati President Anote Tong said at a recent meeting of Pacific Island leaders, this fight is "not about economic development... it's not politics. It's survival."
This post is part of a series produced by The Huffington Post, "What's Working: Sustainable Development Goals," in conjunction with the United Nations' Sustainable Development Goals (SDGs). The proposed set of milestones will be the subject of discussion at the UN General Assembly meeting on Sept. 25-27, 2015 in New York. The goals, which will replace the UN's Millennium Development Goals (2000-2015), cover 17 key areas of development -- including poverty, hunger, health, education, and gender equality, among many others. As part of The Huffington Post's commitment to solutions-oriented journalism, this What's Working SDG blog series will focus on one goal every weekday in September. This post addresses Goal 13.
Calling all HuffPost superfans!
Sign up for membership to become a founding member and help shape HuffPost's next chapter