By Dr. Ayoade Olatunbosun-Alakija, MD., MSc., Director of the Oando Foundation.
"There is no more valuable investment than in a girl's education," says Ban Ki-moon, Secretary-General of the United Nations, and I most certainly agree. In fact, I consider inadequate education, especially for girls, to be the HIV/AIDS of the current era and call for an equivalent international effort to eradicating this scourge.
Like many women today, I wear several different hats. I was the African girl child and now am an African woman, mother to the African girl child whose plight and potential I consider my own. I am biological mother to Danielle Remilekun Alakija, an African girl child who achieved the feat of being the youngest Olympian at the London 2012 summer Olympics, but I am also "mama" to 11-year-old Rukuyatu Adamu of Kebbi State in Nigeria, whose dream is to be a doctor like her mama Yodi. She currently sleeps in a classroom at Bishop Memorial School in Lagos, where her father is a security guard, and she is in danger of being forced into an early marriage as a result of systemic poverty. I am also "mama" to Afisat Lamilu, a current resident in the Daloli IDP camp in Borno, who wants to be a minister when she grows up.
I consider quality education to be a human right, a public good and a state responsibility. The Universal Declaration of Human Rights, the Convention on the Rights of the Child (CRC), Education for All (EFA), Millennium Development Goals (MDGs) and Sustainable Development Goals (SDGs) are all in one accord. Every child regardless of gender has a right to access good quality education.
The urgent need to prioritize girls' education is, at last, gaining momentum and finding support around the world. From Nobel Prize winner Malala Yousafzai to pop icons and political dignitaries, rallying support for educating the Girl Child is beginning to find traction. It is becoming recognised that investing in girls pays significant development dividends. As a leader in global education policy, the Brookings Institution affirms that "educating a girl in particular can kick-start a virtuous circle of development. More educated girls, for example, marry later, have healthier children, earn more money that they invest back into their families and communities, and play more active roles in leading their communities and countries."
The business community is waking up to the fact that it has a significant contribution to make to a multi-sectoral response to achieving the Sustainable Development Goals, including access to quality education for all. Without sustainable development there is no future for commerce for business or for industrialization. We must all come together in a concerted effort even as we did when the world faced a global emergency with the AIDS crisis. Back then it was recognised that no one agency or group could "do it alone" but that it required a global, multi-sectoral, coordinated response to combat the HIV/AIDS pandemic. In a similar way, we will not achieve the SDGs and eradicate poverty without prioritising quality education for girls and will not do either without key private sector participation.
I challenge those of us in the business sector to move beyond using Corporate Social Responsibility as a reputation and market-building opportunity alone. It is critical that we forsake mere window dressing and all play our part as global citizens if we are to realize "the world we want." There is a tremendous opportunity for the private sector to create shared value that benefits business and their host community alike, fostering the innovation and competitiveness of a sustainable business model.
I commend the likes of Nestlé Global in driving initiatives to create shared value for themselves and the community: in nutrition, water, rural development, environmental sustainability and human rights. Nestlé's recently released Creating Shared Value (CSV) report provides guidance on how businesses and host communities can both thrive when the private sector recognises both the opportunity and responsibility to secure wider improvements than financial gain alone.
Standing on the threshold of the Sustainable Development Goals, including access to quality education for all, let us all put our money where our mouths are as we call on the rest of the world to do the same for Rukuyatu, for Danielle, and for all children facing challenges to learning.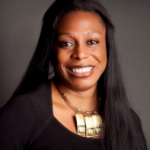 Dr. Ayoade Olatunbosun-Alakija is the Director of the Oando Foundation. She is a globally renowned authority on sustainable approaches to development and a thought leader in the field, lecturing around the world on social entrepreneurship. The Oando Foundation is an independent charity, launched by Oando Plc in 2011, one of Africa's leading indigenous energy solutions providers. The Foundation aims to support achievement of the Millennium Development Goals and the post-2015 Sustainable Development Goals as they pertain to child protection and the educational arena.

Related
Popular in the Community