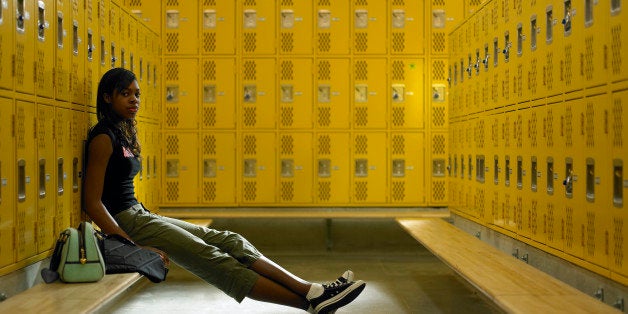 Throughout the months of September and October, HuffPost Teen is highlighting the way teens think and feel about sex through anecdotes written for our series, "Teen Sex: It's Complicated." All of the authors are teenagers who have agreed to be published anonymously. If you want to share your thoughts, join the conversation here.
To me, sex means a lot of different things to a lot of different people, and yet we don't acknowledge that. We treat it as if it's simply "okay" or "not okay."
I don't think teenagers talk about sex enough. Maybe that sounds crazy, because teenagers talk about sex all the time. But I mean really talk.
We don't truly and realistically talk about the consequences. In a lot of schools, we're taught that sex is bad and that we shouldn't have it. We're simply told "don't." That "don't" seems so empty, generic and absent-minded that we can easily ignore it. We can easily ignore a single word, a single warning, that doesn't hold any power over the media, our hormones and everything else. Some schools don't even teach about safe sex, and that seems so dangerous to me. The reality is that people have sex, and by not talking about it, we're simply making it more dangerous.
We think "everyone's doing it" because our minds are swamped with labels like "virgin" and "slut" and nothing much in between. Everything seems to be about sex. We talk about sex like we know everything about it because we think everyone else knows. We don't want to look inexperienced or "immature," so we pretend. But we're not the only ones pretending, and so many risks exist within that false knowledge.
There's no one I can talk to about sex. My friends consist of people who don't believe in sex before marriage and immature guys who talk about sex even though they don't really know anything about it. I don't even feel comfortable talking to my doctor about it because she's known my family for so long and thinks I'm sweet and perfect. I wouldn't want her opinion of me to change. I know that's wrong, but I don't know how to move past it. Everyone else -- every friend, family member and acquaintance -- has me labeled as a "good girl."
I feel as though they have high, unrealistic expectations for me. I'm a teenager. I know that not "everyone" is having sex. I know there are risks. But that doesn't mean I'm exempt from wondering.
To me, "sex" means feeling close to someone, but perhaps too close. I wouldn't really know at this point, but I do wonder. Sometimes I feel scared, other times I feel anxious.
To some people, "sex" means being a rebel. To some people, "sex" means being normal. Fitting in. To some people, "sex" means doing something wrong.To me, "sex" means knowing. Not just knowing about the act itself, but also knowing someone else. (Of course, I don't actually know that sex means knowing. I think that maybe it should, though.)
And yet we keep secrets about the subject. I don't see why people treat sex like it's the same for everyone. Like there's nothing more to it than a few simple rules like taking birth control and using a condom. Like there's no way to describe our actions except by saying "don't." Don't contemplate your feelings, and don't even think about acting upon them. Don't fall in love. Don't listen to the media. Don't have desires or daydreams or curiosities. Don't listen to the people around you even though they inevitably affect you so much.
Don't talk about it. Don't learn anything.
So what am I "supposed" to do, and who can I talk to about it?
Read more from "Teen Sex: It's Complicated":