"There's no place like home. There's no place like home", chants little Dorothy Gale, clutching her beloved Toto in her arms and tapping her magic slippers together. This line is indelibly etched in our minds (voted top 100 Greatest Movie quotes of all time by the American Film Institute). Specifically because it was delivered by Judy Garland in the classic 1939 MGM film The Wizard of Oz. Thirty-nine years before that actually, what Dorothy really said quite simply was "Take me home to Aunt Em!" as written by L. Frank Baum. Baum was, the creator and preferred the moniker "the Royal Historian of Oz" to Author. It is this sentiment that is at the core of the story of The Wonderful Wizard of Oz. The importance of "Home". It is fitting that this August I will be joining the ranks of Oz and Judy Garland enthusiasts and artists of all kinds, as we jointly endeavor to help preserve and protect a home that is so crucial to the Baum and Oz legacy. One woman has made this her life's work to protect the Baum legacy and bring recognition to Central New York State. Part of that mission is preserving this important historical edifice. So, for the sake of this narrative, please forget the man behind the curtain, and allow me to introduce Kathleen Sorbello Discenna. She is the very important woman behind the curtain. Mrs. Discenna has been working tirelessly with unending fervor to protect this part of the The Wizard of Oz legacy and its connection to Baum and his relatives. The fruits of her labor will culminate in a weekend gala event and fundraiser August 22 to 24 entitled: The Wizard of Oz Spectacular. But lest we get ahead of ourselves, first, let us click our heels three times and follow the yellow brick road back in time a bit for an "Oz"-some "her"-story lesson.
It was inside the home of Harriet Baum Neal on a cold, crisp December night that one Lyman Frank Baum met the love of his life Maud Gage. If only it were that simple, for the young man had no interest in settling down. What is the old saying? It takes a woman? Well, in this case it took three determined females! Baum's sister, Harriet, his Aunt Josephine and Cousin Josie all who had conspired to match the young man up to the lovely and single Miss Gage. It has been written by Frank Joslyn Baum (their son) that Baum had no interest in another matchmaking attempt by his sister, declaring that his determination for a career in show business would not allow for any kind of a lasting relationship. Maud Gage had very little luck with suitors, perhaps because her mother, Matilda Joslyn Gage was a real whippersnapper of a lady. A staunch supporter of Women's rights and an outspoken suffragette. Young L. Frank was aware of the formidable Gage matriarch and he summed her up thusly. "She hates actors and she hates men, and in that order!" So, he certainly had two strikes against him that fateful night.

Baum's Aunt Josephine led her nephew over to Maud. "This is my nephew Frank. Frank, I want you to know Maud Gage. I am sure that you will love her".
Taking the young lady's hand in his Frank said "Consider yourself loved, Miss Gage"
Maud responded in kind, "Thank you, Mr. Baum. That's a promise, Please see that you live up to it."
And the rest, as they say is history! The Neal house, once owned by Harriet and William Neal seems untouched by time is in its original location, and much of its original condition, at 678 West Onondaga St in Syracuse, NY.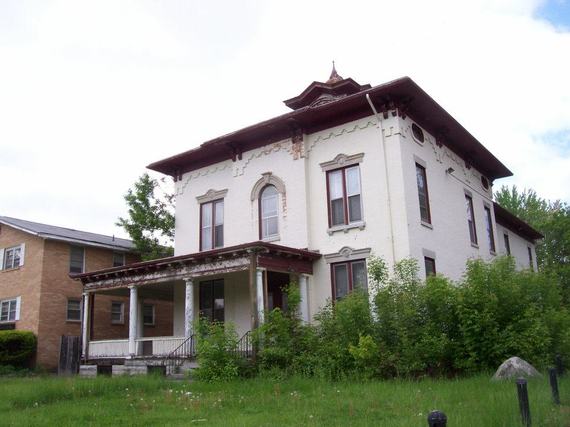 The Neal House as it stands today.
Fans will remember that magical moment when Baum and Gage met is actually depicted in NBC's delightful television movie, The Dreamer of Oz starring the late John Ritter as Baum and Annette O' Toole as the future Mrs. Maud Gage Baum. Frank and Maud's relationship which turned into the kind of marriage that storybook romances are made of and in all probability, is what lead to the creation of that mythical and marvelous land, paved with yellow brick and just "over the rainbow".
Now that you have the history it is time to meet the historian. Enter Kathleen Sorbello-Discenna. She has fought tirelessly and often without recognition for her connections, efforts, and resilience in protecting the Baum and Oz legacy and even more broadly this party of New York State. Mrs. Discenna was close friends with Cynthia Baum Tassini L. Frank Baum's niece. Cynthia was very close to her Uncle and in fact his 6th book in the Oz series is dedicated to her thusly: "Her Royal Highness, Cynthia, II of Syracuse". This direct Baum descendant was the first to develop a correspondence with Discenna, who in turn wanted to share with her and the rest of the family what she had stumbled upon in her own research. Discenna is the Director of the Land of Oz Preservation Company and it was Cynthia Baum Tassini who initially had hoped for the Neal house to be preserved with the Land of OZ preservation company housed within its walls. That goal is well on the way to being realized and is now called The Lyman Frank Baum Foundation, Inc.
In 1996, the Neal house was being used as a base of operation for Child and Family Services. Despite the rather sterile office clinician environment, inclusive of phones, desks and the like, Cynthia Baum only could envision the house as it had been when she was a small child. Tassini urged Discenna to rent some of the rooms for the Land of Oz Preservation Company.
"There would be no way!" Discenna declared in defeat. "Find a way!" was Tassini's simple response. Kathleen also took something to heart in something that Cynthia said to further convince her. "If my Uncle Frank hadn't met my Aunt Maud in this house, you do know, there'd be no Oz to talk about." Powerful words! For it was through Maud's urging, encouragement and unending commitment to her husband's talent and creativity (as well as that of his mother-in-law Matilda) through which Frank persevered and finally finished his story, The Emerald City, finally re-titled asThe Wonderful Wizard of Oz. Can we ever imagine a world without The Wizard of Oz with its bright yellow brick road and the dazzling Emerald City? Not to mention we would have never known of that brave little girl from Kansas and her adorable canine. They bravely crossed worlds and the great desert to have wonderful adventures. Meeting fantastic friends along the way made of straw, tin, and fur. Through their remarkable adventures almost always ridding their world of wicked. Proving that good really can conquer over evil!
Cynthia enabled Kathleen to contact her cousin, the late Ozma Baum. Yes, that is her real name. Named for Mr. Baum's magical princess "Ozma", the queen and rightful ruler of Oz.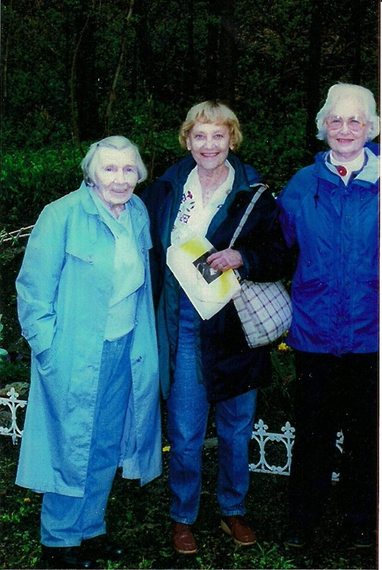 On the left is Cynthia Luise Datton Baum Tassini, niece of L. Frank and Maud. In the middle, Frances Ozma Baum Mantele and on the left is Janet Baum Donaldson. Ozma and Janet were L. Frank and Maud's Grand Daughters. Both Cynthia and Ozma were great supporters of Kathleen Sorbello-Discenna and the years of historical work she has done on L. Frank in Central New York.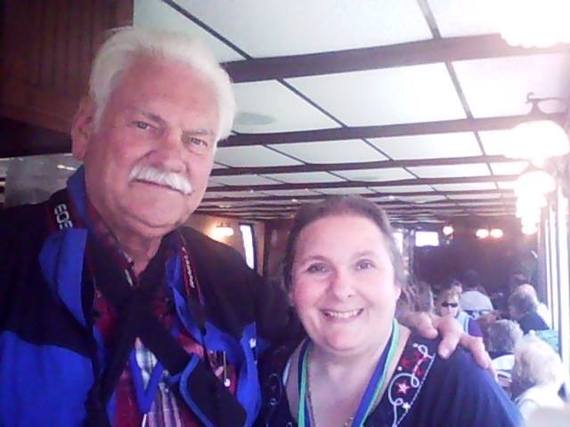 Robert Baum-great grandson of L. Frank and Maud picured here with the Hero Historian of our piece Kathleen Sorbello Discenna.
How lucky we are? Hollywood showed what little care it had for preserving Mr. Baum's legacy years ago. His beloved home OZCOT once located at at 1749 N. Cherokee Avenue (at the corner of Yucca),was torn down sometime in the 1950's and now a very unattractive, nondescript apartment building stands in its place. Not even so much as a plaque adorns the building to commemorate the spot where thirteen of the fourteen Oz books that Baum bestowed upon the world were written! It would seem that no one is interested in preserving those tangible landmarks of the Oz legacy in Los Angeles. If we can't have OZCOT , at least Mrs. Discenna is making sure to protect the house where the Oz love affair began.
One of the great perks of being a Judy Garland Tribute Artist, the last 12 years, are some of the wonderful causes and events I have been asked to participate in. So I was absolutely flattered and humbled when I received an invitation to present my cabaret tribute act, "Judy Garland: Live in Concert" at this year's festivities.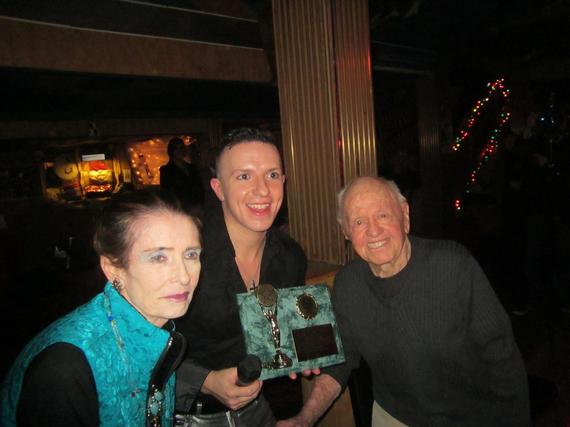 Margaret O'Brien, Peter Mac, and Mickey Rooney presenting Peter with the Southern California Motion Picture Council Golden Halo Award for "Outstanding Achievement In Live Performances As Judy Garland"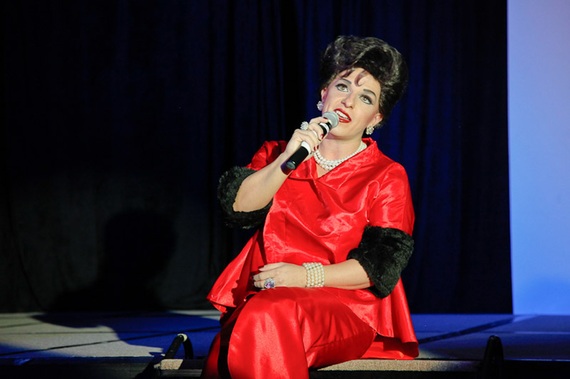 "Peter Mac as Judy Garland Live In Concert: A Cabaret Tribute" will be at the Palace Theater in Syracuse on Saturday night August 23, 2014.
I am truly honored as Kathleen has assembled a dazzling array of artistry to fill up the hours that will help to form The Wizard of OZ Spectacular August 23 and 24 in Syracuse NY. Randy L. Schmidt, author of the bestselling Karen Carpenter biography Little Girl Blue, will be premiering and discussing his new book Judy Garland: Interviews and Encounters.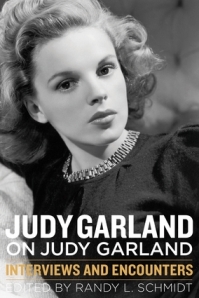 History will come to life when OZ and Judy Garland Collector Michael Siewert will present his beyond impressive collection of Miss Garland's iconic costumes from her MGM films, her famed concerts and CBS television series and her Blackglama Fur from her legendary "What Becomes A Legend The Most ?" ad campaign and photo shoot.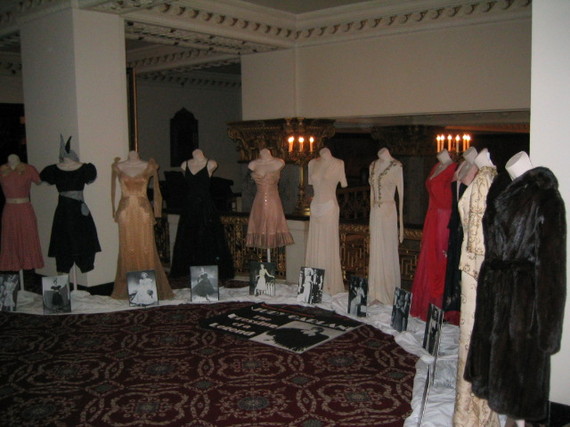 (Michael Siewert's Remarkable Collection of Original Judy Garland Costumes Will Be On Display)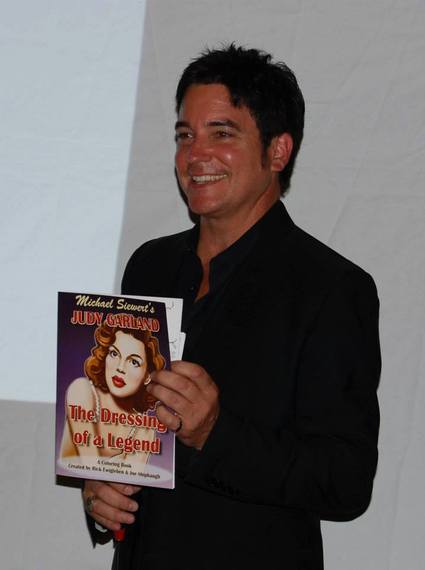 Michael Siewert
Authors and OZ Historians par excellence, Jay Scarfone and William Stillman will kick off the event on Friday evening with a presentation of their official 75th anniversary book, The Wizard Of OZ 75th Anniversary Companion.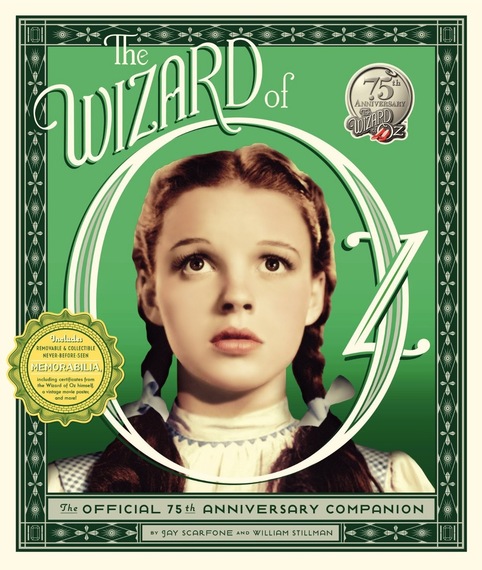 Artists Rick Ewigleben and Joe Shipbaugh who have been creating whimsical OZ art, will as well as their book, about the life and times of "munchkin", Margaret Pelligrini.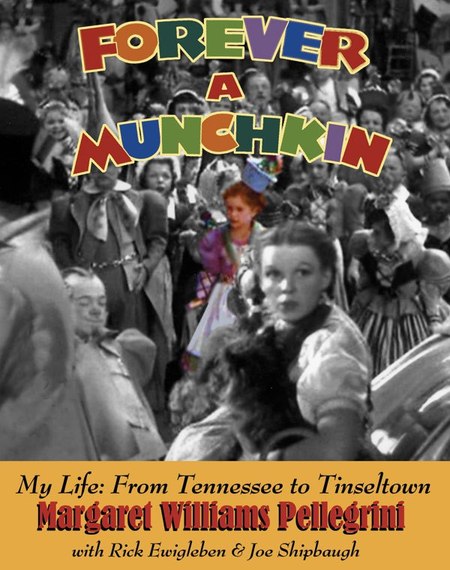 As you can see there truly is something for everyone this remarkable weekend!
In a world where we are so quick to toss aside the "old" and the antiquated without even a brief recognition of preservation and gentrification, Kathleen Sorbello-Discenna is a living example that we can preserve our rich history...all it takes is wisdom, love and courage. L. Frank Baum would be proud.
Calling all HuffPost superfans!
Sign up for membership to become a founding member and help shape HuffPost's next chapter