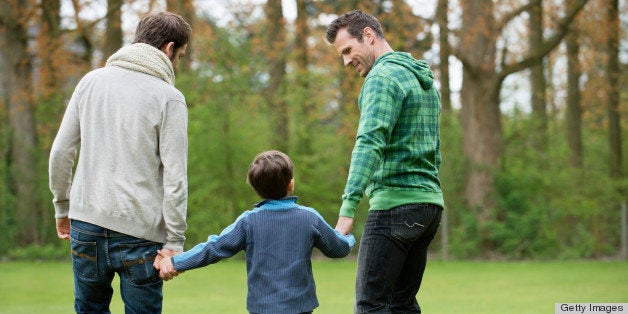 Currently, there are more than 400,000 youth in the U.S. foster care system, 104,000 of whom are available for adoption. Children end up in foster care for various reasons, but generally speaking, it's because something tragic has happened in their families of origin, such as abuse, neglect, homelessness or domestic violence. After a difficult start in life, the longer kids remain in care, the less likely they are to get their lives back on track. Each year, about 26,000 youth age out of the foster care system without ever finding a family to call their own, which puts them at significantly higher risk for poverty, homelessness, incarceration and early pregnancy.
The single biggest problem facing our nation's foster care system is a lack of qualified, stable and loving families willing to provide forever homes to youth in care.
The goal of foster care is family reunification, but when that isn't possible, it is the state's responsibility to investigate every possible opportunity when searching for a permanent, loving and stable home to ensure the best possible fit for each individual child.
This week, Sen. Kirsten Gillibrand (D-N.Y.), Rep. John Lewis (D-Ga.) and Rep. Ileana Ros-Lehtinen (R-Fla.) announced their plan for a bipartisan, bicameral reintroduction of the Every Child Deserves a Family Act (ECDF), a bill that would make great strides in easing the foster care crisis in this country. The Every Child Deserves a Family Act is a child welfare bill that promotes the best interests of children in foster care by increasing their access to qualified, loving and permanent forever families. ECDF prohibits states from denying or delaying placements based on the prospective parents' sexual orientation, gender identity or marital status, or based on the sexual orientation or gender identity of the child involved.
Just for a minute, imagine what could happen if we opened an additional 2 million potential homes to the 104,000 youth searching for families to call their own. The Williams Institute estimates that there are potentially 2 million LGBT adults in this country who would consider serving as foster or adoptive parents but for laws, policies and practices prohibiting them from doing so.
Our patchwork of state laws does a disservice to youth in foster care by failing to open every possible door to permanency. Currently, in 39 states LGBT people and same-sex couples face some kind of barrier to fostering or adoption. The majority of states are silent on the issue, which results in, at best, uncertainty for LGBT families, and, at worst, a functional, unwritten ban on LGBT people serving as foster or adoptive parents. Only 10 states affirmatively prohibit sexual orientation discrimination in adoption.
Passage of ECDF is critical, as every year we see new legislation -- with some recent successes -- attempting to limit the ability of LGBT people to foster and adopt. Some states have cohabitation bans, prohibiting people from fostering and adopting if they live with an unmarried partner. Arizona is the latest addition to the handful of states that give preference to married opposite-sex couples in foster and adoptive placements. These "marital preference" laws serve to delay placements for youth in foster care and penalize both LGBT couples and single people. And just last year in Virginia, the state legislature passed a "conscience clause" law permitting agencies to refuse placement with any family based on moral or religious objections. Rather than addressing how to increase access to available foster and adoptive homes, these states are decreasing the likelihood that children in the foster care system with ever find permanent families.
Even with these existing barriers, same-sex couples are still four times more likely than their different-sex counterparts to be raising an adopted child, and six times more likely to be raising foster children. And LGBT people are already raising about 4 percent of all adopted and 3 percent of all foster children in the U.S. Research also shows us that LGBT people may be more willing than their straight counterparts to adopt children with special needs, who tend to be more difficult to place.
Kids in care already wait inordinately long periods of time for permanent placements. Of the 104,000 foster youth available for adoption, about 60 percent of them will wait more than two years for a permanent home. An additional 21 percent will wait between three and five years, and another 16 percent will wait more than five years to find a forever home. Children of color are especially vulnerable, as they are disproportionately represented in foster care and tend to remain in care longer than white children. According to the latest statistics released by the U.S. Department of Health and Human Services, 30 percent of the youth in foster care are African-American, yet they represent only 25 percent of the children who were adopted last year. Research also tells us that same-sex couples who become foster parents are more likely to be families of color than heterosexual married couples who become foster parents.
What we need to be doing is opening up more homes to youth in care, not restricting the potential pool of homes available to them based on characteristics that have nothing to do with a person's ability to parent.
Contrary to Justice Scalia's comments during the Supreme Court's Proposition 8 arguments this past March, there is no disagreement among any credible sociologists about the parenting ability of LGBT people. In fact, more than 30 years of research tells us that children raised by single LGBT people and same-sex couples have the same advantages, developmental cycles and social and psychological adjustments as children raised by straight parents. Every national child welfare organization, including the American Academy of Pediatrics, the Child Welfare League of America, the National Association of Social Workers, the American Psychological Association, the North American Council on Adoptable Children and the American Medical Association, has endorsed the ability of gays and lesbians to parent.
And public opinion is on our side. The majority of Americans support increasing the number of foster and adoptive families by allowing LGBT-headed households to foster and adopt. According to research done by the non-partisan Public Religion Research Institute, 60 percent of Catholics favor allowing gay and lesbian couples to adopt children. And 64 percent of Americans see a same-sex couple with children as a family, up 10-percent from 2003.
But let's make no mistake: ECDF is not about protecting the rights of LGBT adults. Fostering or adopting a child is not a civil right, and all prospective parents must meet the appropriate criteria to qualify as foster or adoptive parents. Any prospective LGBT parent would also have to be qualified. But limiting the ability of up to 2 million additional prospective parents to provide homes to waiting children does nothing to help kids in foster care. The LGBT community is an untapped resource, and if we actively recruited LGBT people nationwide to serve as foster and adoptive parents, there is a very real possibility that we could solve the foster care crisis in this country. The Every Child Deserves a Family Act would ensure that we are doing everything possible to protect the best interests of our most vulnerable children. Youth in care have already had a rough start in life, so we owe it to them to open every available door and ensure that each and every one of them has the opportunity to find a forever family to call their own.
Related
Popular in the Community