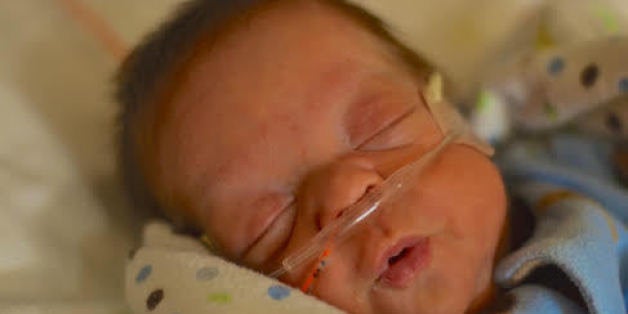 My twin boys, Micah and Zachary, were born just shy of 28 weeks gestation, each weighing about 1200 grams. They were delivered via emergency c-section and whisked away to fight for their lives. And fight they did.
I was terrified, overwhelmed and physically and emotionally exhausted. But rather quickly, I realized that I had it easy. I was not the one fighting for my life. Not the one struggling to breathe. Not the one having tubes shoved down my throat. While I gave everything to become a NICU mommy, Micah and Zachary gave everything to live.
Their organs were underdeveloped. Their skin was thin and flimsy, because unlike full-term babies, they did not have any reserve or fat stored up in their bodies. Without modern medicine, Micah and Zachary would not have lived more than a day.
This paradoxical world, of having one twin die and another twin thrive, demonstrates the profound strength of preemies. Micah fought like hell for 11 months at home and in the hospital before he lost his battle. Despite his daily struggles, Micah smiled. Micah found happiness in his brother's cuddles, his daddy's voice and his mama's kisses. Zachary has conquered his rough start to life. There is not a hint of fragility in Zachary today.
It is terrifying, overwhelming and exhausting to be a NICU parent, but what is it like to be a preemie? What is it like to be alone in a plastic box for hours, days, weeks or even months, when developmentally, you're still supposed to be engulfed in your mother's warmth? What is it like to be forced to breathe, eat and live when your body is not physically ready to do these things?
Preemies persevere and overcome challenges that adults could not. Although preemies are some of the toughest, most resilient people on the planet, the suffering they endure is profound.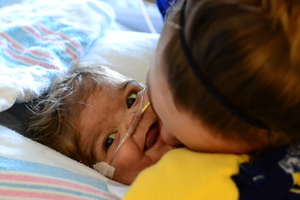 In an ideal world, we would prevent preterm birth. Until we reach this ultimate goal, Level IV Neonatal Intensive Care Units (NICUs) are preemies lifeline. Miracles happen in Level IV NICUs, where the strength of preemies is complemented by advanced technologies and specialized clinicians. Babies that would otherwise never survive get to go home and thrive.
Thankfully, Micah and Zachary received care in a Level IV NICU, the highest designation recognized by the American Academy of Pediatrics. It is inspiring that some Level IV NICUs are elevating their care by embracing strategies shown to further improve outcomes. Here are three strategies that the most prominent Level IV NICUs are implementing to complement the strength of preemies:
They Empower and Partner with Parents
These NICUs create a culture that nurtures collaboration between clinicians and parents. Parents are informed, engaged and empowered because they are viewed as a critical component of their baby's care team. This culture promotes parent-baby bonding, trust and rapport between parents and clinicians and may even help to improve the baby's health outcomes. Parents know their babies best. The NICUs that partner with parents are helping to keep preemies strong.
They Prescribe Exclusive Human Milk Diets
For fragile infants, human milk is a lifesaving intervention, just as critical as blood transfusions, vaccinations and ventilators. It is widely accepted that formula increases a fragile infant's risk of necrotizing enterocolitis -- the disease that claimed Micah's life. To best protect the health of their most fragile babies, leading NICUs have eliminated the use of formula and formula-based fortifiers prior to 34 weeks gestation. Donor milk is prescribed to babies without mother's own milk. The NICUs that use human milk as medicine are helping to keep preemies strong.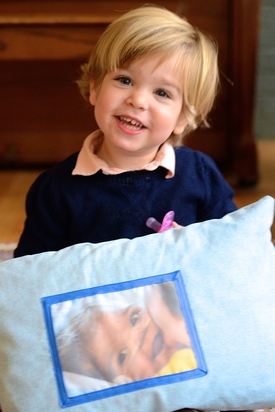 They Aspire to Become a Baby-Friendly NICU
The Baby-Friendly Hospital Initiative is a global effort led by the World Health Organization and UNICEF. Around the world, hospitals that are certified Baby-Friendly prioritize maternal-infant bonding, human milk, and the empowerment of mothers. Recently, a panel of experts outlined guidelines for NICUs that aspire to be a Baby-Friendly facility. The NICUs that strive to be Baby-Friendly are helping to keep preemies strong.
Preemies are brave, fierce fighters. Preemies give everything they have. The families, clinicians, advocates and hospitals who give everything to preemies is why Micah made it home and Zachary defied every odd against him. Three decades ago in the U.S., many very-low-birth-weight babies did not survive. Today, more preemies are surviving and thriving than ever before. You can honor the strength of preemies, the extraordinary care of NICUs and the dedication of NICU families by sharing and commemorating Prematurity Awareness throughout the month of November.
Related