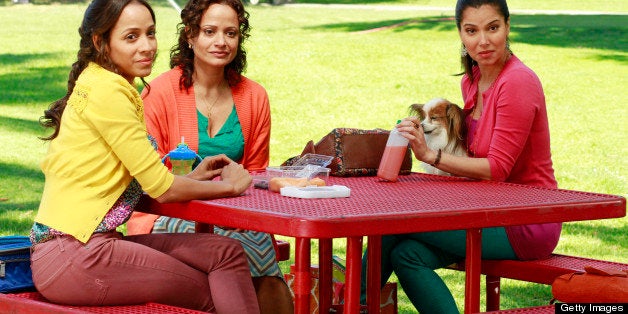 This post is in response to Tanisha L. Ramirez's Huffington Post blog, "Eva Longoria's Devious Maids Is a Wasted Opportunity."
There is no such thing as a wasted opportunity. In the world of television, the palette of content is colored with many ethnicities, races, classes, and genders. Television is a landscape that is planted with a world of stories that prove to be entertaining, saddening, uplifting and even sometimes life-changing.
When Marc Cherry decided to write a show titled Desperate Housewives, most networks passed because they thought the title might "alienate" women. ABC decided to take the risk, because they saw the potential in a show that reflected the modern day woman's view on universal themes such as marriage, child rearing, friendship, and hardships. ABC saw past the title and knew their audience would too.
We learned a great lesson in this; if you judge a book by its cover, you might miss out on a great novel.
Marc Cherry's new show, Devious Maids, seems to be causing the same doubts by people who haven't seen the content.
There have been some valid points made by certain bloggers who have stated that television needs more diversity to accurately reflect the changing landscape of America. I agree. We definitely need more diversity on television.
Devious Maids is a show that centers on five (count 'em), five Latinas who are bonded together by their jobs, their ambitions, their dreams and their life struggles. The five women are maids by occupation only; it is what they do, not who they are.
Are maids a realistic reflection of Latinas in America today??
Yes, but they are not a reflection of every Latina.
Stereotypes are constructed and perpetuated by those who believe in them. I choose not to. As an executive producer, I choose to break the cycle of ignorance by bringing to light something we have not seen before, a deeper, more complex side to the women who live beyond the box that some choose to put them in. The only way to break a stereotype is to not ignore it. The stereotype we are grappling with here is that as Latinas, all we are is maids. And yet, this is a show that deconstructs the stereotype by showing us that maids are so much more.
Carmen (Roselyn Sanchez) is an aspiring singer who hopes to get a big break by working for a famous pop star. Zoila (Judy Reyes) is a worried mother who only wants the best for her daughter Valentina (Edy Ganem). Rosie (Dania Ramirez) is a woman who is struggling to bring her son to the United States and works to pay for an immigration lawyer. Marisol (Ana Ortiz) is woman who goes undercover to learn the truth about a murder.
I take pride in the fact that this is the first show to feature an all-Latina lead cast. I take pride in the fact that these characters are not one-dimensional or limited to their job title. As the minority becomes the majority and the United States becomes more diverse, it is important that the protagonists on television embody this diversity. However, television is a business. If we don't support shows that have diverse content, we won't see shows with diverse content! They will simply go away and the hurdles to make the next show with diversity will be even more challenging.
Are Latinas teachers, and doctors and lawyers in America today? Yes. Should their stories be told as well? Absolutely. But, this show is called Devious Maids, not "Latinas in America." Isn't it "shortsighted" to say we can only tell the stories of what others deem "successful?" Isn't it "shortsighted" to think that "success" is only measured in social status, monetary gain, or job position? Are we saying maids are not "successful" because we perceive them to be at the bottom of the socioeconomic scale? What about the maid who raised a doctor or the maid who raised the mayor of San Antonio? Isn't that "success" by definition? However you define it, domestic workers are an integral part of the American fabric. They raise our children, they clean our homes, they wash our dirty laundry, and contribute to the world around us.
Devious Maids will captivate and entertain us in a dramatic and funny way. We will laugh with them, cry with them, and learn from them. I applaud Marc Cherry for writing these complex, female characters. I applaud our actresses for taking on the roles to counter stereotypes. I applaud Lifetime for believing that our community has stories to be told and letting us tell them. And once the audience watches the show, I know they will applaud too.
Devious Maids is not a wasted opportunity; it would be a missed opportunity if we didn't tell the stories that haven't been told.
Eva Longoria runs UnbeliEVAable Entertainment which produces television content. She currently has a show in development titled "Vega v. Vega" which is a true story about a mother/daughter Latina run law firm. She also is executive producer for the ALMA Awards and her second documentary about farm workers titled "Food Chain" with an expected 2013 release date.
Popular in the Community