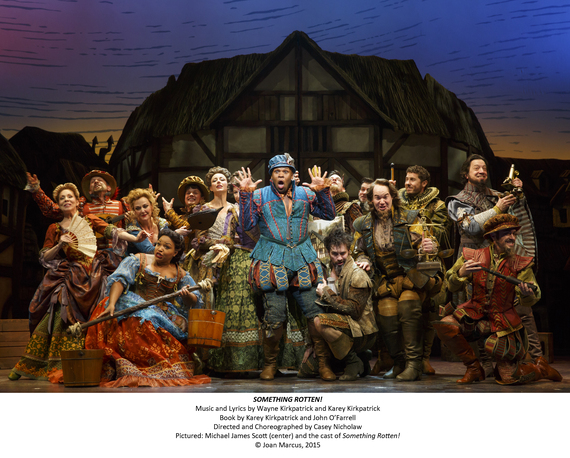 "Frailty, thy name is egg. How like thee I am. For I am -- what I am, and what I am doth be an illusion."
Nick Bottom recites his line, the spitting image of angst and internal turmoil as he contemplates the delicacy of life and whether to be or not to be. He is the protagonist in his new play, Omelette, a tale of the ephemerality and cruelty of the world wrapped up in egg and ham. But never fret -- the oeuvre won't devolve into a tragedy dotted with blood and betrayal, murder and menace. It's a musical, after all, "a puffy piece releasing all your bluesicals." Soon, spirits rise with nuns, chimney sweeps, an Effie White-esque egg white, and, in a conclusion to top anything in theater history, dancing breakfast.
No, Omelette is not opening on Broadway (though I would go if it were because based on the snippet I saw, it would be one of the most entertaining shows of all time). But Something Rotten! is making its debut on the Great White Way, and that may be even better news than a full-length work based on the most important meal of the day. In the new musical, Karey Kirkpatrick, Wayne Kirkpatrick and John O'Farrell's script pokes fun at the Renaissance and its most famous playwright for the liveliest evening of the 2015 season, with puns and references that will make any Elizabethan or theater nerd squeal with delight.
The curtain opens to a catchy tune strummed by The Book of Mormon's Michael James Scott, whose smooth voice lodges itself into your memory so that you'll be singing "Welcome to the Renaissance" for weeks. "While witches are burning, and wars tend to start, we bring you moments of culture and art," he claims with an enticing smize that eases you into the joyful absurdity of what's to follow.
Something Rotten! is set in 1595, when humanist doctrine was spreading like the plague from Italy to reach the rest of Western Europe. In South London, where we lay our scene, "the Will with the skill to thrill you with the quill" is the man of the hour, or more precisely, two and a half hours at the St. James Theatre. Portrayed by Tony winner Christian Borle, Shakespeare is a rock star of the 16th century with the appeal of Bono and the charisma of Steven Tyler. He may not be that talented and earnest, but it's about appearances, right? And when he walks down the street, he makes all the ladies (and most of the men) swoon.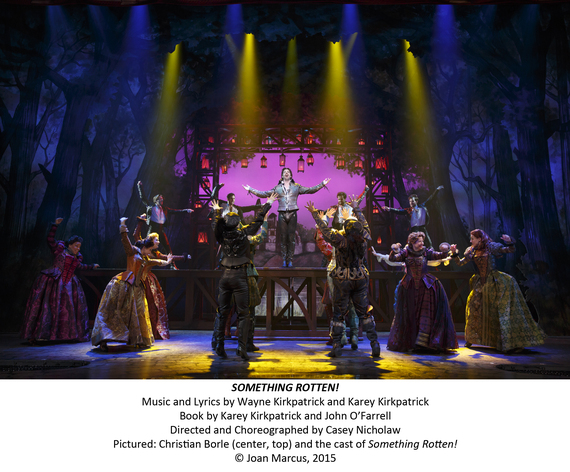 Shakespeare finds his antitheses in the Bottom brothers, a surname that the writers take full advantage of (in terms of sexual position, body part, and other hysterically crude interpretations of the word). Nick and Nigel Bottom are struggling to pen the next Elizabethan hit, always living in the shadow of the one and only Bard. As Brian d'Arcy James, who plays Nick, complains about Shakespeare's unjustified reputation, his actors scold, "don't be a penis, the man is a genius." No one, including Nigel (John Cariani), believes that the Bottom brothers will ever surpass the great Will of the people.
But Nick wants a sell-out, and he'll do anything to get it -- including steal Shakespeare's idea for his most iconic play before he conceives of it himself. Bottom seeks out a soothsayer, Nostradamus, who sees an omelette, a Danish, and some ham in Shakespeare's future. Of course, when Hamlet opens at the Globe just before Something Rotten's finale, Nick isn't too pleased. But for the time being, he accepts Nostradamus' suggestions, which allow for some fantastic jabs at Les Miz, Annie, Cats, and other Broadway blockbusters. With Brad Oscar as the soothsayer who's a little off his rocker, the jokes slay hard, and at the end of "A Musical," the actors savor the moment as the audience erupts into a minute-long applause break.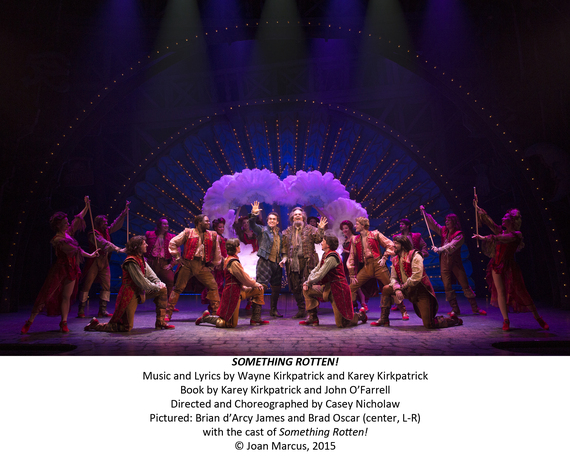 Other notable characters are Bea (Heidi Blickenstaff), Nick's wife who's a feminist before it's cool, and the rebellious Portia (Kate Reinders), daughter of Puritan Brother Jeremiah. But it's Scott, Borle, James and Oscar who make the production, no doubt about it. Still, Brooks Ashmanskas as a Puritan minister with his own secrets is a sight to behold, and one that everyone should have the privilege of witnessing up close and personal.
However, no matter how good the cast is (and it is stupendous), the show would be nothing without its witty wordplay. What makes Something Rotten! so special is that it's fun. It's clever, but it doesn't try to be anything it's not. It's an escape into a century when everything was novel, a rebirth from the dark ages. But beyond that, it's a laugh-out-loud look at art and celebrity, because it's hard to be the Bard. And even more importantly? Well, it'll make you smile. We could all use a big, fat grin every once in a while.
I, for one, can't wait to go again.
REAL LIFE. REAL NEWS. REAL VOICES.
Help us tell more of the stories that matter from voices that too often remain unheard.