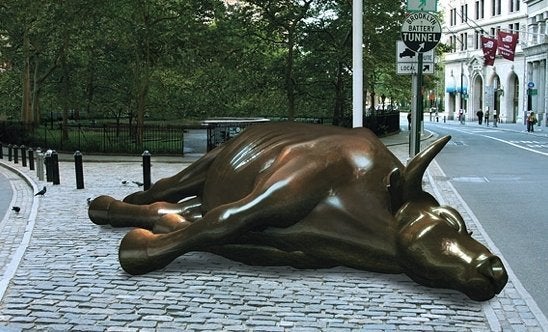 So here we are once again on the precipice, at least in terms of global stock markets and credit markets. Another bout of nail-biting panic is hardly unexpected, though it's always surprising when otherwise sane people veer sharply into hysteria. It's a good, albeit painful, reminder that the bonds of what we call civilization are always more tenuous than we would like to believe, that things like "value" and "worth" and "the economy" are ultimately the products of human beings simply agreeing on a set of rules. Stocks, bonds, gold, silver, none have any intrinsic value, nor do Gucci handbags, Deere lawnmowers, and GM trucks (in case anyone was wondering about that one). We act as if they do, because it gives us some sense of an orderly world, and because the alternative is just too unsettling to live with on a daily basis.
Market moments such as these, and they are neither rare nor common but each time they shake us collectively to the core, force us to confront those deep, hidden fears that we'd rather pretend aren't there. They also expose some of the flimsier foundations of worth and value. In the past six weeks, something like $30 trillion dollars of market value has simply disappeared. Some is undoubtedly sitting in mattresses, or bank deposits, or Treasury notes. But some went to settle debts that then went to settle partial debts that were then bought for pennies on the dollar. Poof. Gone. As if it never was.
And yet, the selling remains driven by credit market dysfunction and paranoia. There are some terrible companies that will go bankrupt, including the Detroit auto makers. Why didn't the CEO of GM drive to Washington in the hydrogen car prototype (even if it took a truck of batteries following him) and say," Ladies and Gentlemen of Congress, I've come here today on the wheels of the future. But we cant get there without the help of the American people. We need that help to build that future." That would have said something about the viability of his business.
But many companies are now trading with cash per share that is 25%, 50% or even 75% of their share prices, with real earnings even if those are discounted by a huge amount for economic nothingness in 2009. That is a sure sign that what is going on isn't driven by underlying fundamentals or their weakness.
Unless, of course, you believe that the whole global system is toast, that it's all been built on a house of cards and the game is over. That is an extinction-level event, at least for the wheels of commerce. Is it possible? Sure it is. If that's what is going to happen, be afraid, very afraid. Leave the city, any city, watch Obama's inauguration on TV far away and assume that that will be as good as it gets for a long, long time.
But if you don't believe that, the alternatives are considerably better. We are oversold, overanxious, and overwrought. Many of us will lose jobs, reassess priorities, get angry, and move on. Some of that will be for the best, ultimately, and some wont be. The fact that things may not be Armageddon doesn't mean that all is well, but we have to keep moving, adapting, and looking ahead. I've said there are opportunities around us, in the markets, for entrepreneurs and visionaries, and so far that has been a disappointment, but two years from now, there's a good chance all of us will look back and see this crisis in the rear-view mirror and look around a humbler, thriving world. Homilies? Maybe. True? Unquestionably. As one wise man said in recent weeks, there's only one end of the world, and this isn't it.
REAL LIFE. REAL NEWS. REAL VOICES.
Help us tell more of the stories that matter from voices that too often remain unheard.