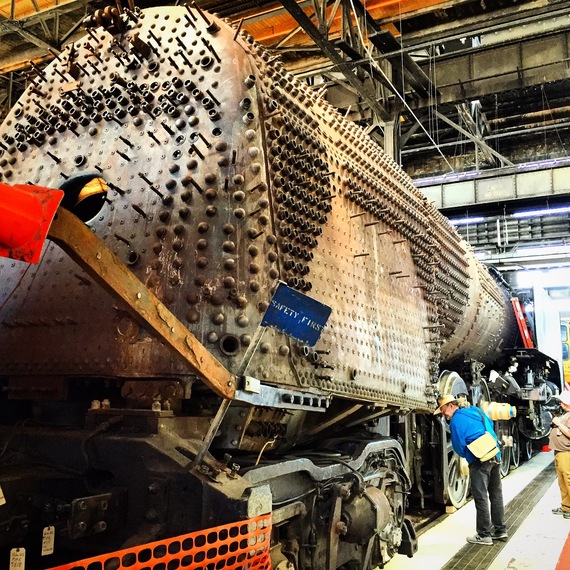 For railroad buffs, it doesn't get much better than seeing a Big Boy - the world's largest steam locomotive. These 132-foot long behemoths weighted more than 1,250,000 pounds and were designed to pull massive freight trains over the Wasatch Mountains between Wyoming and Utah at speeds up to 80 miles per hour. When they said Superman was more "powerful than a locomotive," this is the locomotive they were talking about. It was, in its day, the most powerful moving engine on earth.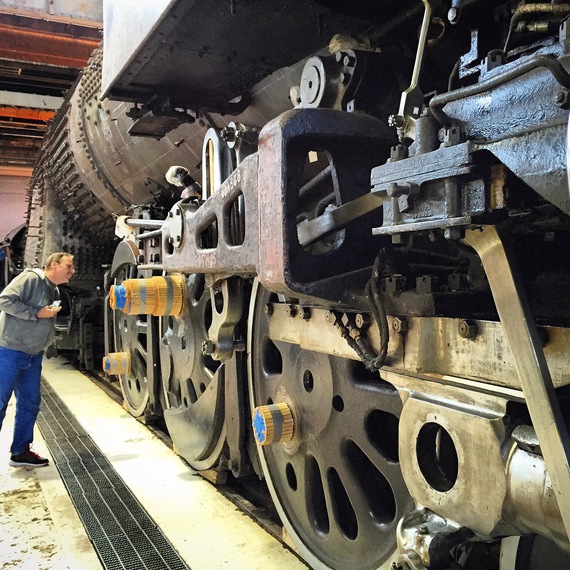 Only 25 of the monsters were ever made, all of them during World Word II. Today only 8 remain. Seven are in static displays in railroad museums and parks, including Big Boy No. 4004 located in Holliday Park in Cheyenne, Wyoming. But the eighth Big Boy, No. 4014, is also in Cheyenne, sitting side by side with Challenger locomotive No. 3985, which is currently the largest operating locomotive in the world. The two gigantic engines are usually locked away in the private Union Pacific Steam Shop, where both are being restored to someday pull excursion trains.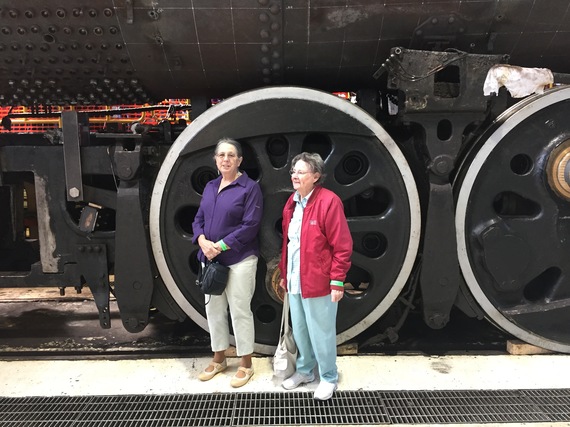 For 363 days a year, the Steam Shop is strictly off limits, but on May 21-22, 2016, visitors to Depot Days in Cheyenne will have an opportunity to enter the most famous machine shop in railroading history, and also see Union Pacific's historic roundhouse.
Depot Days is Cheyenne's three day celebration of railroading. Not only can visitors see rare locomotives, but they can also enjoy a wide variety of train events, some so popular they attract visitors from across the nation and even from Germany and the U.K. There's a Model Railroad Show where you can meet Harry Brunk, one of the most respected craftsmen of model railroading. Harry worked on his model railroad, the Union Central & Northern, for 30 years. It has been featured in more than 100 magazine articles and is considered to be one of the best model railroads ever constructed. However, because it was in his private home, hardly anyone ever saw it in person. Today, the setup has been relocated and rebuilt into Cheyenne's Union Pacific Depot. It's a kick to see little locomotives pulling dozens of cars pass over the Georgetown Loop and chug into incredibly authentic and detailed models of Central City, Black Hawk, and Idaho Springs, Colorado.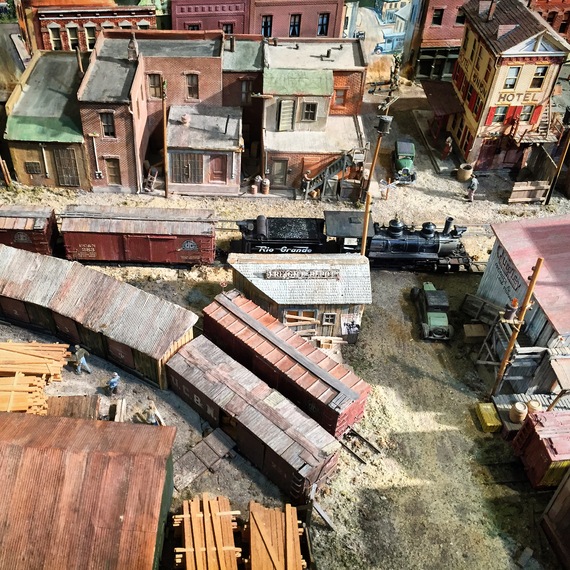 During Depot Days, the annual Rail Art Show & Sale showcases some of the top train paintings, drawings, sculptures, photography and handcrafted models, all available for sale. The Depot Museum has exhibits on building the Union Pacific railroad and the history of Cheyenne. Then of course, you can finish off the afternoon with one of 20 craft beers at the Cheyenne Brewing Company. The brewpub sits trackside in the Union Pacific Depot with large picture windows where you can watch the 75-100 trains that pass through Cheyenne every day.
All of this is very fitting in a town that wouldn't exist without the railroads.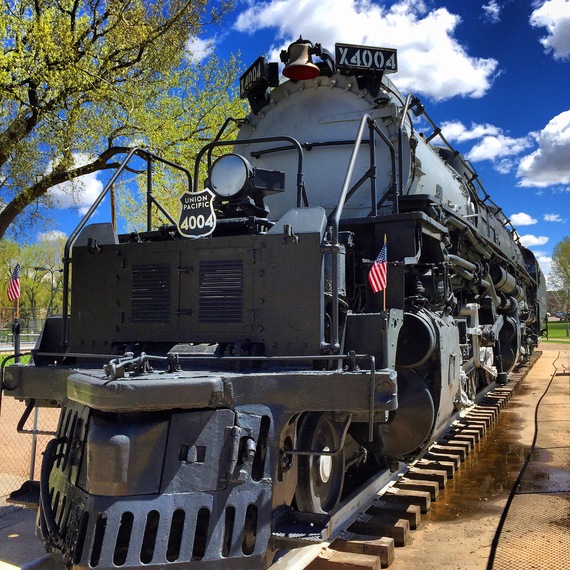 Cheyenne's Wild West History
When the first transcontinental railroad was being built across America in 1867, there was nothing at the future location of Cheyenne but rolling grasslands. Major General Grenville Dodge, the chief engineer of the Union Pacific, decided Wyoming was as far west as the railroad could get before winter, so he picked out a place to build a fort to provide protection against Indians. Following practices that said no liquor could be sold within four miles of a fort, he laid out a town exactly four miles away.
Welcome to Cheyenne. Within weeks, the "town" of Cheyenne had 90 saloons and gambling halls, mostly in large portable tents, as well as 400 "ladies of the evening," 4,000 residents and 23 hangings. Cheyenne boosters will tell you this is where Cheyenne got its nickname, "Magic City of the Plains," because the city just sprang up overnight like magic. But at the time, most people referred to it by its other name: "Hell on Wheels."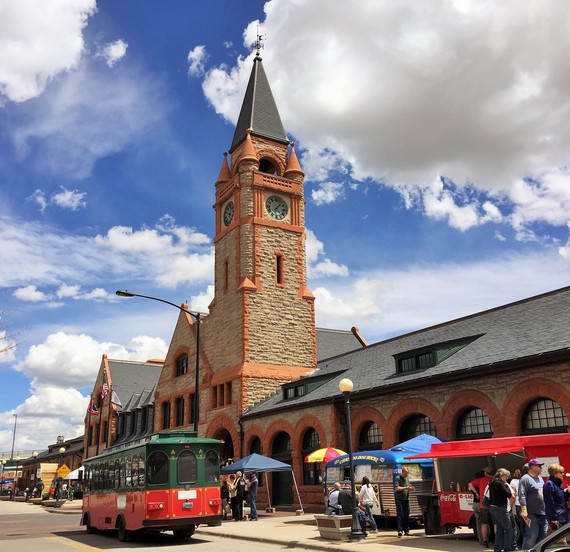 When the railroad moved west in the spring, Cheyenne should have moved with it, but by then, the Union Pacific had built its historic railroad roundhouse and a substantial city had grown up around it. This is part of the roundhouse, railyards and machine shop complexes that you can enter during Depot Days.
Later, Cheyenne became a cattle town and it was said that because of rich cattle barons, Cheyenne was the wealthiest town in the world on a per capita basis. Many of the mansions on Cattle Baron Row still survive.

Wyatt Earp, Doc Holliday, Bat Masterson, and "Calamity Jane" all called Cheyenne home, and the legendary murderer Tom Horn was hanged right downtown - the last man hanged in Wyoming (at least legally). The famous Deadwood Stage started in Cheyenne, covering the 300 miles to the gold fields in South Dakota in three days of bouncing on rough dirt tracks through outlaw and Indian country.
Old West history is everywhere in downtown Cheyenne - in the western wear shops, galleries, museums, and architecture. But make no mistake, Cheyenne knows how to have fun, too. Wyoming was the last state to ratify prohibition and prostitution was legal until 1938.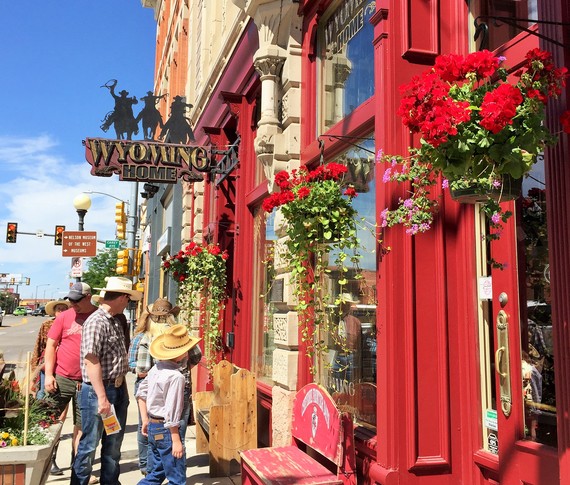 Today in compact Cheyenne, there are two outstanding breweries and a dozen bars, several with live music. Bring the bikes and there are 37 miles of trails, many of which weave through historic neighborhoods of great old wood mansions, especially in the Rainsford Historic District, where there are dozens of homes and mansions all designed by architect George Rainsford. Rich cattle barons loved his creative porches and roofs with towers covered by decorative "fish scale" shingles. It's an easy ride to Holliday Park with is gorgeous lake and Big Boy 4004.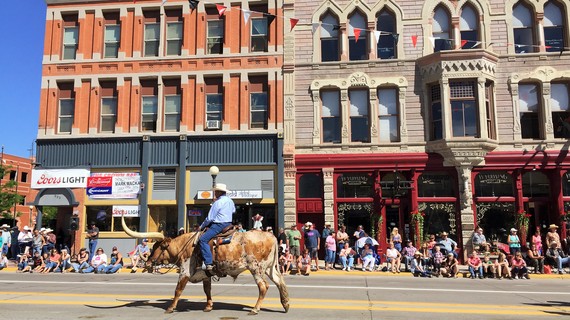 Downtown Cheyenne has the best collection of western stores on the Front Range. Wrangler is the place for hats, boots and belts; Wyoming Home has western furnishings, rugs, jewelry and gifts; and Just Dandy has women's western-wear fashions. There are dozen other western galleries, bookstores and souvenir shops.
If you want to stay overnight, the historic 1911 Plains Hotel, across the plaza from the Union Pacific Depot, has welcomed guests including Harry Truman, Ronald Regan, Ted Kennedy and Richard Nixon. Now there's a crew! That would be some party if they were all there together. The lobby is filled with historic Western paintings and sculptures and offers rooms starting at $99.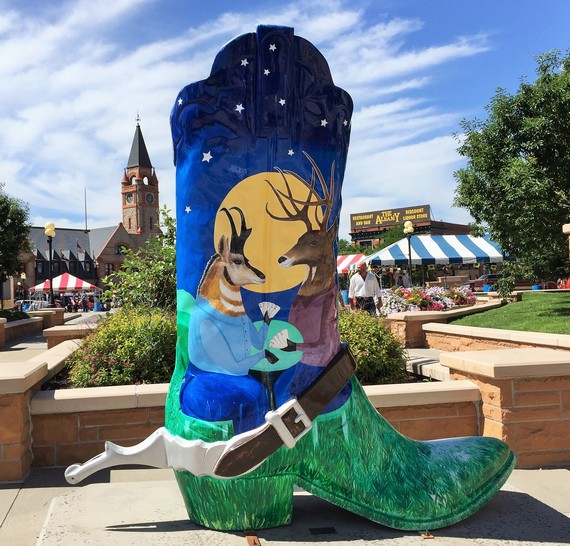 IF YOU GO: Depot Days runs May 20-22, but the Union Pacific Steam Shop is only open on May 21-22. A $10 wrist band gets you a free trolley ride from the Union Station Depot to the machine shops and free admittance to all other railroad activities over the weekend including the model railroad show and the Rail Art Show & Sale. For information on Depot Days: For information on Cheyenne