May made a two-day visit to the United States late last week to strengthen British-American relations and improve trade and security ties. Speaking about Trump, she joked "opposites attract" and praised the countries' "special relationship."
She announced Britain would move away from "failed policies of the past" including intervention in foreign affairs, which for many struck a familiar chord to Trump's "America First" movement. May also expressed her support for many of Trump's decisions, but condemned the use of torture and said she would stick to U.K. policy on that issue.
On Saturday, the Trump administration's new executive orders halting entrance to the U.S. by Syrian refugees and restricting travel from seven Muslim-majority nations began to spread fear and anxiety around the globe. Leaders from Germany, Turkey, France, Luxembourg, Canada and several other countries were quick to speak out and defend their values.
"The American president is dividing the Muslim world into good and evil with this," Luxembourg Foreign Minister Jean Asselborn told Der Tagesspiegel, a German newspaper. "The decision is also bad for Europe because it will increase the Muslim world's mistrust and hatred of the West."
May's response was vague, to say the least.
"The United States is responsible for the United States' policy on refugees," she said when asked for comment. Angry backlash ensued, and she later issued a statement saying she disagrees with the ban.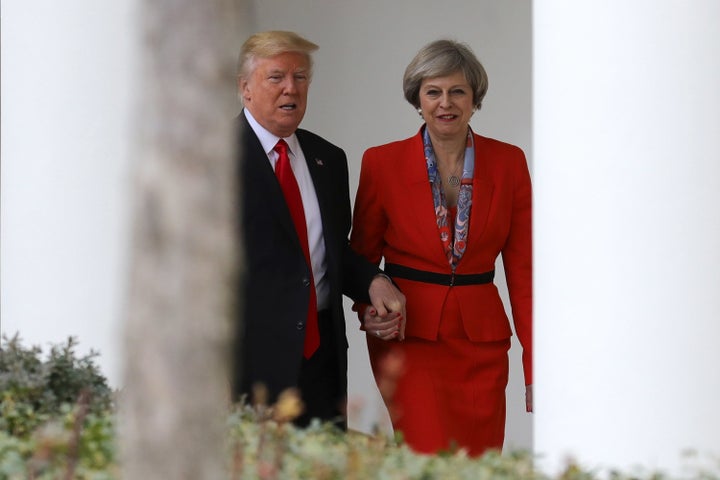 Non-American citizens (including Brits) who have dual nationality with Iran, Iraq, Libya, Somalia, Sudan, Syria or Yemen are among those temporarily barred from entering the U.S.
Labour Party leader Jeremy Corbyn said May's reluctance to denounce such xenophobia was a "weak failure."
"President Trump's executive order against refugees and Muslims should shock and appall us all," he said. "Theresa May should have stood up for Britain and our values by condemning his actions. It should sadden our country that she chose not to."
May was elected after Prime Minister David Cameron stepped down upon defeat in a controversial "Brexit" referendum. May, who opposed Brexit but has maintained a tough stance on immigration, is now tasked with leading the British departure from the European Union.
"I think Brexit is going to be a wonderful thing for your country," Trump told her during a meeting at the White House on Friday. "You're going to have your own identity and you're going to be able to make your own trade deals without having someone watching you."
Brits have expressed disappointment in their prime minister by using the hashtag #TheresaTheAppeaser on Twitter.
Popular in the Community