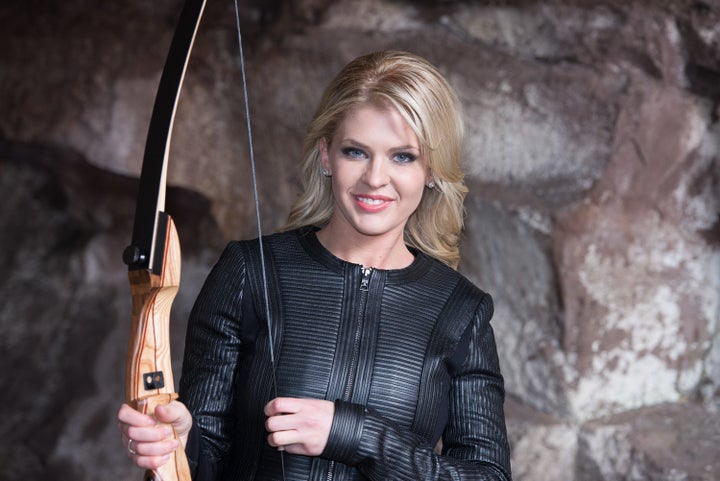 A former beauty queen hailed for busting through stereotypes with her military service and knack for sharpshooting has been charged with illegally killing an Alaskan grizzly bear, then trying to cover it up.
Theresa Vail, 25 -- best known for her successful bid for the Miss Kansas crown and a new hunting show on the Outdoor Channel called "Limitless with Theresa Vail" -- allegedly killed a two grizzlies in May, but only had a tag to kill one, according to an Alaskan Wildlife Troopers' press release. Authorities charge that after the kills, Vail's two guides helped her obtain a tag for the second animal, and then backdated it to make it look like a legal kill.
According to the release, the beauty queen faces misdemeanor charges of killing a bear without a tag and unsworn falsification. Also charged are her guide, Michael Wade Renfro, 46, and assistant guide Joseph Andrew Miller, 45, who allegedly helped her obtain the second tag and failed to report her for the kill.
A representative for the Outdoor Channel told the New York Daily News that the "Limitless" production team alerted authorities to the illegal kill on June 3, and maintained that the bears never made it into an episode.
Renfro's attorney, Myron Angstman, told The Huffington Post that the second kill was an accident. He said that Vail shot one bear, which she had a tag for, then looked away while she was reloading. When she brought her gun back up, she had another bear in her sights, and took the shot, he said. Both bears were killed and skinned, and that's when Angstman says the guide showed a lapse in judgement by attempting to cover up the crime and failing to report it.
"I'm positive that [Renfro's] thoughts were to protect the hunter because of her fledgling career, and he put his own career at risk to do so," Angstman said. "He stood to gain nothing by tagging the second bear, and stood to lose nothing by turning [Vail] in, which he has done several times before. I suppose it's all because of her TV show."
All three suspects are scheduled to appear in court on Dec. 16.
According to the show's website, Vail is former Miss Kansas, a member of the Army National Guard, a brand ambassador for Bass Pro Shops and a "red-blooded, all-American" marksman with both bows and rifles. She did not respond to a request for comment.
Related
Popular in the Community