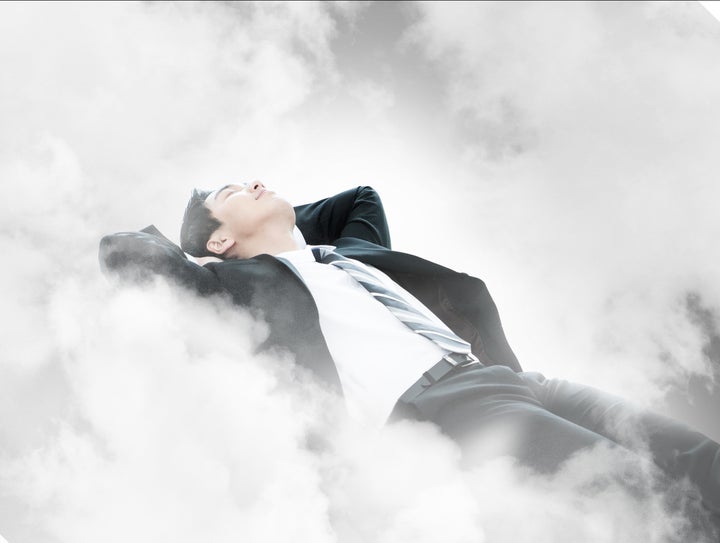 "We see a variety of guest types staying with us for one hour, three hours, eight hours and even overnight," Chris Glass, vice president of operations for Minute Suites, a company that creates pay-per-hour nap rooms, told The Huffington Post.
Minute Suites opened its nap rooms at Hartsfield-Jackson Atlanta International Airport in 2009, where there are currently five suites with another 17 suites and two showers in the works. The company is part of a growing trend of pay-per-hour-nap spaces -- from recliners to pods to private suites -- popping up at airports across the globe that range in amenities, price and elbow room.
And though some may consider napping to be counterproductive to good nighttime sleep, many experts agree that when done right, napping can offer a major boost to creativity, memory and alertness. In particular, prior to long cross-continental and cross-time-zone flights, napping can go a long way in staving off jet lag and helping travelers avoid racking up a lot of sleep debt, sleep expert Hrayr Attarian, a neurologist at Northwestern Memorial Hospital, told HuffPost.
"It's always better to arrive at your destination not sleep deprived, but you also want to be able to sleep at night where you land to avoid jet lag."
"A nap is a good thing," he said. But remember, he added, that all the usual good sleep hygiene rules apply to help tell you when and for how long it is best to nap to avoid waking up groggier than when you dozed off. Keep the room cool, and don't nap so long that you throw off your natural sleep cycle.
"It's always better to arrive at your destination not sleep deprived," he said, "but you also want to be able to sleep at night where you land to avoid jet lag."
If you find yourself in one of the airports below with the opportunity to slumber, sleep no more than 45 minutes and nap in the early afternoon if possible, Attarian said (in general, it's the best time to nap in line with the body's internal clock). Or try a caffeine power nap, which helps your body wake up naturally after a short amount of time.
A caveat is that if you'll be stuck in an airport for a longer period of time (upwards of 10 hours), sleeping for a few hours will be beneficial, Attarian added. If you are completely sleep-deprived, sleeping anytime is helpful to get you back on track. "And in general, when and how long to nap is very dependent on the individual," he added. "Are you someone who wakes up groggy from long naps? Or are you someone who has no problem with long naps? You have to know yourself and your sleep patterns to know which type of nap is best for you."
If you find yourself in one of these airports in need of a nap, skip the uncomfortable gate lounge chairs or the (cringe!) floor and check out these nap spaces. Just be sure to set an alarm so you don't miss your flight...
1. Hartsfield-Jackson Atlanta International, Philadelphia International and Dallas-Fort Worth International Airports, U.S.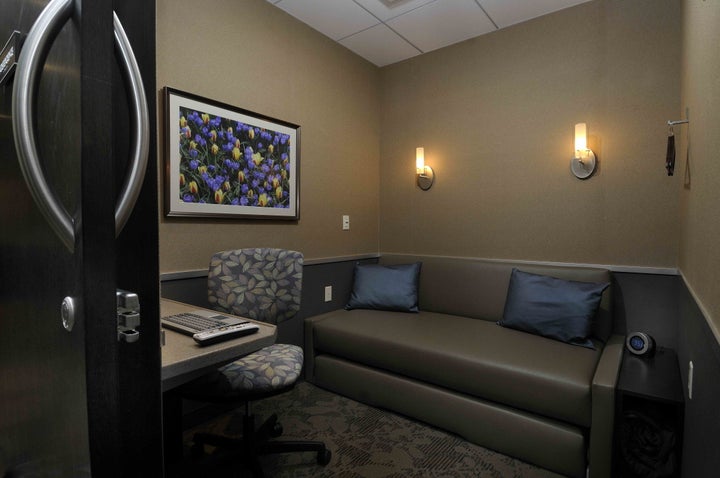 Each soundproofed Minute Suite includes a day bed with a pullout trundle bed that sleeps up to two adults, a 32-inch flat screen TV with computer capabilities, as well as complimentary DirecTV and Netflix, and adjustable temperature controls.
The staff will also monitor your flight status and knock on your door for a wakeup if requested. More than 100,000 passengers have used the suites since the company first launched, Glass said.
An hour in the nap room will set you back between $32 and $42, depending on how long you stay, or $160 for eight hours. And a shower (currently only available in the Dallas location) is $20 with a suite rental or $30 a la carte.
Minute Suites offers pay-per-hour nap rooms in the Atlanta, Philadelphia and Dallas-Fort Worth airports with plans to expand, Glass told HuffPost.
2. Berlin-Tegel Airport and Munich Airport, Germany
Travelers passing through Berlin or Munich can rest for an even smaller fee in a napcab. The sleep cabins each take up four square meters and feature a full bed with clean sheets, a work space, a touch screen TV with video and music options, charging stations, Internet access, air conditioning, a front door blind and adjustable light settings.
Nappers pay via a self-service touch screen outside the cabin door -- 15 euros per hour during the day and 10 euros per hour overnight, with a two-hour minimum. The Munich Airport now features 16 nap cabins and the Berlin-Tegel Airport features two.
3. Dubai International and Abu Dhabi International Airport, United Arab Emirates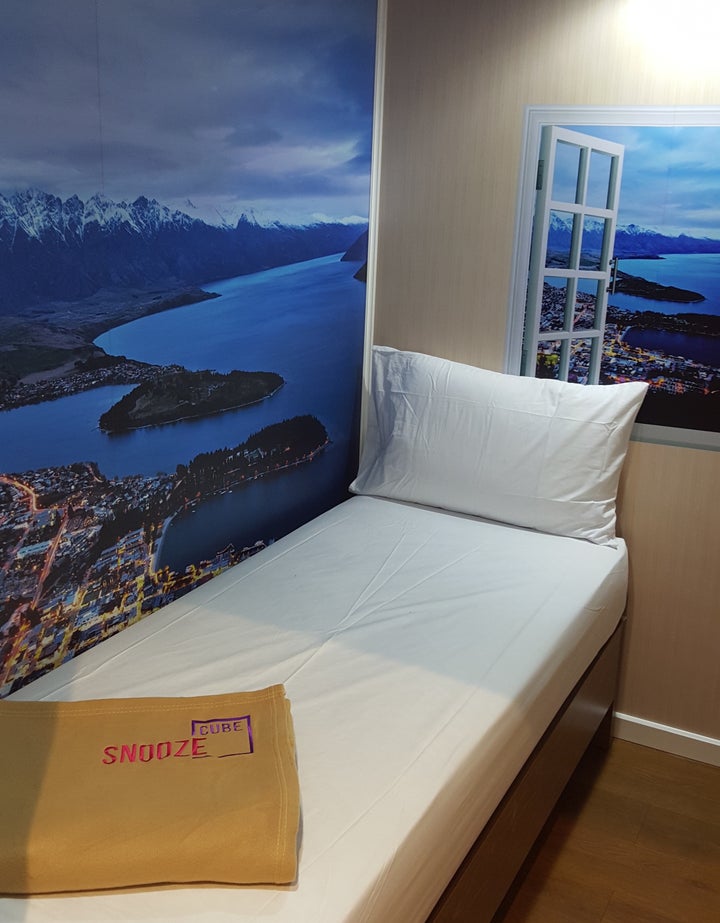 Dubai and Abu Dhabi International Airports features GoSleep sleeping pods, priced from $9 to $14 per hour depending on how long you stay (amenities like pillows and blankets cost extra). The pods are designed similar to a business class flatbed airplane seats, with a roller blind at the top for partial or full privacy. Each comes with below-seat storage for a secure place for passengers to keep their luggage while they snooze.
Also at Dubai International Airport, passengers in Terminal 1 can rest their heads in a Snooze Cube for a $21 hourly fee (with a minimum stay of two hours).
"I believe this is an essential service and it will become standard in most airports around the world," Snooze Cube CEO Larry Swanson told HuffPost. At this point, Snooze Cubes only exist in the Dubai location, but Swanson hopes to branch out to other airports, he said. "Every human being needs to get horizontal for a few hours."
Snooze Cubes feature a bed, touchscreen TV offering music and movies and enough space to hang a coat and store carry-on luggage.
4. Tokyo Narita International Airport, Japan
Nine Hours offers sleep pods with ambient lighting control that can be rented for 1,500 yen for the first hour and 500 yen per additional hour, The Independent reported. The pods are stacked on two levels (think double decker bus).
Upon checking in, guests receive a locker and key to store their stuff, as well an assigned sleep pod and Nine Hours sleep clothing, according to the company's website.
5. London Heathrow and Gatwick Airports, U.K.; Amsterdam Airport Schiphol, Netherlands; and Paris Charles de Gaulle Airport, France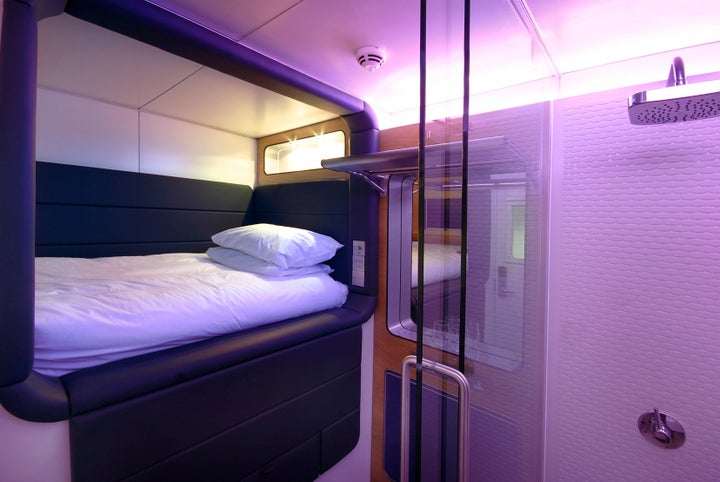 At London's Heathrow and Gatwick airports, Schiphol in Amsterdam and beginning in July at Paris Charles de Gaulle Airport, travelers are (and will be) able to book a minimum four-hour stay in a Yotel cabin. Both London locations are outside of security screening, but cabins are all furnished with a bed, flatscreen TV, pull-out workstation, bathroom, shower and WiFi access.
Rates start from 37 pounds to 50 euros, depending on the location. And the company also has plans to open a location in the Singapore Changi Airport in 2018, said Sahrette Saayman, Yotel's head of communications.
6. Indira Gandhi International Airport, India
Travelers passing through New Delhi can book a single or double occupancy SAMS Snooze At My Space sleeping pod for $12 or $22 per hour. The space features a bed, workspace, Wi-Fi access, flatscreen TV and outlets to charge cell phones or other devices.
We don't know what you do for a living, but we do know you likely need a break. And, nearly halfway through the year, we're challenging you (yes — busy, overworked, financially stretched you) to #TakeABreak. During the month of June, we'll help you nail down how many vacation days you have at your disposal, figure out where to go, and plan a trip you can actually afford. For 30 days of travel tips, cheap flight hacks, vacation ideas and wanderlust galore, sign up for our Take A Break action plan here!
Sarah DiGiulio is The Huffington Post's sleep reporter. You can contact her at sarah.digiulio@huffingtonpost.com.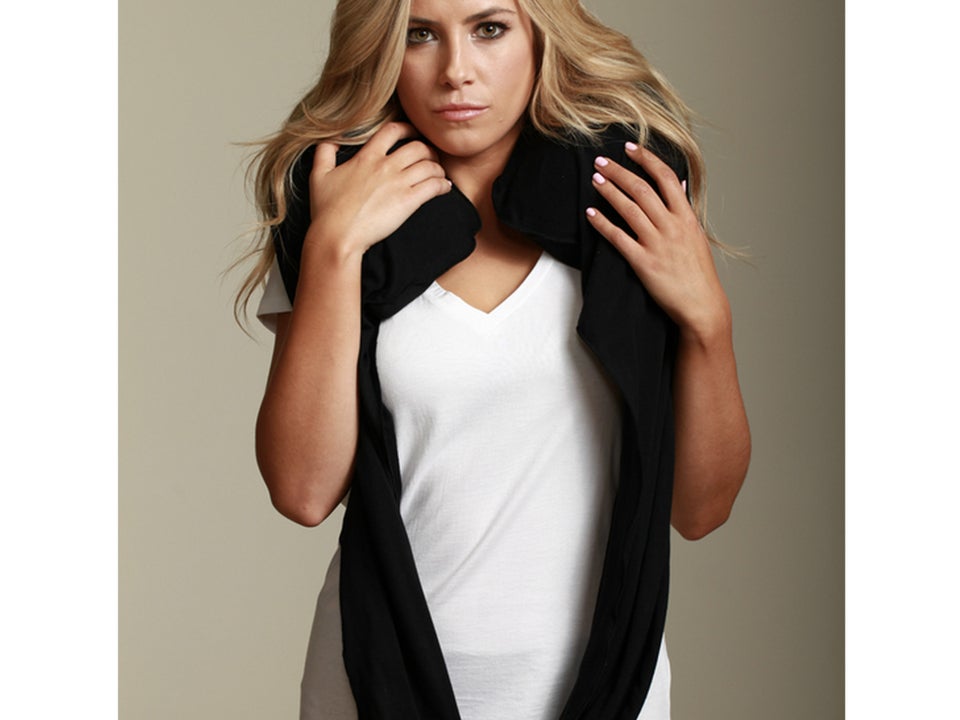 Genius Napping Inventions