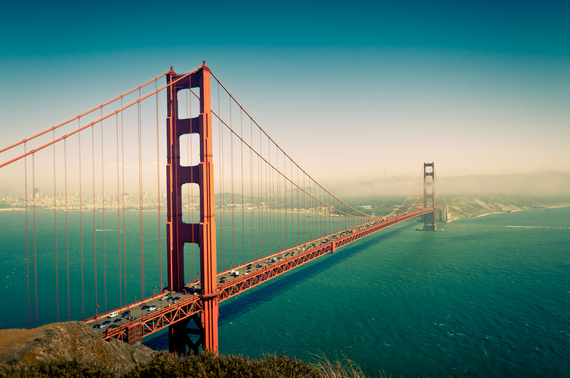 There's nothing worse for the budding traveler than when the wanderlust takes hold and the bank balance doesn't agree. Well, don't worry, because all is not lost! At least, not with Hopper at hand to set would-­be travelers straight with a selection of the 10 cheapest flights currently on offer in the United States.
Granted, they may not take you to the most distant continents, but they do offer wonders of a different kind, from Chicago's blues bars, to Philly's food scene, to the sights of the National Mall. Best of all, these flights all cost, on average, $78 or less. Yes, that's round trip. How much do you love us?
10. New Orleans to Chicago from $78
If you're in Louisiana pining for a release from the usual yearly rigmarole of Mardi Gras madness (or you just want to escape the summertime hurricane season for somewhere a little less blustery), then be sure to check out the offering from Spirit Airlines on routes connecting New Orleans' Louis Armstrong International Airport with Chicago O'Hare. Seats should cost in the region of just $78 round trip, tying for the fourth cheapest currently in the skies of the United States overall!
9. Kansas City to Chicago from $78
Also clocking up an attractive average price tag of just $78 round trip are seats on routes between Kansas City International and Chicago, which are cheapest when flying on Spirit Airlines and hit yearly lows in April, August and September. Oh, and tickets cost just the same when flying in the other direction, which is great news for Windy City locals eager to escape the metropolis and try Kansas City barbecue at any number of world-famous joints.
8. Minneapolis to Chicago from $78
Whether you're looking to leave behind the City of Lakes for a taste of the Midwest's metropolitan giant or to escape the crowds of Chicago for some quiet time between the forests and rolling plains of Minnesota, there's certainly no cheaper way to do it than with these bargain flights from budget carrier Spirit Airlines. Tickets on the route between Minneapolis-Saint Paul and Chicago O'Hare (and vice versa) are currently priced at just $78 on average -- the joint fourth cheapest of all domestic connections in the United States.
7. Houston to Chicago from $78
Jumping up from the heart of Texas to the midst of the Midwest, these 2.5-hour flights connect two of the largest airports in all of America: Houston's George Bush Intercontinental and the Chicago's sprawling O'Hare. What's more, they're downright wallet-­friendly to say the least, costing an average of just $78 round trip. Not bad when it's the striking galleries and museums of the Chicago Loop, the quirky bars of Wrigley and the pretty parks of the Michigan lakeside that are waiting on the other side!
6. Washington DC to West Palm Beach from $78
If you fancy escaping the capital for a spot of sun and sand but need to do it on a budget, then these super-quick 2.5-hour flights from Washington Dulles International to West Palm Beach are perhaps the perfect choice. Fliers can expect to pay in the region of just $78 for round-­trip tickets when going on Frontier Airlines, while prices stay pretty steady throughout the year, meaning there's a chance of bagging a bargain hotel deal during the Sunshine State's shoulder season. Oh, and this one costs just the same going in the other direction, too!
5. Boston to Richmond from $78
Thanks to the bargain seats offered by budget carrier JetBlue Airways on the route connecting Boston with Richmond directly, it's now possible for Bostonians to explore sites like the old Tredegar iron works, the Museum of the Confederacy, the pretty shores of Belle Isle and the Edgar Alan Poe Museum at ease. Tickets should cost in the region of just $78 round trip and are at their cheapest in May, August and September. Summertime break from the city, anyone?
4. Charlotte to Philadelphia from $76
Our third cheapest domestic air connection currently on offer to U.S. fliers comes courtesy of budget carrier Frontier, who've certainly lived up to their ultra-­low­-cost model with these round-­trip tickets in the region of just $76 on routes linking North Carolina's largest city of Charlotte with bubbling, bustling Philadelphia. That should leave plenty of cash for trying the city's legendary cheesesteaks and hoagies (that's sandwiches for most of you), not to mention the legendary Philadelphia Museum of Art.
3. Las Vegas to San Francisco from $74
What could possibly be a better end to a week spent gambling, partying and gawping at Vegas' glitzy sights than a soothing jaunt along the bracing cliffs of the Point Reyes National Seashore or a detox at the organic juice bars of San Francisco's yuppie-­filled downtown? Well the prospect is well and truly on the cards for travelers this year, with round-trip flights on either JetBlue Airways or Virgin America between McCarran International Airport and San Francisco International coming in with an average price tag of just $74!
2. Fort Lauderdale to Jacksonville from $68
OK, so it may only be a short hop of just over an hour up the coast of the Sunshine State from Fort Lauderdale to Jacksonville, but boy does it beat a lengthy drive up I-95 -- especially with that Florida sun beating down and the promise of getaways like Little Talbot and Black Hammock Island beckoning on the other side. The connection is run by low-­cost carrier JetBlue Airways, enjoys steady lows of around $68 round trip right throughout the year, and even costs the same going in the other direction!
1. Washington D.C. to Hartford from $68
It's great news for any Beltway residents looking to escape the familiar sights of the National Mall for a spell this year, because flights from the city's National Airport to the historic town of Hartford, Connecticut, are currently coming in as the joint cheapest in all of the United States. The nonstop connection is run by budget carrier JetBlue Airways and has an average ticket price of a meager $68 round trip. Oh, and the reverse journey costs just the same, meaning Connecticut locals can now enjoy the capital without breaking the bank!
Liked this article? Check out some more from the expert team at Hopper, who find you the cheapest flights ever: