BALTIMORE, Md. ― Aracely Martinez Yanez, 33, knows she's one of the lucky ones. A deep scar that carves a line through her scalp, from crown to cheek, is proof of that fortune.
She got lucky when her abusive partner shot her point-blank in the head, and she survived.
She got lucky when she escaped her tiny village in Honduras. Local villagers blamed her for her partner's death; he killed himself and their two young sons after he shot her.
She got lucky when she wasn't harmed as she made the treacherous 2,000-mile journey to America.
And she got luckiest of all when she was granted asylum after she got here.
If she were to make her journey to America now, she would likely be turned away. Last week, Attorney General Jeff Sessions ruled that immigration judges generally cannot consider domestic violence as grounds for asylum. Sessions overturned a precedent set during the Obama administration that allowed certain victims to seek asylum here if they were unable to get help in their home countries.
Domestic abuse of the kind experienced by Martinez Yanez is endemic in Central America. In Honduras, few services for victims exist, and perpetrators are almost never held criminally responsible. One woman is killed every 16 hours there, according to Honduras' Center for Women's Rights.

For many victims, the United States is their best shot at staying alive.
While the exact numbers are not available, immigration lawyers have estimated that the Trump administration's decision could invalidate tens of thousands of pending asylum claims from women fleeing domestic violence. Advocates warn it will be used to turn women away at the border, even if they have credible asylum claims.
"This administration is trying to close the door to refugees," said Archi Pyati, chief of policy at Tahirih Justice Center, a nonprofit organization that works with immigrant women and girls who have survived gender-based violence. They represented Martinez Yanez in her asylum case. Travel bans, increased detention and family separation are all being used as tools to deter individuals from coming here, Pyati said.
Still, that will not stop women from coming. Because there are thousands of women just like Martinez Yanez, and their stories are just as harrowing.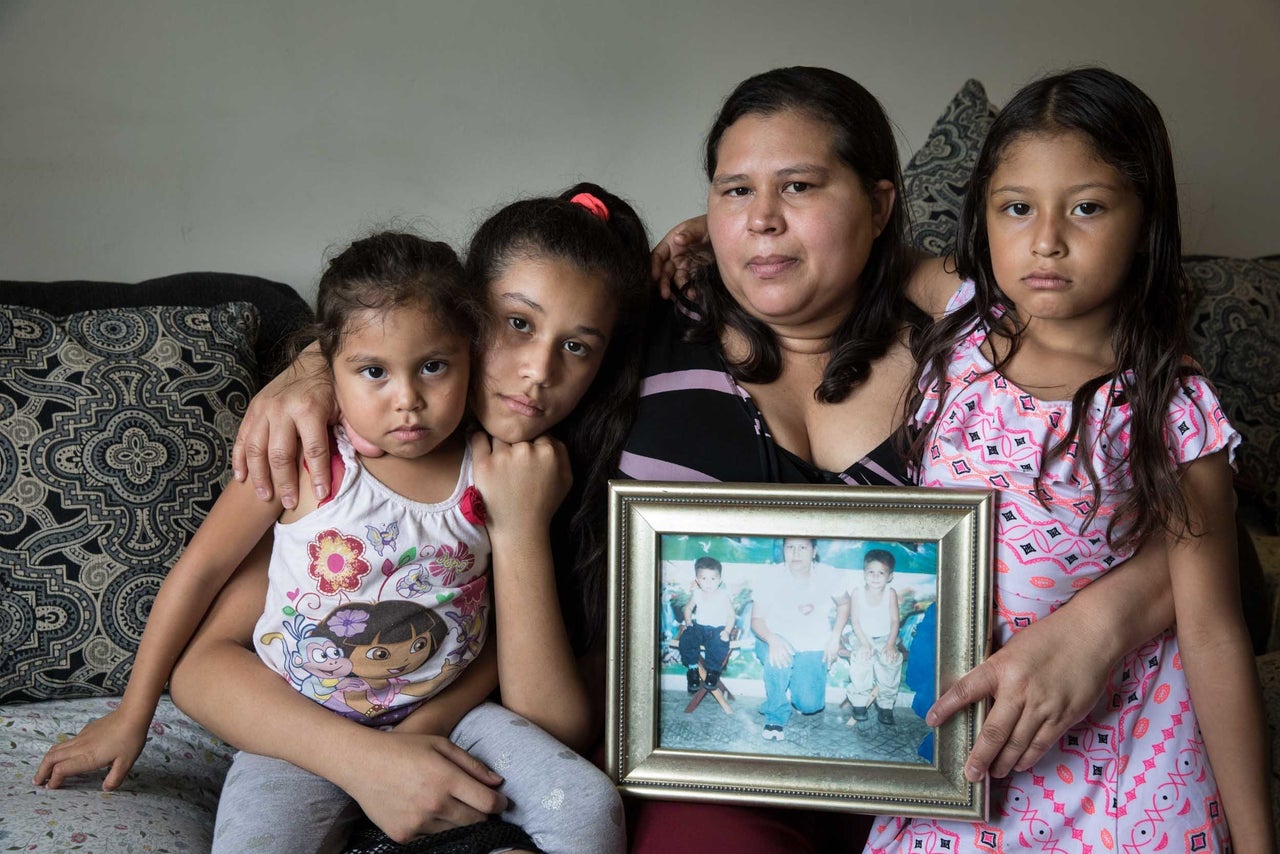 A Violent Start
Martinez Yanez grew up in a tiny village in Honduras with her parents and seven siblings. Her family made a living by selling homemade horchata, a sweet drink made from milky rice, and jugo de marañon, cashew juice. They also sold fresh tortillas out of their house. Her childhood was simple and happy.
But after she turned 15, a man in her village named Sorto became obsessed with her. At her cousin's wedding, he tried to dance with her. She pushed him off: He was 15 years her senior, and gave her the creeps. A few days later, Martinez Yanez said, he waited outside her house with a gun and kidnapped her. He took her to a mountain and raped her repeatedly.
"I wanted to die," she told HuffPost through an interpreter at her home in Baltimore on Tuesday. "I felt dirty. He said that I was his woman, and that I would not belong to anyone else." As she told her story, she rubbed her legs up and down, physically uncomfortable as she recalled the terrible things that had happened to her.
Over the next six years, she said, Sorto went on to rape and beat her whenever he pleased. In the eyes of the village, she was his woman, just like he said. She got pregnant immediately, giving birth to her first son, Juancito, at 16, and her second son, Daniel, at 18. Sorto would come and go from the village, as he had a wife and children in El Salvador. But when he wasn't there, she said she was watched by his family.
As for help, there were no police in her village, she said. She had seen what happened to other women who traveled to the closest city to report abuse: It made things worse. The police did nothing, and the abuser would inevitably find out.
"I felt like I was worthless, like I had no value," she said.
A few years after her sons were born, she became friends with a local barber who cut her children's hair. He was sweet and respectful, nothing like Sorto, she said. They began a secret relationship. Sorto had been gone from the village for a few years, and Martinez Yanez hoped she was free of him. Then she got pregnant. Scared that Sorto would find out, she fled to San Pedro Sula, a city in the north of the country. She didn't tell anyone where she had gone.
But Sorto found her anyway. He called her on the phone and told her if she did not come back to the village within the next 24 hours, he would kill her family, she said. Martinez Yanez got on the next bus back.
A few days after she returned, she said, Sorto told her that he was taking her and their two boys to the river. He brought a hunting rifle with him. The family walked through the mountainside. Martinez Yanez recalled handing her children some sticks to play with, and crouching on the ground with them. Then she felt the rifle pressing into her head. The rest is a blank.
Sorto shot her in the back of the head, and killed her two sons, before shooting himself. Juancito was 6, Daniel was 4. Somehow, Martinez Yanez, five months pregnant, survived. She was hospitalized for months and had to relearn to walk and talk. She is still deaf in one ear, and has numbness down one side of her body.
When she returned home to the village, she said, people threw rocks at her and called her names. Someone fired a gun into her house. Someone else tried to run her over with a bicycle. The community blamed her for the killings because she had tried to leave Sorto, she explained. His family wanted to avenge his death.
"The whole village was against me," she said. "Children, adults. I couldn't go anywhere by myself."
A few months later she gave birth to a girl, Emely, but she was overwhelmed with stress. On top of grieving the death of her two sons, learning to live with a traumatic brain injury, and caring for her newborn, she was constantly worried about being killed by people in her village.
It was too much. She eventually fled to Tegucigalpa, the capital of Honduras, but Sorto's family found her there too, she said. In a last-ditch effort to save Martinez Yanez's life, her family paid over $7,000, an enormous sum for the family, to a coyote, a person who helps smuggle people across the border to the U.S. Emely, who was now 2, had to stay behind. They couldn't afford to send her, too.
Martinez Yanez made the heartbreaking decision to go alone.
The Journey To Freedom
She left in the middle of the night, traveling with a group of four or five people. They were transported in a van for part of the trip, and then in taxis.
There was very little to eat or drink, she said, and she barely slept. Her stomach was upset and she suffered from debilitating headaches. In Mexico, she almost turned back.
"I missed my parents and my daughter so much," she said. "But the threats and the conditions that I knew were waiting for me in my village gave me the motivation to continue to the U.S. to be safe."
It took them two weeks to get to the U.S. border. Then they waited two days before attempting to cross, she said. She was terrified that she would be caught by immigration officials and sent back. She crossed the border illegally in February 2009, and went to her uncle's house in Houston, Texas, before traveling on to Annapolis, Maryland, where her brother lived.
"Women like Aracely are saving their own lives."
Martinez Yanez didn't know that she could apply for asylum as a domestic violence victim until a few years later, when she sought medical care for her head injury in Maryland. There, she was referred to Tahirih Justice Center.
Kristen Strain, an attorney who worked on her case, wrote the legal brief arguing that Martinez Yanez should be granted asylum.
Generally, applicants must show that the persecution they have suffered is on account of one of five grounds: race, religion, national origin, political opinion, or membership in a particular social group. Strain successfully argued that being a female victim of severe gender-based violence in Honduras counted as a particular social group for purposes of obtaining asylum.
"There simply aren't laws in place that protect women like Aracely," she said. "They have no recourse. It is accepted in their communities that women can be treated like men's property."
She said it took over a year to gather all the evidence for Martinez Yanez's claim, which included a neurological evaluation, medical documents, news stories from Honduran papers about the shooting, dozens of interviews, and statements from friends and family in Honduras to corroborate her story.
"It is not as if it's easy," Strain said. "In addition to having to physically get here, which is harrowing and dangerous, women have to navigate a complex legal system that is difficult to understand, especially when they don't speak the language. It's hard for them to even know what their rights are, let alone find an attorney who can advocate for them."
"Women like Aracely are saving their own lives," she went on.
Martinez Yanez was granted asylum in 2013. Her daughter, Emely, was allowed to join her in 2014. While they talked on the phone regularly, the mother and daughter had not seen each other for five years.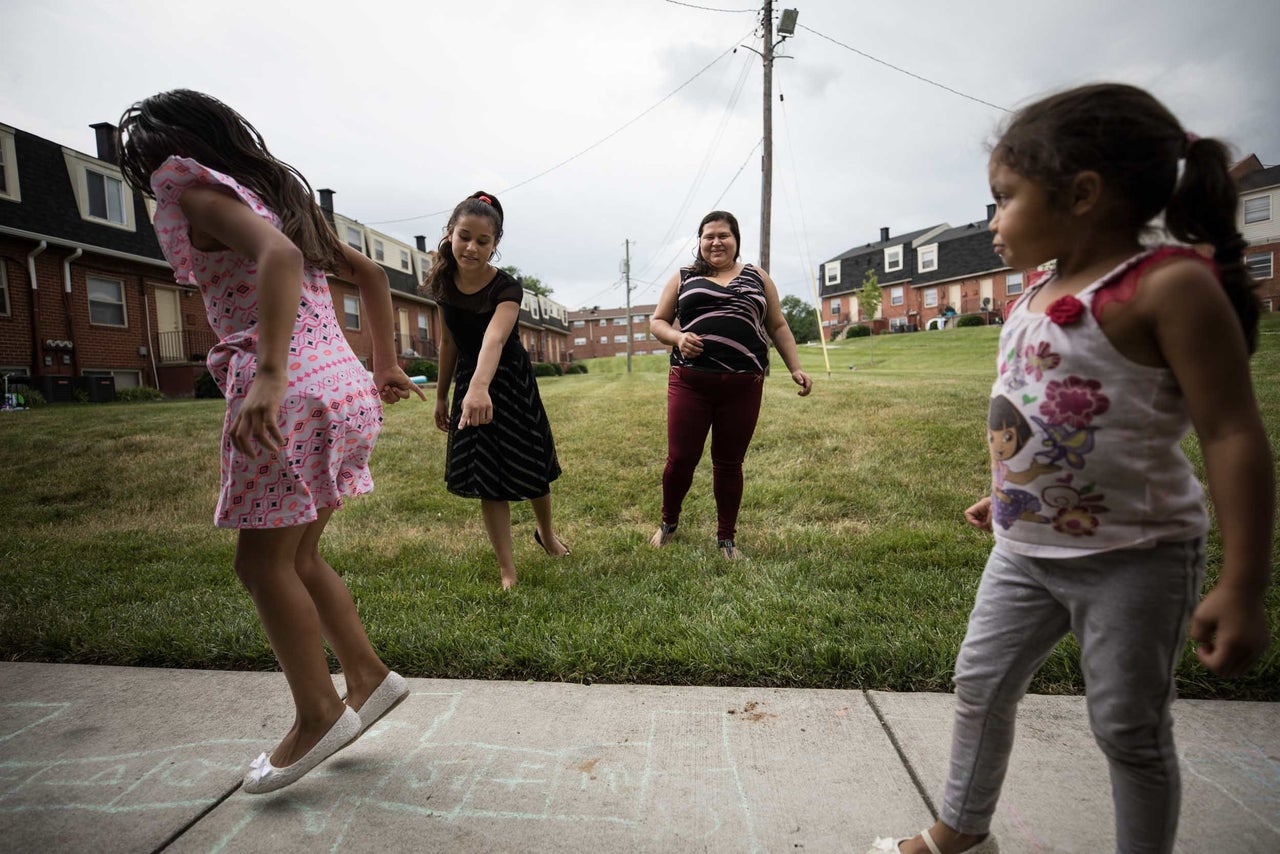 A New Life
In her Baltimore home, more than 3,000 miles from the tiny village in Honduras where she was raised, Martinez Yanez likes to be surrounded by photos. They remind her of those she had to leave behind.
There's one of her sister graduating college. Another of her parents beaming happily.
And then, hanging in the entrance to the kitchen, is a photograph of her with her two deceased sons. It is the only picture she owns of them. She brought it with her when she fled Honduras. When she spoke to HuffPost about her sons, she cried. She still doesn't understand why they were killed.
Since she's been in the U.S., Martinez Yanez has expanded her family. Emely, who is 11, now has two sisters: Gabriela, 7, and Alyson, 4.
"I'm very fortunate to be able to have my daughters with me," she said. "I can't ask for anything better to happen. I am so happy with my life."
Martinez Yanez still struggles with the repercussions of being shot in the head. She is forgetful and can get confused easily. She said she has to put every appointment she has in her phone with an alarm, otherwise she'll miss it.
She said she was grateful that she was granted asylum, and heartbroken for other women who may not have the same opportunity she did.
"I just feel so sad that other women in my situation, or even in worse situations than mine will not be allowed in the country anymore," she said. "Here, I don't have to hide or run away from anyone."