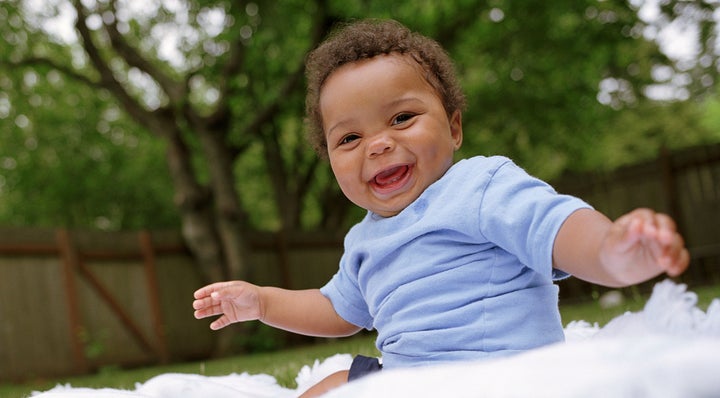 If new parents in 2017 were limited to only 100 possible baby name options, what should they be? Nameberry is attempting to answer this question.
We've whittled down the thousands of possibilities to find the 100 baby names that we believe are most emblematic of our times ― while also being both somewhat timeless and forward-facing. The names here are perfect for a 2017 baby yet will serve him or her well into the turn of the next century (now there's an amazing thought).
Of course, there are hundreds of other baby names that potentially fit these criteria. But if we are limited to only 100, these are our picks for the very best of the best ― and our reasons why.
Alden ―

May unseat the popular Aiden, thanks to actor Ehrenreich, the new young Han in "Star Wars"

Amity ―

Friendly update for Hope and Faith

Amos ―

A biblical boy that could follow the newly successful Abel

Araminta ―

British classic fresher than Arabella

Arcadia ―

Heavenly name for the optimistic

Archer ―

Fresher than Hunter, cooler than Arthur

Arrow ―

Shooting upwards

Ash ―

Cool short form of Ashton or Asher, or full name on its own

Astrid ―

Scandinavian import with lots of style

Auden ―

Poetic surname chosen by Kelsey Grammer for his son

Aviva ―

Vivacious palindromic choice

Baxter ―

Could Bax be the new Max?

Bea ―

Beatrice or Beatrix short form that stands alone

Benno ―

Ancient saint name makes Ben special

Birdie ―

Nature name taking flight

Booker ―

Iconic hero name with literary and musical associations

Bowie ―

The late idol inspiring baby namers

Briar ―

New unisex nature name in the Top 000

Calliope ―

Love child of Cadence and Penelope

Cassius ―

Ancient Roman name that couldn't be cooler

Celeste ―

Ladylike name with heavenly associations

Clara ―

Clearly the most stylish Claire-related name today

Clark ―

Old-time heartthrob and superhero returns

Corin ―

The Bard gave us this distinctive yet straightforward boys' name

Cressida ―

Posh British possibility with a Shakespearean pedigree

Cyrus ―

Celeb choice with historic Eastern roots

Daisy ―

Perennially-fresh and charming flower name

Dashiell ―

Literary name with lots of dash

Delphine ―

Chic French twist on floral name

Dylan ―

Rebel Nobel poet name turned modern classic

Echo ―

Three trends ― mythological, o-ending word name ― in one modern choice

Eliza ―

Classic revival keeps gathering steam

Ember ―

Emma meets Amber

Emilia ―

Khaleesi gone classic

Esme ―

Charming Salinger name

that means beloved

Esther ―

Biblical heroine name weds ancient and feminist appeal

Felicity ―

"Rogue One" star Felicity Jones adds strength to this name

Felix ―

Ancient saint turned cartoon cat turned happy modern baby name

Fiona ―

Romantic Scottish favorite moving on from "Shrek"

Forrest ―

Nature name with buttoned-down appeal

Frank ―

Frank Ocean updates this name from the Sinatra era

Frankie ―

Boyish nickname for girls

Geneva ―

Cool Swiss place name destination

Gideon ―

Biblical boy name on the rise

Goldie ―

One nickname name that's both rich and fun

Greer ―

Tailored Hollywood name, fresher than Harlow or Ava

Gus ―

Friendly, informal Gus is the new Max

Indigo ―-

Bright blue unisex choice

Ines/Inez ―

Spanish-inflected variation of Agnes with starry new gloss

Iris ―

Elegant floral that's also the name of the goddess of the rainbow

Isadora ―

The new Isa girl in town

Keziah ―

Biblical name that feels sleek and modern

Lachlan ―

Scottish choice finding wider favor

Lark ―

Bird name that sings sweetly in the middle

Lionel ―

Jazzy name with stylish leonine associations

Louise ―

This year's nominee for how can it NOT be in the Top 1000?

Loxley ―

Popping on Pinterest

Loyal ―

One virtue name that works for boys

Lucian ― M

ale spin on the popular Lucy and Lucia

Lula ―

Retro girl name on the upswing, and Liv Tyler's new daughter

Lux ―

As simple as it is luxurious

Marguerite ―

Cooler than Margaret, more classic than Margo

McCoy ―

The real thing

Mirabelle ―

The new Isabelle

Monty ―

British favorite feels fresh here

Osiris ―

Name from Egyptian mythology that feels powerful today

Otis ―

Bluesy choice that's the epitome of cool

Otto ―

New old O name for boys

Ozzie ―

Adorable O nickname for Ozias, Oswald, etc; Oz works too

Pearl ―

The most stylish middle name of the moment

Persephone ―

Now that Penelope is a top name, Persephone is rising

Posey ―

Sweet update on Poppy and Rosie

Quincy ―

Unusual Presidential choice that works for boys and girls

Ray ―

Sleek, simple name right for both genders

Reeve ―

A successor to celebrity surname name Reese

Remy ―

French, simple, lovely for either sex

Reuben ―

Hot biblical boy name

Roman ―

Celebrity favorite with noble pedigree

Rosamund ―

Elegant rose family member

Ruth ―

Rich biblical name finding new fans

Sadie ―

The fastest-rising girl name on Nameberry

Sage ―

A name marrying wisdom and nature

Sasha ―

Unisex name re-embraced for boys

Saskia ―

Dutch treat with artistic vibe

Sayer ―

More eloquent than Sawyer

Simone ―

Gold medalist times two

Snow ―

Fresh, winter white choice

Soleil ―

Sunny French name shining here

Sybil ―

A not-done "Downton Abbey"

name

Sylvie ―

Sweet French-accented choice

Tallulah ―

Dramatic name favored by celebrities, but still distinctive in the real world

Thea ―

Newcomer to the Top 1000 that feels both classic and modern

Thor ―

Powerful superhero choice

Vera ―

Fresher than Cora or Ava

Wilder ―

Prepster name with an outdoorsy vibe

Winnie ―

Winning nickname-name finding new fans, including Jimmy Fallon

Winston ―

Churchill makes it a hero name, but Winston feels wearable for a child, too

Yara ―

Spanish favorite slowly being discovered by the wider world

Zelda ―

New series based on the life of Zelda Fitzgerald soon to debut on

Zinnia ―

Exotic floral choice