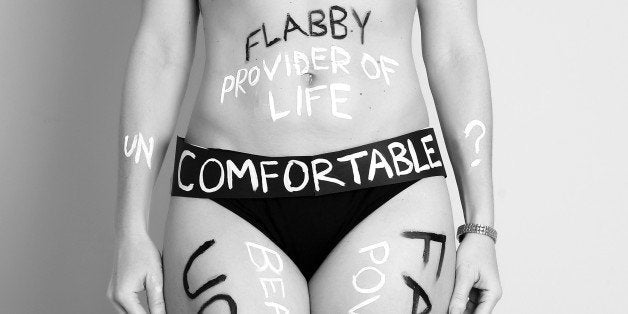 You're too fat, you're too skinny, you're too muscular are all words women across the world continue to hear. While social media has played an important role in bringing awareness to body shaming it has also in more ways than one opened the door for more body shamming to happen anonymously.
So what exactly is body shaming? Body shaming is defined as the practice of making critical, potentially humiliating comments about a person's body size or weight. In America, body shaming is not only something that impacts "regular" women but even "famous" women.
Recently, Tia Mowry and former Huffington Post Live host, Nancy Redd engaged in a powerful conversation about body shaming on Tia's show "Mostly Mom". These two amazing women who have both dealt with their share of body shaming openly discussed how they as women in the spotlight have often been told to simply "deal with it" when it comes to online body shamers. Is that a healthy way to deal with the shame? Absolutely not; however, this attitude of "dealing with it" has led to an increase in the amount of women now seeking good and bad plastic surgery options to fix the things others decided they don't like.
The question now lies at hand: will we as women ever be able to fully love ourselves flaws and all or will society force us to "fix" the features given to us by God? We may never know the answer to that question but what we do know is that we are not alone and here are a few times even our favorite celebrities were body shamed just like us:
Beyoncé
We all love Beyoncé and always will. Practically every woman has desired to channel their inner Beyoncé while practically every man has secretly dreamed of being married to Beyoncé. While we all love Beyoncé even she has been body shamed.
During an interview in 2011 with Katie Couric many took to social media to express that her pregnant belly looked fake. What was supposed to be an exciting moment in her life as a woman suddenly turned into a moment where she was degraded much more than she was celebrated.
Kim Kardashian
We have all become obsessed with the Kardashian family and brand and sometimes that obsession can lead to a path of critics looking to tear you down. This multi million dollar super star acknowledged in an interview that she stopped smiling because of the body shamers who criticized her when she was pregnant with North West.
Jennifer Aniston
For the last time Jennifer Aniston is not pregnant and she's fed up with having to tell people that. Everyone seems to be anticipating exactly when one of the most beautiful women in the world will finally become a mom but she's not here for it. "I am not pregnant but what I am is fed up," says Aniston.
Jennifer Lopez
We often talk about how flawless the former American Idol and Fly Girl, Jennifer Lopez is even at age 47. While fans across the world have fell in love with the voluptuous Jennifer Lopez she admits that early in her career she was told she had to lose weight because of her size and she refused.
Tia Mowry
As mentioned previously, Tia Mowry continues to be a victim of body shaming. Shortly after her sister announced her pregnancy many began to assume that Tia too was expecting a child. One Instagram user decided to troll her photos and she addressed them publicly on the forum.
Alicia Keys
Despite the scrutiny she faces Alicia Keys continues to be that girl who's on fire. Keys' is no stranger to public body shaming. In fact, she details her struggle with femininity and often being rumored as gay because of her decision to dress a certain way early in her career.
Pink
Pink has no issue publicly addressing her body shamers. While attending an event in honor of cancer victims many fans went to social media to comment on how "fat" Pink had become. She in turn responded that people were bringing more attention to her size than the great cause she was supporting.


How do you handle body shaming? Share your advice with women just like you
REAL LIFE. REAL NEWS. REAL VOICES.
Help us tell more of the stories that matter from voices that too often remain unheard.