NORRISTOWN, Pa. ― The judge who sentenced Bill Cosby to prison for sexual assault rejected a prosecution request to allow additional accusers to speak at this week's sentencing hearing. But that didn't stop some from telling their stories anyway.
"I've waited 32 years for this day hoping my nightmare would go away," Chelan Lashan, who accused Cosby of sexually assaulting her in 1986, defiantly told a small group of reporters and advocates after the comedian was led away in handcuffs on Tuesday.
The judge's pronouncement sent the courthouse in suburban Philadelphia into a flurry of activity: reporters running to their computers, advocates hopping on calls to share the news, and prosecutors and defense lawyers giving press conferences. Amid the stir was an important and powerful sidelight.
In a bare auditorium less than a mile from the courthouse, 12 Cosby accusers ― their allegations of drugging, sexual assault and rape spanning decades ― took the podium to tell their stories. The auditorium, named Savior Hall, was dubbed "survivor hall" for the day, according to victim's advocate Jennifer Storm.
"It would've been really nice to read my witness statement in court," Lise-Lotte Lublin, who accused Cosby of sexually assaulting her in 1989, said before reading her victim impact statement.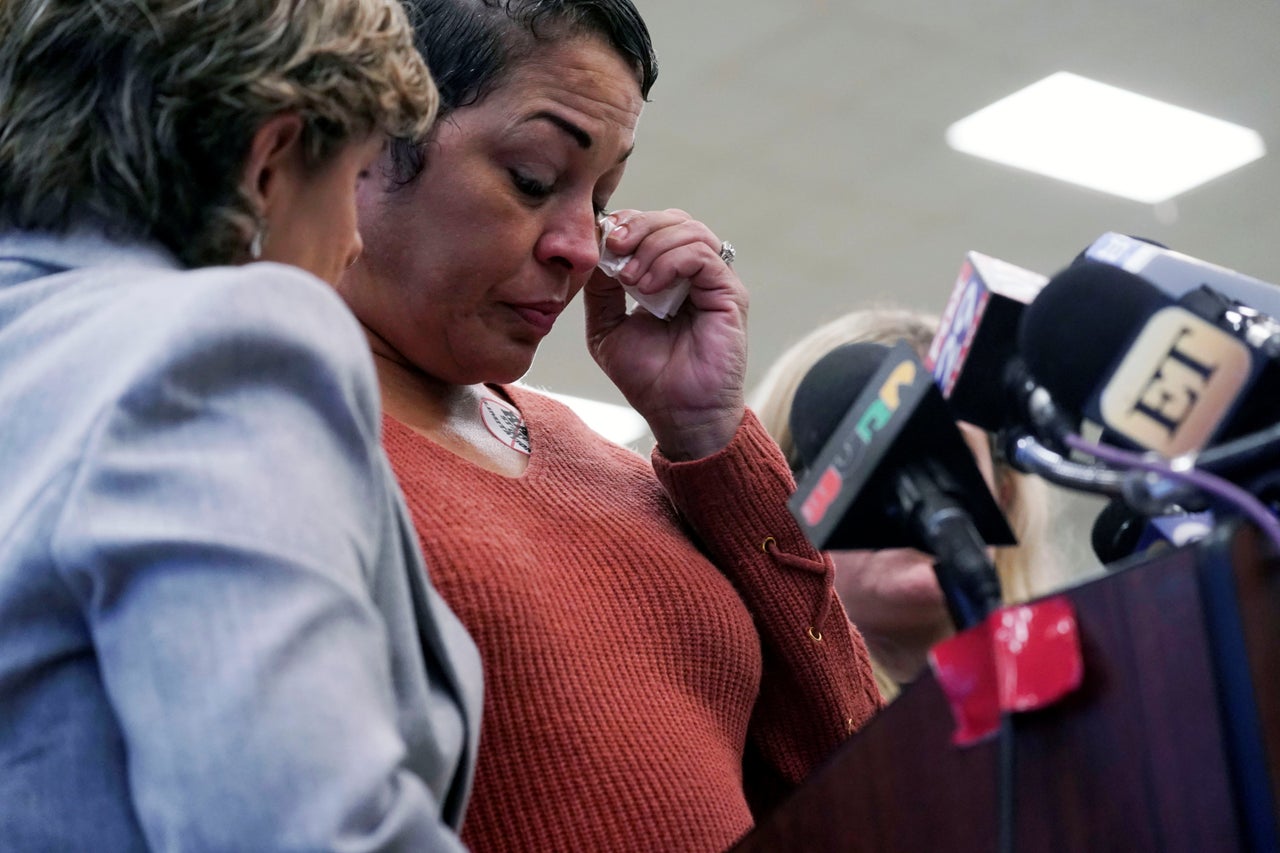 "I was 24 years old. My age did not matter to Bill Cosby. So, his age of 81 should not matter," she said. "He did not consider my age when he gave me a life sentence of traumatic memories. Don't talk about him being blind to me. I was blind from him making me unconscious."
Advocates and even reporters held back tears as the women poured out their hearts. The dozen accusers included Lili Bernard, Victoria Valentino and Therese Serignese, whose ages varied. Four of the five women who testified at Cosby's April trial to provide evidence of "prior bad acts" ― Lashan, Lublin, Janice Dickinson and Janice Baker-Kinney ― were present or had their attorneys read their statements.
The most powerful statements came from Sunni Welles and Stacey Pinkerton. Welles, 70, said Cosby drugged and raped her twice, taking her virginity, in 1965 when she was 17. Pinkerton, who spoke publicly about her assault for the first time on Tuesday, said Cosby drugged and raped her in Chicago in 1986.
Welles addressed her victim impact statement directly to Cosby, whom she referred to as "BC," she explained, because of post-traumatic stress disorder she's suffered since she says he raped her.
"You have in essence destroyed a part of my life. Not only now who I am, at 70 years old, but who I was and who I could've become," she said, tears streaming down her face.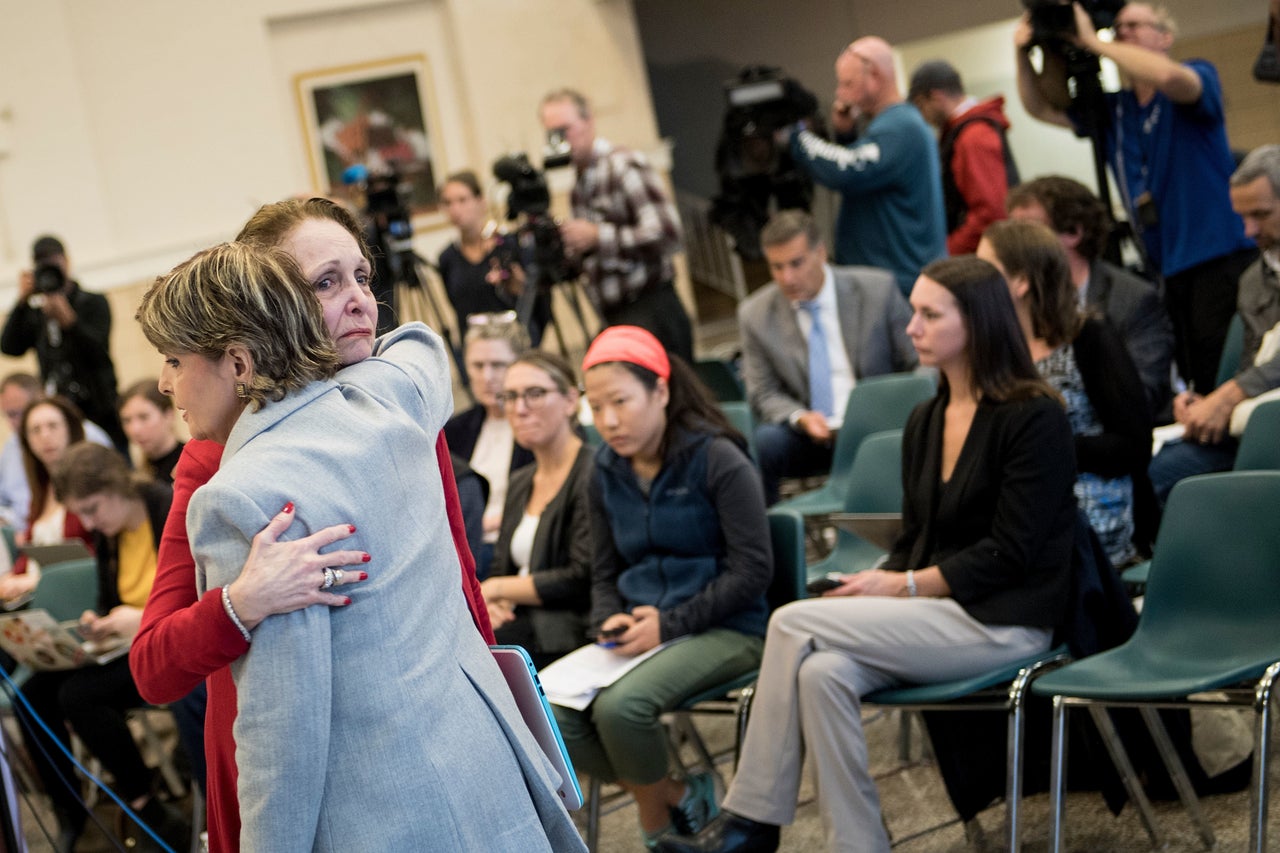 Welles said she met Cosby through her mother, who was a Hollywood agent in the early 1960s. Her mother trusted Cosby and let Welles hang out with him from time to time. Twice, she said, he drugged and raped her. When Welles told her mother, the single mom of two explained she wasn't able to do anything because she needed to keep her job.
"It is because of you, BC, that my ankles and legs must be crossed and locked while I sleep so they can't be pried open," Welles said as she broke into quiet sobs that shook her frail body. "You deserve to feel what the rest of the 63 of us have felt our entire life. I hope that when you die, BC, you go to the hell of your making."
Pinkerton also discussed the lifelong effects of being assaulted.
"I'm here this week to seek closure and justice and send a message after these 32 years," she said. "How has it impacted my life? It's impacted it in every way possible."
She moved overseas, but "no place was far enough away from Mr. Cosby," she realized.
More than 60 women have accused Cosby of sexually assaulting them, some more than 50 years ago. Cosby denied everything. He will serve his time in Pennsylvania's prison system.
On Tuesday, as survivors shared their anger and sadness and strength since coming forward, one summed up the feeling.
"Today, I feel a victory in my soul and in my heart," Sarita Butterfield said. "Today, I am free."
Popular in the Community