Mark your calendars! October 20th is World Osteoporosis Day, an annual event dedicated to raising global awareness of the prevention, diagnosis and treatment of osteoporosis and metabolic bone disease.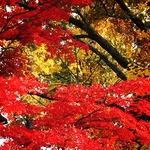 Osteoporosis happens when bones become weaker and thinner with age, or due to other diseases, even because of certain medications (go to NOF.org for more information on the causes of osteoporosis). When bones get brittle, a simple fall could be a life-changing disaster.
It's even more common than you probably think:
Millions of Americans -- 54 million to be exact -- have low bone density or osteoporosis.
Over 50 percent of women over 50 will break a bone due to osteoporosis, and surprisingly, one in four men will, as well. Even though men are at greater risk of developing osteoporosis than contracting prostate cancer, doctors fail to adequately explore prevention and treatment with them.
I learned all about osteoporosis shortly after turning 50 when a simple fall on the sidewalk caused a wrist fracture. Lucky for me, my doctor suggested a bone density test, which showed measurable bone loss, meaning I was heading toward osteoporosis. However, with smart nutrition, an increase in vitamin D to help my body absorb calcium, and a commitment to daily strength training, subsequent tests have shown that I've stopped the train in its tracks.
The World Osteoporosis Day theme this year is Serve Up Bone Health to get everyone focused on eating the best foods to build stronger bones at every age.
As a fun guide, here's a list of foods to help you "serve up bone health" every day, all year long, inspired by the beautiful changing colors of fall:
Green -- kale, spinach, brussel sprouts (vitamin K and calcium) Check out my roasted brussel sprouts and potato dish!)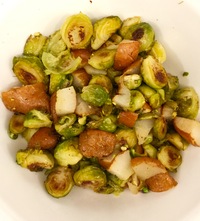 Red -- tomatoes (potassium), red peppers (vitamin C), lean meat (protein)
Orange -- oranges (vitamin C), pumpkin (potassium)
Yellow -- bananas (potassium)
Brown -- potatoes and almonds (magnesium)
Purple -- prunes and raisins (potassium)
Just as important as eating well, is doing the right exercises to keep bones strong: push-ups, jumping jacks, free weights, climbing stairs and running are all excellent options.
As the Bone Health Ambassador for the National Osteoporosis Foundation, I am asking for your help to spread the message and promote better bone health through proper nutrition and exercise.
How much do you know about bone health? Watch this and test your knowledge:
Wear white on October 20 and embrace better bone health.
Calling all HuffPost superfans!
Sign up for membership to become a founding member and help shape HuffPost's next chapter