Recently, these five creative powerhouse women on the fashion and lifestyle scene in Washington, D.C. united for #THEphotoshoot. As we kick off the new year, many of us are making resolutions and deciding who we want to be and what we want to accomplish in 2018. These ladies give us some serious #girlboss #squadgoals for the coming year!
"I want to highlight their talents, but I also want to promote the idea that women can get together, support each other and really do anything," says Isoke Salaam, #THEphotoshoot creator and organizer, of her desire to bring these women together.
"I dislike the idea that too many women in a room creates drama. Nope, it simply creates a room full of sweet, stylish successful women!" Isoke says.
Together, this Publicist (Isoke Salaam), Fashion Writer (Lola Pfaehler), Creative (LaShawn Kenley), Closer (Vanessa Patterson), and Interior Designer (Stacy Murphy) are setting the standard for how we should all come together to celebrate and support one another in 2018.
What does it mean to celebrate and support other women in your work? #THEphotoshoot ladies weigh in: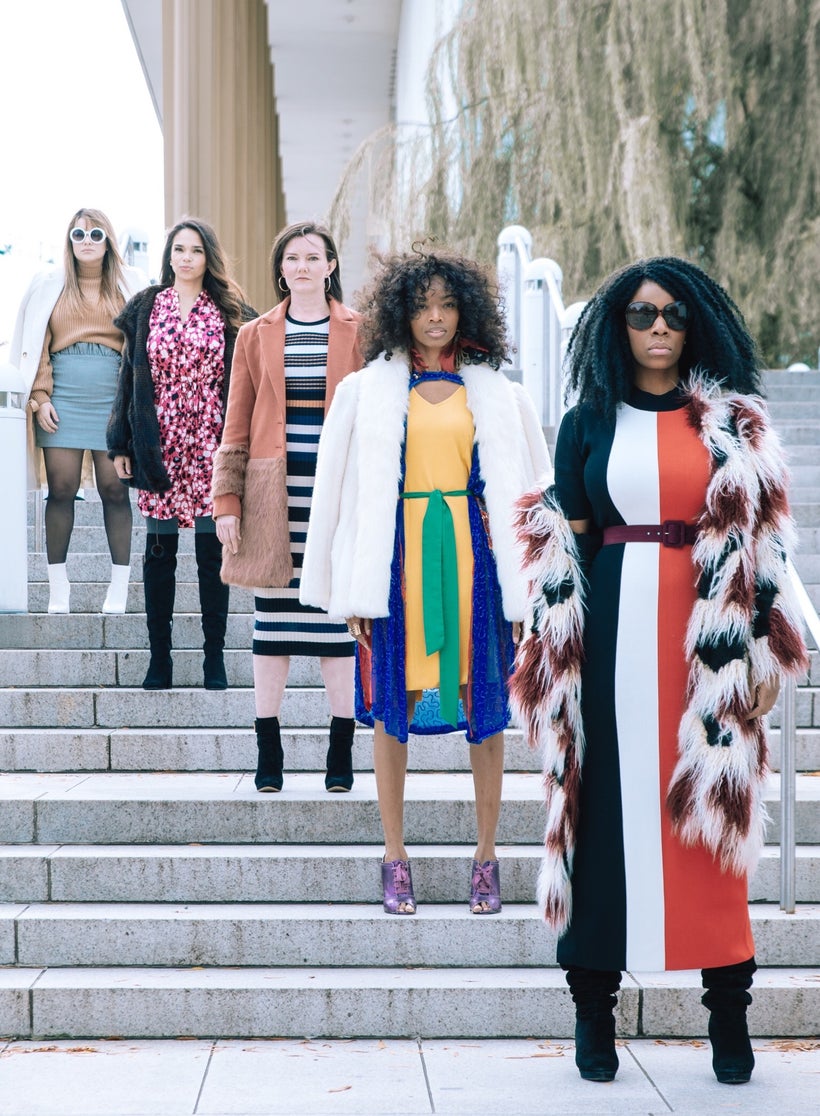 Raise Each Other Up!
Many of us have been socially programmed to compete with other women, and that can lead to catty behavior, such as tearing down women who are succeeding. But #THEphotoshoot ladies are all about celebrating the hustle they see in other women, and openly praising them for qualities they admire, instead of being competitive and derisive.
"The traits I most admire in other women are the determination, passion, ambition, confidence, and personal style of the women I work with," says Vanessa, real estate agent. "I try to always acknowledge these qualities in other women, and emulate them!"
"I most admire the determination the women I work with demonstrate on a daily basis. It takes a lot of determination to work in this industry [fashion], especially since it's constantly changing. In many cases, there is one person doing five or six different jobs at once (PR outreach, content creator, writer, editor, photographer, etc.), and I think that's pretty amazing," says Lola, who is a multi-tasking fashion mama herself.
Build These Values Into Your Brand's DNA!
More and more values-based brands are coming onto the scene. No matter what you're selling--photo prints, clothes, skincare products, etc.--you can create a tribe of supportive, inclusive women by weaving these values into the very D.N.A. of your brand. Which is exactly what one of #THEphotoshoot ladies has done!
"Sun Gods is a women's apparel brand that unifies women through entrepreneurship, community engagement and fashion! Seeing this diversity being highlighted in a positive light and the connections being made is very satisfying," says LaShawn, the creative mind behind the Sun Gods brand.
Women-run brands like Sun Gods are becoming more and more common, and there is a strong business case emerging for why a values-driven brand can outlast its competition in profitability and customer loyalty. That's business karma you can take to the bank!
Be Vulnerable!
"To be creative, to share your work, is to expose one's greatest vulnerabilities. I admire my fellow female creatives' fearless drive to share their work, their vulnerabilities, with the world," says Stacy, an interior designer and mom of twins.
Sharing your creative work with the world, especially when you're a "creative gal in a government town," like Stacy, can make you feel really vulnerable, but it creates space for others to step forward with their own creative ideas.
Sometimes, being vulnerable means being the first one to reach out and attempt to unite other women around you, like Isoke has.
"I met some of the most amazing gals here in the city doing ridiculously cool things, and I wanted to introduce these girls in a chic, fun way," says Isoke. "I want to promote the idea that women can get together, support each other and really do anything. I am a girl's girl!"
Want to see more of #THEphotoshoot movement? This is just the beginning. Isoke has big plans for expanding the concept in 2018.
"I will continue to share the concept with the world in hopes that our message that Girl Power, style, creativity, business and kindness are the standard," says Isoke. "My goal is to execute a #THEphotoshoot in Paris in 2018. My home away from home."
Follow #THEphotoshoot on social media to keep up with the women in 2018!
Calling all HuffPost superfans!
Sign up for membership to become a founding member and help shape HuffPost's next chapter
This post was published on the now-closed HuffPost Contributor platform. Contributors control their own work and posted freely to our site. If you need to flag this entry as abusive,
send us an email
.