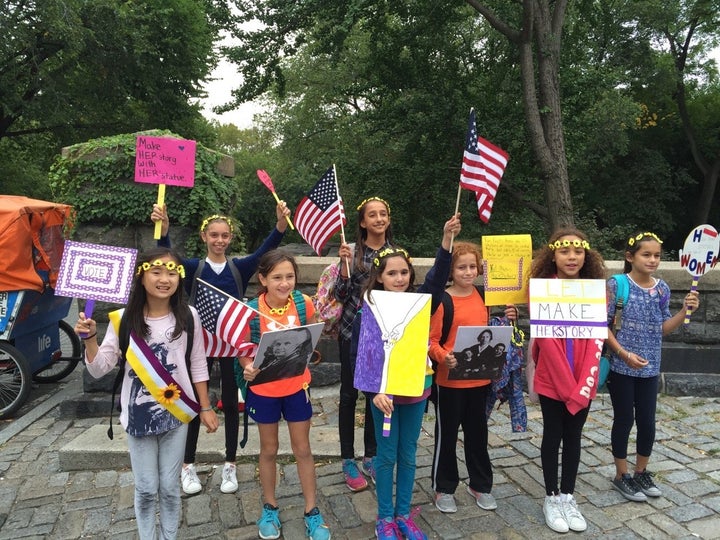 After learning that there are no statues of real women in Central Park, a New York City Girl Scout troop decided to take action.
Last year, the 10 members of Girl Scouts of Greater New York Troop 3484 went on a field trip to the Roosevelt House to tour an exhibit on the suffragette movement. Troop leader Gina Sohn told The Huffington Post that during the visit, the 10-year-old girls discovered "to their great disbelief and outrage" that while there are more than 20 statues of actual historical men in Central Park, there are none honoring real women.
Instead, women are represented in the form of fictional characters like Mother Goose, Alice of 'Alice in Wonderland," Juliet with Romeo, and characters like angels and nymphs.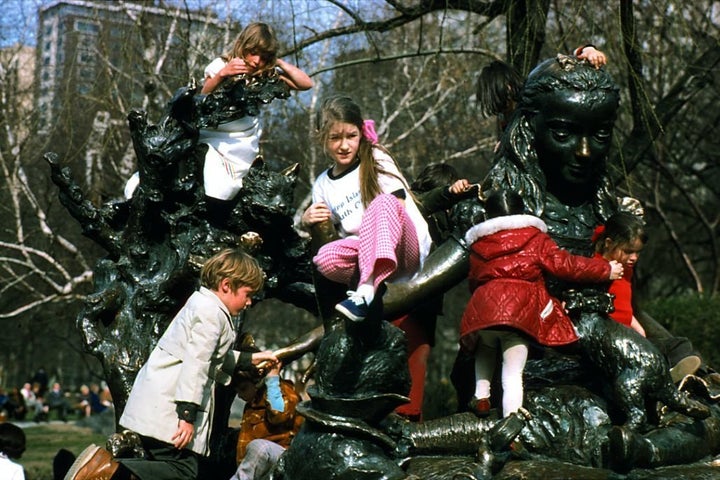 The girls of Troop 3484 decided to do something about the underrepresentation. They've pledged to donate $1,920 of their Girl Scout cookie proceeds to the Elizabeth Cady Stanton and Susan B. Anthony Statue Fund, an initiative to place statues of the two famous women's rights activists in Central Park.
The dollar amount commemorates the year 1920, when women in the U.S. won the right to vote.
"The girls were also out in Central Park most weeks this fall raising awareness for the cause with signs, chants and information they handed out about the fund," Sohn said. "We can't put a number on donations that resulted from this, but they hope it has made a difference."
Author Myriam Miedzian and her husband Gary Ferdman launched the statue fund in 2013 after noticing the absence of statues honoring women during one of their frequent long walks through the park. Together, they formed a committee with other people looking to change thsi reality.
"My husband and I identified 44 women who we believed were as deserving as many of the men in the park, of statues honoring them!" Miedzian told HuffPost. "We decided that most deserving of all were Elizabeth Cady Stanton and Susan B. Anthony who had worked together for over 50 years for the most basic human rights that women were denied during their lifetime."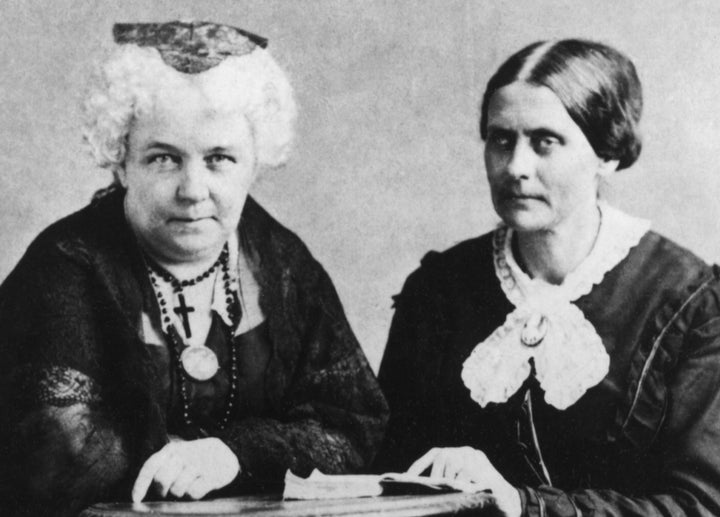 Major fundraising efforts began in May 2015, after New York City Parks and Recreation Commissioner, Mitchell Silver, gave them the go-ahead for the project and confirmed a location, Central Park at West 77th Street. The budget is $1.5 million, and to date, they've raised over $200,000 from more than 400 donors. The fund also received a challenge grant from New York Life Insurance Company, which pledged to match contributions up to $500,000.
Ferdman told HuffPost he believes these statues will help raise awareness around women's issues. "I think that young men also need a greater appreciation of the achievements of women and the importance of the kind of organizing that resulted in women winning the right to vote," he said. "Violence against women, unequal pay, the lack of women in political leadership are problems that affect us all."
Sohn said her troop hopes to rally enough people to donate to the fund so that the first statue of a real woman will appear in Central Park by 2020 ― the centennial of women winning the right to vote in the U.S.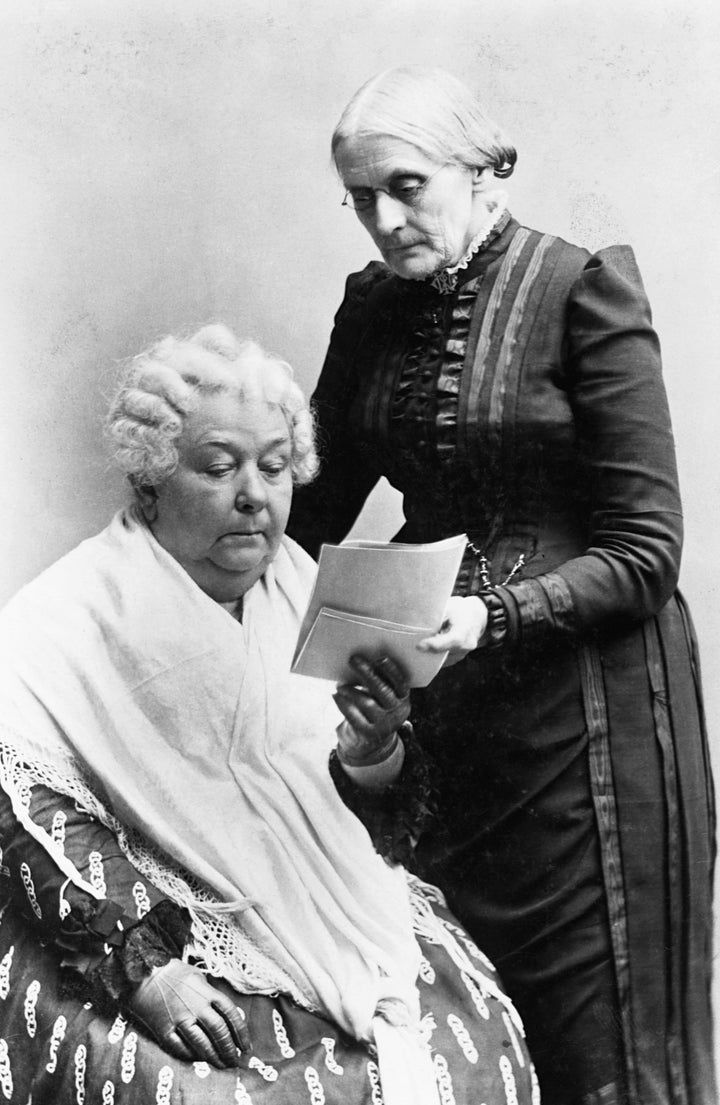 The girls also hope this project will inspire others to examine their cities and parks and ask, "Where are the women?" And if there are none, perhaps those people will work to get women "out of the dark and into the park" by starting their own similar campaigns.
Sohn commends the members of her troop for turning inspiration into action. "The girls have been studying human rights this year, and all the different rights that fall under human rights ― including women's rights. They were outraged by what they identified as problem to women's rights (representation) and came up with an idea of how to solve it," she explained.
"They learned that there was power in their loud voices and passion to right wrongs and 'to help people at all times' ― part of the Girl Scout Law," she added. "They were bold, courageous, intelligent, creative and persistent in their approach to righting a wrong. Girl Scouts can and should be a moving force in empowering girls and young women to change the world for the better. We all could learn from them."
The HuffPost Parents newsletter offers a daily dose of personal stories, helpful advice and comedic takes on what it's like to raise kids today. Sign up here.
Related