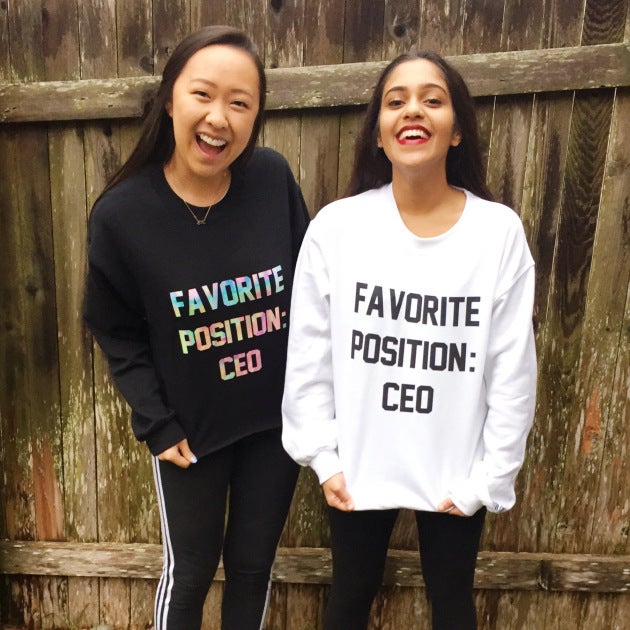 Two years ago, college students Nishiki Maredia and Angela Jin launched a custom t-shirt company, 1950 Collective. What started as a side hustle, a little something to score some pocket change, netted the best friends over $200K the first year alone.
The brand, around since January, 2015, incorporates Maredia and Jin's shared personal interests. Their designs often include pop culture references (the pair are big One Direction fans, and actually met while planning to attend a concert one summer). There are shirts featuring feminist slogans, and others that offer a nod at contemporary social justice movements like Black Lives Matter. Each month, the women make it a point to share the wealth, donating thousands of dollars to a social justice organization of their choosing. Recent partner non-profits include: the United Muslim Relief, the National Alliance on Mental Illness, and a group providing emergency water supplies for the residents of Flint, Michigan.
Here, Maredia talks about how the brand got its start, and what the future holds:
How did 1950 Collective come about? It started as a way for Angela and me to get through our mental health struggles. We were both pretty depressed, and for me, 1950 Collective literally gave me a reason to get out of bed. In general, we were both passionate people, so depression hit us pretty hard. One of the things that we were passionate about was One Direction - and we realized there were no shirts related to One Direction that we, as fans, wanted to buy, so later on with 1950 Collective, we kind of threw ourselves into that.
Thank you for mentioning your struggles with depression. That takes courage! You've been open about discussing it in interviews. Has that a deliberate choice on your part? Personally, I was nervous to be open about my mental health issues at first, but they're a real reason behind why we started 1950 Collective and we wanted to be as open and honest as possible. We actually get emails all the time from people saying that they read about 1950 Collective and they're currently going through something as well, but reading an article about 1950 Collective helped them open up to people or helped them believe that things will get better, so it is definitely deliberate now. I think one of the worst parts about mental health issues is the fact that people don't talk about them, which results in people feeling even more alone. 
You're also wonderfully vocal about being a feminist, about how necessary it is for girls to take up the space they deserve. Angela and I both talk about this a lot. I think not taking up space is something that is really pushed onto girls since birth, and it really does stay with you. Even now, I have to make a cognizant effort to make sure I am not shrinking myself, even when I know I am qualified and a good leader. We've always wanted women to be able to be themselves, loud and proud. Men are allowed to take up space, even if they make mistakes, from a very young age, and women should be allowed that too. 
You have a restock planned, is that right? Yes, on May 12! Our restock will actually bring back everyone's old favorites from both our fandom lines and our social justice lines - if there was ever a time a customer wanted something but it wasn't in their size or sold out, they'll be stoked about this restock. We're also releasing some new fandom merch celebrating Harry Styles' latest single and tour announcement.
What motivates you? Honestly, the thing that keeps me going are the emails we get from customers talking about how they learned more about social justice because of 1950 Collective or they opened up to someone about their mental health issues - or that they want to start a business! We love when people email us asking for business advice, especially young women. 
What's next for the 1950 Collective? We're hoping to expand our fandom line - not just for long-time favorites like Harry Styles, but also for new things our customers are into, like popular TV shows. I love watching and talking about TV, so I'm especially excited for that. We're also constantly looking to develop the social justice aspect of our line - staying up-to-date on important events and making sure we donate to good organizations are two of the biggest things. I also want to make our inbox even more accessible, especially to young women who just want to chat with us or want to start their own business! 
Calling all HuffPost superfans!
Sign up for membership to become a founding member and help shape HuffPost's next chapter
This post was published on the now-closed HuffPost Contributor platform. Contributors control their own work and posted freely to our site. If you need to flag this entry as abusive,
send us an email
.