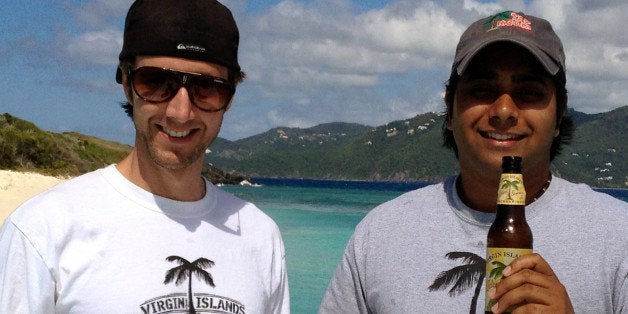 After graduating from the University of Vermont in 1999, friends Chirag Vyas and Kevin Chipman did what most college grads do: They started looking for jobs. Vyas moved to California and took a position as a support scientist with NASA. Chipman got a job as a physical therapist with an acute care hospital in Boston.
Two years later, they took what they thought would be a brief pause to evaluate their career trajectories. Chipman had recently visited St. John, in the U.S. Virgin Islands, and suggested they head there for a bit. They thought it would be "essentially, just one last little 'hurrah' before we got into the rest of our lives," Chipman told The Huffington Post. They gave their notice and bought one-way tickets. They were both 23 at the time.
Upon arriving in St. John, the duo began looking for employment. But it was the off-season, and soon after the Sept. 11 attacks to boot, so the local economy was slow.
"Money was running out. We ended up living on a sailboat, because it was the cheapest option," Vyas told HuffPost. "It didn't have any electricity or running water or a working head, but we managed to make it work for about a month."
"The boat sucked," Chipman added. "We laughed ourselves to sleep."
Eventually, they landed jobs as busboys at a local restaurant. From there, they moved into an apartment and worked their way up to bartending positions. "We were completely happy," Vyas said.
It was the first time Vyas had been in the Caribbean, and it was only Chipman's second visit. They spent their downtime exploring the island, swimming in the warm ocean water and learning to scuba dive, something they'd never done growing up in New England.
The duo's only complaint about their new locale -- and it was a small one -- was that they missed the interesting craft beers they'd grown to love back in the U.S.
"We wanted to drink some beers that weren't accessible here," Chipman said. "We went online ... and bought a homebrew kit -- a simple five-gallon homebrew pail with a very basic pale ale recipe."
They started making beers for themselves and their friends, just for fun.
After a year on the island, Vyas left to attend a George Washington University graduate program in international affairs with a focus on space policy, throwing himself into schoolwork for a year and a half.
Chipman continued to bartend. He began to spend more time pursuing photography and making beer, having caught what he called "the brewing bug."
As for Vyas, after graduating, he started once again to look for a traditional 9-to-5 job.
"I went to NASA headquarters, in Washington, D.C., for an informal interview," he said. "They took me to an office of policy -- this big room with about 30 cubicles -- and they said, 'Well, I could see you working in this office.' And immediately, I knew I never wanted to work in a cubicle."
Vyas, 36, and Chipman, 37, have now lived in St. John for 12 years. Together they head St. John Brewers, a company they launched soon after Vyas moved back to the island for good. They got the business off the ground using their own money, as well as small loans from family and friends -- between $500 and $5,000, in most cases. Once Vyas and Chipman finalized their recipe and logo, they threw themselves into taking orders and brewing during the day. They kept their night jobs, bartending into the early morning hours.
Their current schedule is a mix of the long, hectic days familiar to many small-business owners and the more relaxed "island time" operating hours. A typical week might involve attending the local market to talk about beers, followed by brewing, followed by work on packaging and design.
"We've definitely been working more than we ever would have if we had a 9-to-5," Vyas said. "But it doesn't feel like work."
In addition to selling their brews on St. John, they also sell in six states in the U.S. They also run a St. John brewpub, the Tap Room.
Thus far, the pair have declined offers of expansion from distribution companies. "We could do that," Chipman said. "Chirag and I could figure out a way to spend six months in the States and six months here. But we don't want to."
What they'd rather do instead is continue to be creative with their brews -- they just made their first hard cider -- and spend time enjoying the island. Living in such a warm, beautiful place and exercising relative control over their days is a far cry from the start of their careers, when Chipman got to work when it was still dark outside and left after the sun had set. Now, the duo make a point of appreciating every sunset, saying that the day they stop making that a priority is the day they should leave.
"Yes, we were younger," Vyas said, "but we definitely needed a change."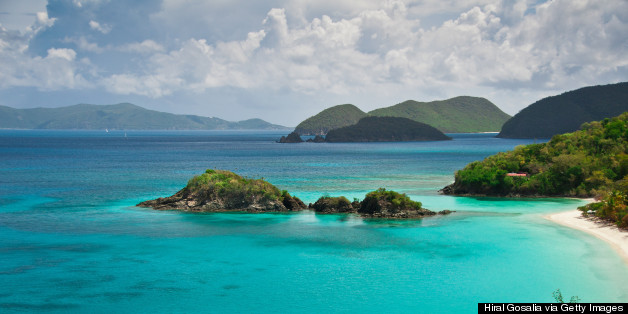 Vyas and Chipman found a new home in St. John.
If you or someone you know is taking steps to live a life that's simpler, saner and more fulfilling, we want to hear about it. To submit a Letting Go nomination, email thirdmetric@huffingtonpost.com.