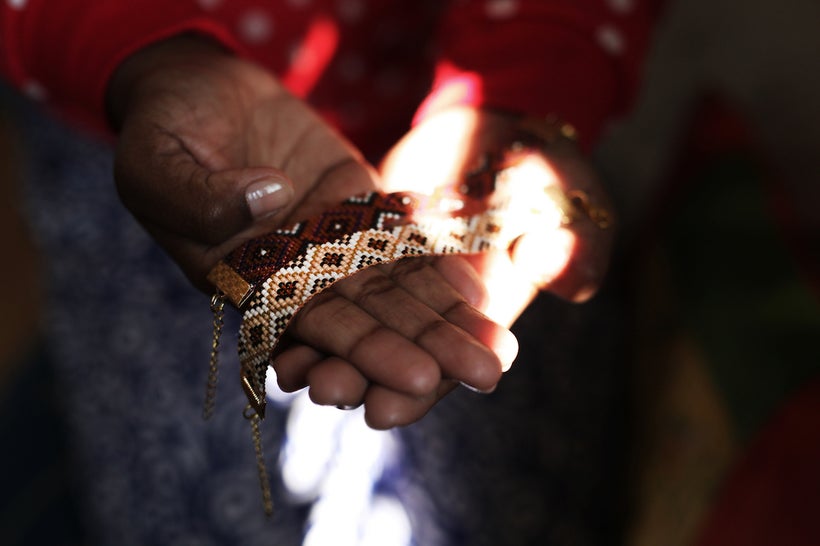 Three years ago I came home from a trip around India with a set of incredible earrings that I purchased from an artisan in Pune. It was one of those pieces that I was selfishly excited to wear to my next dinner party, knowing that their exotic style would spark a conversation about my travels.
But I distinctly remember the next time I wore those earrings, a friend motioned to them as she said with enthusiasm "I bought the exact same ones in blue! They were on sale at Forever 21!". Despite feeling deflated by the comment, I was frustrated thinking about the artisan who had handcrafted my earrings, a symbol of longstanding tradition and culture when the fast fashion world was eager to mass produce the same design. It's hard to ignore the abundance of artisanal influence on the mainstream fashion scene. There's innately nothing wrong with this sort of cross pollination of inspiration, but the fashion world has collectively diluted the importance of provenance, of where and how those earrings were made.
For less than $100 it would be hard to backpack through Ecuador, wander around Kenya or explore the outskirts of Bangladesh. But for that price, you can certainly dress as though you have! The fast fashion market is flooded with near-perfect replicas of handcrafted pieces you would find in a bustling market thousands of miles away.
"The role of craftsmanship in the fashion industry is extremely important and is in desperate need of reevaluation when everything is geared towards mass production and mass replication." explains Shan Shan Lim, a graduate of Central Saint Martins Textile Arts program in London. In fact, artisans worldwide contribute to an critically important movement towards mindful consumption in response to an industry that is highly abusive of the makers in its supply chain.
Artisanal production is currently the second largest employer in the developing world. Millions of people worldwide rely on the industry to survive, but for the majority of artisans, there is very little access to consumers and a sustainable income. Skills that have been passed down from generations are slowly dying. Women weavers in countries like Cambodia are finding it increasingly difficult to transfer their skills to the new generation, especially when the alternatives, such as working in large inner city factories, proves to be more economically viable.
"Once upon a time, weavers held one of the highest position in society" explains Shan Shan. "Those who provided clothes and utilities were those who provided life and therefore they were highly respected by all."
Handmade goods have little chance of winning when competing against mass market brands today, especially when artisans are extorted by middlemen leaving their craftsmanship and talent completely undervalued. When entire communities' financial independence and cultural identity depend on the survival of these skills like the handloom weavers in India, why not enable our communal love of shopping to serve as a rescue? Just as importantly, how might craftsmanship and artisans worldwide aid in the revolution of the fashion industry towards sustainability, mindful consumption and kinder methods of production for people and the planet?
Fashion and sustainability pioneer, Kate Fletcher coined the term 'Slow Fashion' as the direct alternative to consumerist fashion, but most importantly, to challenge our obsession with mass production. "Slow fashion draws upon slow culture ideas and vocabulary that have proven so successful in food: small-scale production, traditional craft techniques, local materials and markets. But it also embraces new technology and novelty in fashion."
In our search for new alternatives to a powerfully polluting and abusive industry, the solution involves loving the story behind the jacket we bought as much as we love the jacket itself. Adding a trendy Mayan weave to our wardrobe, for example, is an amazing opportunity for the sharing of cultural values by investing in the discovery of the person who made it.
"The value of a piece of handmade clothing lies in its absolute uniqueness. Each piece, no matter the process behind it, has a story to tell about the individual. A human connection is created between the creator and the consumer."
Finding a space between trend and tradition, embracing it's uniqueness and value not only to the runway, but to the thousands of struggling communities worldwide is part of the fashion revolution we've been waiting for.
REAL LIFE. REAL NEWS. REAL VOICES.
Help us tell more of the stories that matter from voices that too often remain unheard.
This post was published on the now-closed HuffPost Contributor platform. Contributors control their own work and posted freely to our site. If you need to flag this entry as abusive,
send us an email
.