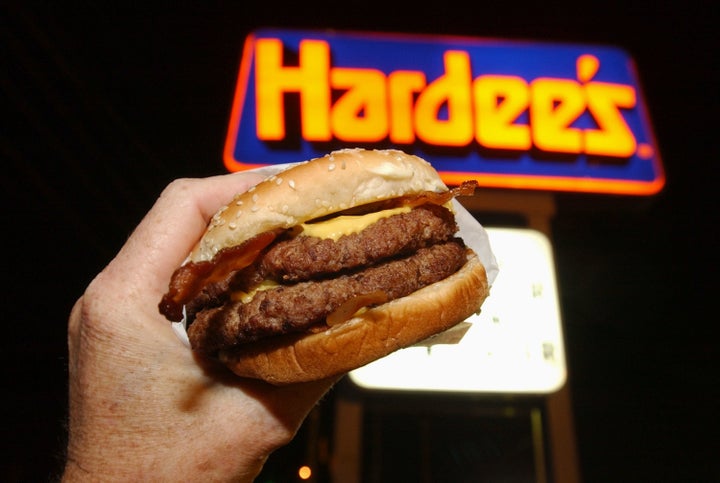 President-elect Donald Trump has nominated Andy Puzder, the CEO of the Hardee's and Carl's Jr. burger chains, to be America's next labor secretary. In doing so, Trump may be drawing more attention to the plight of low-wage workers than he could have imagined.
Puzder's company violated minimum wage law by paying Hardee's workers with pre-paid Visa debit cards, according to a 2014 investigation by the Labor Department obtained by the Center for American Progress, a progressive think tank. Workers incurred fees on those cards whenever they used ATMs outside of the designated network to redeem their pay.
The workers' pay rates were so low that the fees pushed their overall pay below the federal minimum wage of $7.25 per hour, investigators found.
The agency ordered Hardee's to pay a sum of $2,071.98 to an undisclosed number of workers based in Alabama. Records dated August 2014 indicate that Hardee's refused to do so, on the grounds that complying with the order would require them to change their companywide payroll system.
The Labor Department did not immediately respond when asked whether Hardee's has paid the back wages since then. A spokesperson for CKE Restaurants, which owns the Hardee's and Carl's Jr. brands, did not respond to questions from The Huffington Post on the case.
Prepaid debit cards have become a popular way to pay employees, because they help employers reduce the payroll costs associated with paper checks. They can be good for employees, too, as they allow low-income workers without bank accounts to avoid check-cashing fees. A lot of workers like the convenience of them.
But the prepaid cards can come with fees of their own, depending on where workers use them. The Consumer Financial Protection Bureau and state of New York have tried to crack down on employers, including fast-food companies, that require workers to accept payment in the form of cards without giving them any other choice.
New Hardee's employees were automatically given prepaid debit cards for their first paycheck, according to Labor Department records, but they were later given the option of direct deposit. The workers were told to use the cards at Kangaroo brand gas stations to avoid the fees, but as an investigator noted, "they are going to wherever they want to retrieve [their pay]." In the process, "The fees associated with this card are reducing them below $7.25."
A Hardee's executive whose name was redacted from records told investigators that the card is "designed to incur no fees" and that employees should be getting all of their money. The executive also said "it is up to the employees to use the cards wisely," and that "all employees are told this when they start working here."
Another company official told the Labor Department that Hardee's didn't understand how there was a problem "when Burger King, Sonic and McDonald's do the same thing." That official also said that employees "know which ATM's to go to that won't charge them."
The investigator noted that there was a monthly maintenance fee of $3 attached to the cards, and it wasn't clear whether that fee came out of Hardee's pocket or the employee's. Withdrawing cash from an ATM outside of the bank network also came with a $1.95 charge, presumably in addition to any ATM fees that might apply. It cost $4.95 to to replace a lost debit card. A minimum wage worker employed 40 hours would earn $290 a week before taxes.
A manager from human resources suggested it would be a logistical hassle for the company to pay workers the money assessed by the Labor Department. The manager "doesn't feel that paying the back wages will be beneficial because they have 500 stores and this would mean changing the payroll practices of the company," the investigator wrote.
Karla Walter, director of the American Worker Project at CAP, said such investigations should make senators wonder how strongly Puzder would enforce minimum wage and overtime laws as labor secretary.
"Their company has a policy that results in workers not even being paid the current minimum wage," Walter said of the debit cards. "Think about all these fees. That adds up. And the indifference to it on the part of the company is concerning."
It isn't clear whether Hardee's still uses prepaid cards.
Puzder's long tenure atop CKE will provide Senate Democrats with plenty of grist for his confirmation hearing. He was originally slated to go before the Senate next week, but on Tuesday Republicans pushed his hearing to February. Democrats are already framing an argument on Puzder: Given his track record as a fast-food executive, they say, Puzder can't be expected to aggressively enforce wage-and-hour and workplace safety laws on behalf of workers.
As HuffPost previously reported, CKE and its franchisees have been cited by the Labor Department and sued by employees numerous times for allegedly breaking minimum wage and overtime regulations. In one wage theft case, Hardee's agreed to shell out $58,000 in backpay to a group of 456 workers who weren't fully compensated for the overtime they'd worked. In that case, the violations were traced directly to CKE, although in most other cases a franchisee was found to be at fault.
Such complaints are not at all unique to Hardee's and Carl's Jr. Labor Department officials say wage violations are so common in fast food that they launched a targeted enforcement program in the industry in order to crack down. During the 2016 fiscal year alone, investigators found that 10,300 fast-food workers were owed more than $5.4 million in back wages. They discovered violations in 86 percent of their fast-food cases.
Popular in the Community