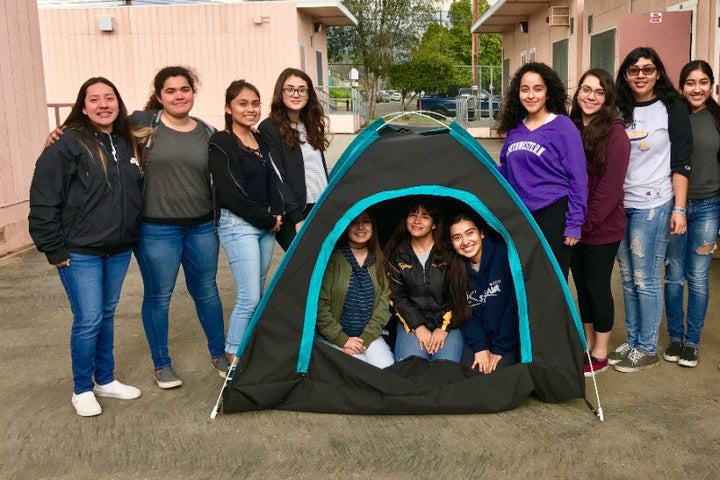 When 12 junior and senior girls from San Fernando High School in California received a grant to develop an invention to solve a real-world problem, they decided to create a solar-powered shelter to help the homeless.
Now for over a year, the girls have been working after school and over their winter and spring breaks to complete their project.
"They have this amazing internal drive that I've never seen in any individual," Violet Mardirosian, a math teacher and magnet coordinator at San Fernando High, who has worked with the team since the beginning of the project told The Huffington Post. "I thought at the beginning that maybe some of them would give up, say 'I didn't anticipate this much work,' but they're not. They're just working hard and they're not giving up and they're super excited."
As residents of a low-income community, the girls have seen the problem of homelessness first-hand, which is why they chose that population to create a product for. Many of them are also from immigrant families and hoped the shelter, which is powered by rechargeable solar panels, would help refugees.
Seventeen-year-old Maggie Mejia told the Huffington Post that while she had no prior engineering experience, the girls figured out as a team how to create the prototype, using how-to videos and books that taught them how to code. But the most important lesson she's learned over the course of the project isn't technical.
"I've learned a lot about helping others, helping the community and being selfless and showing a better world to other people and changing someone else's life," she said.
The girls have been invited to MIT to showcase their invention in June and are raising money on Gofundme in hopes that the whole team can attend.
"In order not to put any pressure on the parents, we'd like to finance their trip. We want all 12 girls to be able to go because every single student has had some input into creating this incredible product," Mardirosian said.
The school applied for the grant in conjunction with DIY Girls, a nonprofit that provides STEM experiences to girls.
Mardirosian says all the participating students have expressed interest in going into STEM fields and that students from lower grades are already expressing interest in being involved next year.
She says "Many of them didn't think about engineering before. They thought maybe they're not made out to be an engineer. But working together, now they realize their skill ― whether a writing skill or a drawing skill or a speaking skill ― they're all needed in this field. Everyone has found their importance in this picture."
Popular in the Community