The entertainment industry's gender gaps are many: women continue to have fewer speaking roles than men, pay equality is still out of reach, men in the industry are allowed to age without giving up meaty leading roles while there are fewer roles for older women, and when women characters are written, often they are less than...complex.
One woman's tweet perfectly illustrates how writers often fail actresses by creating female characters who are one-dimensional stereotypes. On Monday, Danielle Sepulveres, a freelance writer based in New York, posted the below screenshots of four casting callouts on Twitter.
Sepulveres told HuffPost that the four characters ― Sophie, Marie, Nikki and Heather ― were being cast for a theater production in the New York area called "You Love That I Am NOT Your Wife." (A previous version of the play ran in New York in September and October of 2014.) The descriptions of these characters are a frankly hilarious display of how far we have to go when it comes to writing women characters.
One woman is described as a "timeless beauty from Australia," who is "desperate for attention and will do whatever it takes to get it." Another is "an attractive leading female type" who is "hungering to meet a real man." The third character is a "drop dead sexy, fireball," and the fourth and final female character is described as a woman named Heather who "unlike other women in Los Angeles who dress like sex, Heather is sex." (This last one might be the most absurd of the four.)
Sepulveres, who has done body stand-in and behind-the-scenes work in the TV industry, is on an email list for Casting Networks, a company that distributes others' casting calls. She told HuffPost that Casting Networks sent out these particular calls, which an email obtained by HuffPost confirms.
"These seemed particularly ridiculous to me," she said. "I have seen many descriptions of women characters in this vein before, but this seemed to take it to another level."
A representative for Casting Networks told HuffPost that it simply serves as a platform to connect agents and actors, and neither writes the posts nor serves as casting company or talent agency.
"Casting Networks provides a portal for the exchange of information regarding the casting of acting jobs," the rep said. "We are a strong supporter of equality, and we believe everybody is entitled to equal opportunity and treatment."
Sepulveres told HuffPost she decided to share the casting calls because the descriptions were so over the top. "It was hilariously depressing to me that these descriptions existed," she said.
Although Sepulveres found these particular casting calls to be funny and depressing enough to tweet out, she does believe that the portrayal of women on-screen (and on stage) is getting better, even if it's a slow evolution.
"There are roles for women where they are the superheroes, or the anti-heroes or even just multi-faceted, interesting, flawed and fun to watch," she said, acknowledging women like "Issa Rae, Shonda Rimes, Jennie Snyder Urman, Mindy Kaling [and] Nahnatchka Khan" who have helped diversify the portrayal of women in film and TV.
And as for avoiding sexist character descriptions like the ones she tweeted about, Sepulveres has some pretty straightforward advice: "It's likely [the writer] has no idea how these descriptions actually sound, and maybe this will make the next person dig a little deeper and I don't know...actually meet a woman or two? Before writing them into their fictional work."
CLARIFICATION: This piece has been updated to include comment from Casting Networks and clarify its role in disseminating these casting calls.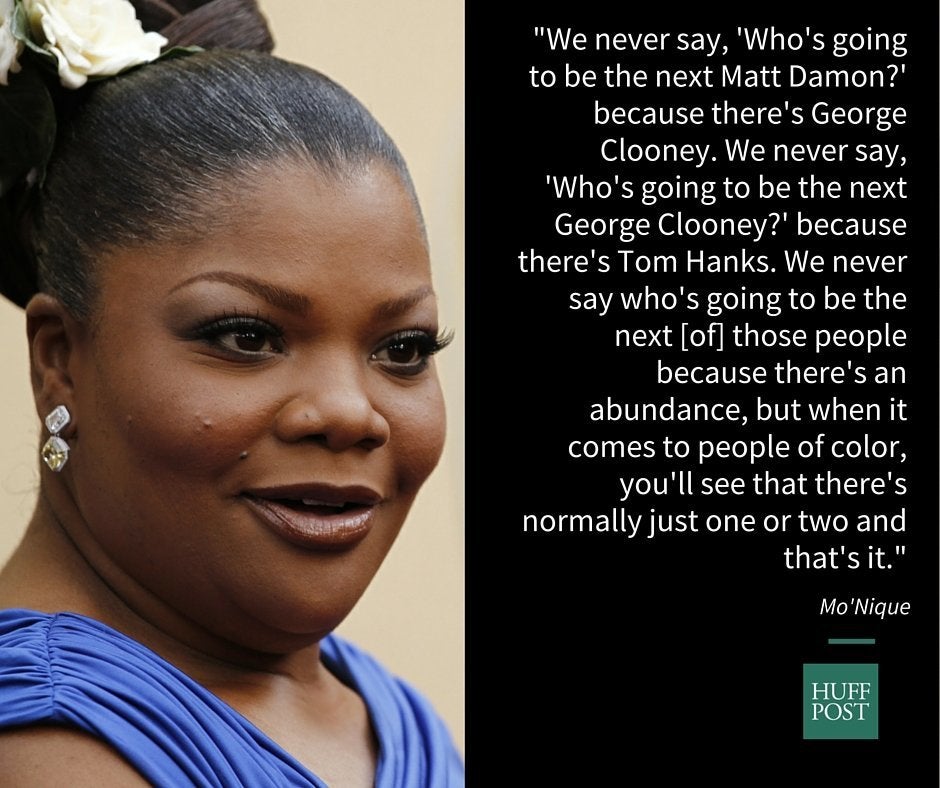 18 Times Black Actors Nailed Why We Need Representation In Film
Popular in the Community