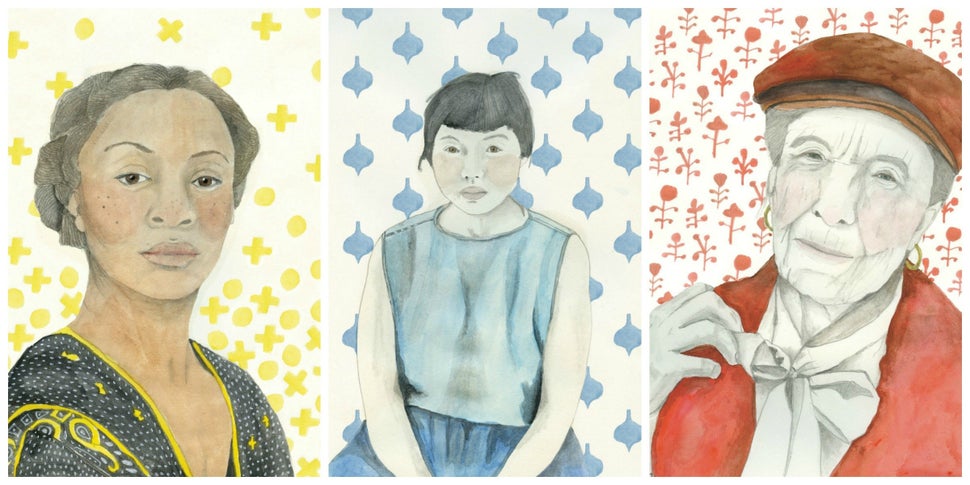 The book surveys women painters such as Artemisia Gentileschi, the Italian Baroque painter who gave Caravaggio's dramatic use of light her own twist, and Susan O'Malley, whose text-based messages are hopeful beacons to fellow San Francisco–based creators.
When illustrator Lisa Congdon was approached by publisher Chronicle Books to work on Quinn's project, she jumped at the chance. "So many of my personal heroines are in the book," she told The Huffington Post in an interview. Congdon's especially partial to O'Malley, whom she knew personally before the artist's untimely death, and Louise Bourgeois, whose work inspires her own.
"I am particularly influenced by her simplistic monochrome paintings and prints, the highly personal nature of her work and her exploration into domesticity and 'women's work,'" Congdon said.
She's also a fan of Ruth Asawa's large-scale public works. "Back in the '90s I taught elementary school in San Francisco, and I remember teaching my students about the role of geometry in her work," Congdon said. "This was long before I became a working artist myself!" 
Congdon drew Asawa's portrait in front of a pattern of blue shapes that match her sculptures, and Bourgeois' image in front of red flowers. Each of the artists she depicts is framed by a pattern that uniquely captures her aesthetic.
"Portraits are tough, especially drawing portraits of famous, recognizable people! There is so much to capture, and it's important to me that my portrait looks like the actual person. It's my way of honoring that person, to get it as close as I am able," Congdon said. "At the same time, I want the portrait to have a sense of style or distinctiveness that sets it apart from the photograph that I used as reference. Sometimes the pattern is a nod to the subject, like in the case of Louise Bourgeois, the symbols I used and the color red were very intentional."
More than anything, Congdon hopes her work will encourage viewers to consider the lives of the women she drew. "I want people to look at the portraits and feel something," she said. "Maybe even that they get a glimpse into the soul of the artist."
See more illustrations by Lisa Congdon, from the book Broad Strokes by Bridget Quinn, published by Chronicle Books 2017, below:
Calling all HuffPost superfans!
Sign up for membership to become a founding member and help shape HuffPost's next chapter
BEFORE YOU GO