World Breastfeeding week is almost here -- a week to celebrate breastfeeding, to inform mothers and to show our support for normal infant feeding.
Yet life isn't always smooth sailing, is it? Proven by the fact that just days before this worldwide pro-breastfeeding celebration takes place, there has been yet another report of a mother's right to feed her baby being taken away from her.
In Argentina this week, a 22 year old mom was happily breastfeeding her baby in public, on a square in Buenos Aires, when two policemen informed her that nursing was prohibited and threatened to arrest her.
This incident has led women across the country to hold a "Tetada" ("Breast Fest") in support of breastfeeding moms and in true Tetada spirit, these journalists decided to pledge their support live on air...
In 2013, a bill was passed in Argentina with a view of 'promoting public awareness' in regards to breastfeeding and it wasn't long ago that the world took note of Victoria Donda, an Argentine legislator who regularly breastfeeds her baby in congress: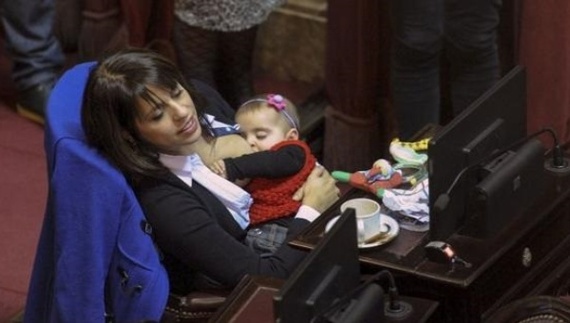 (Picture credit: Telesur)
With an ever-improving catalogue of breastfeeding information and with ever-increasing support, more moms and babies worldwide will benefit from the normalization of breastfeeding.
But there is still much work to be done.
And what better way than live on national TV, because after all -- "If it's natural, why hide it? We support breastfeeding."