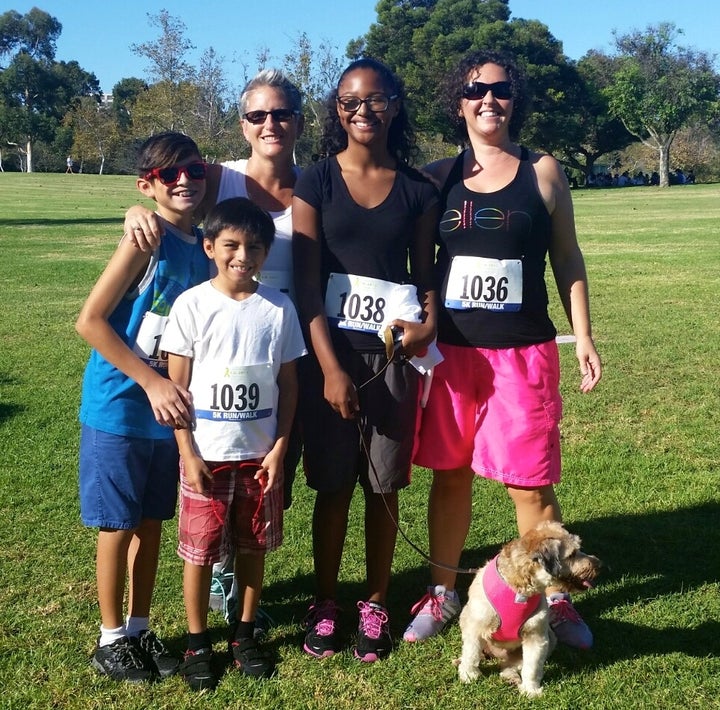 Some prospective parents want to foster or adopt infants to experience all the "firsts" babies will celebrate. However, in today's "Let Love Define Family®" series for the Huffington Post Queer Voices, RaiseAChild contributing writer, Beth Hallstrom learns that other parents prefer the opportunity to raise older kids.
Robin Wade, 51, and 41-year old Stephanie Wade are definitely in the latter category and are reveling in their children, 13-year old Carlos, Linda, who is 10, and the most recent addition to their crew, 15-year old Maria.
"The bonding is extremely different than with an infant. With babies, it's primal, but you have to connect with the older kids on a more intellectual and emotional level," Robin said, adding, "Communication is much more robust with older kids. The younger ones don't know yet how to put their thoughts into words."
Robin, a web manager for California State University and Stephanie, a medical massage therapist, met in Chicago in 2008 and were married in 2010 on Martha's Vineyard. They relocated to Robin's home state of California and now live in Long Beach.
They and their two younger children were featured in the November 19, 2013 edition of "Let Love Define Family®" as part of a National Adoption Month series. RaiseAChild is revisiting the family because Robin and Stephanie have welcomed a third child and are among the most enthusiastic cheerleaders for adopting older children.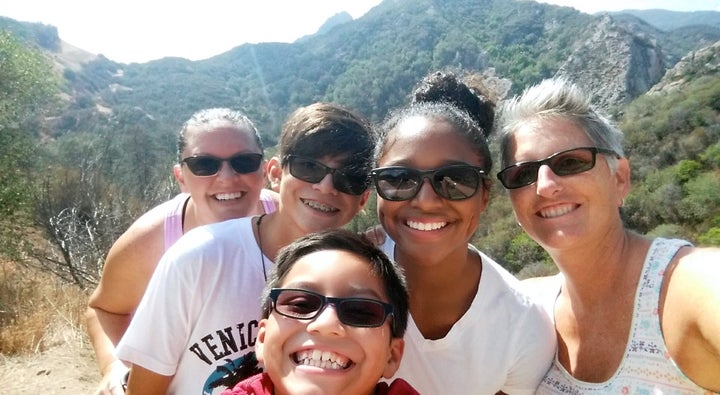 "We started out fostering younger kids, mostly babies and toddlers, about 12 in all," Stephanie recalled. "We thought we wanted babies, but decided to open our hearts and minds to older children after fostering for a year and a half. That's when Carlos and Linda were placed with us, and we realized how rewarding caring for older kids can be."
"Remember, in the foster and adoption world, 'older' usually means more than five years old ― when we saw the great need for forever homes for these children," she said.
Added Robin, "People look at older kids as damaged goods and they're not! So many of them remain in foster care, often in multiple homes until they age out of the system. They end up going through childhood without a family through no fault of their own."
According to the Dave Thomas Foundation for Adoption, named for the late founder of Wendy's restaurants, 50 percent of Americans believe older children who are in foster care are juvenile delinquents. In reality, they are typically there because they are victims of neglect, abandonment or abuse.
Thousands of these children "age out" of the foster care system at age 18, making them more vulnerable to homelessness, low paying jobs, pregnancy at an early age and other hardships. They are also less likely to attend college, the Thomas Foundation reports.
"We remind our kids regularly that it's our job to protect them and make sure they grow into healthy adults. That's the beautiful thing - the cycle stops with them because they will have a new blueprint for life," Stephanie noted.
Maria, according to her Moms, is a perfect example of how love, stability, and a little structure can help a child make a 180-degree turn to the positive.
"She is sweet and loving, loves animals, and is, in many ways, a typical teen. She just needed guidance. Her confidence is growing and we are very proud her grades went from D's and F's to straight A's in one year.
"With older kids, it's important to find out how they grew up and what they missed. With Maria, it was affection and guidance and closeness to someone who was willing to sit down with her and explain things," Stephanie said.
"All three kids are so sweet and thoughtful," said Robin. "When I get home, they all meet me at the door with big hugs. Who gets that from their teenagers? I think they appreciate things more because they were adopted later in life and, what other kids might take for granted, they really value. We have been enormously blessed."
Robin said their children have a deep desire to pay it forward and make a difference for other kids in foster care. They are enthusiastic about fostering more children and all three agree they want their Moms to adopt again.
Since Maria came to live with them, Robin and Stephanie have provided respite care, but have not fostered any children long term. With the kids clamoring for more siblings, Stephanie said they will focus next on LGBT teens, as it is significantly more difficult for them to find safe, loving and accepting homes.
"Everyone deserves a loving family and a place to call home. Our dream is to have a house big enough to take them all. For now, we have an extra bed and the kids want it filled," Robin said.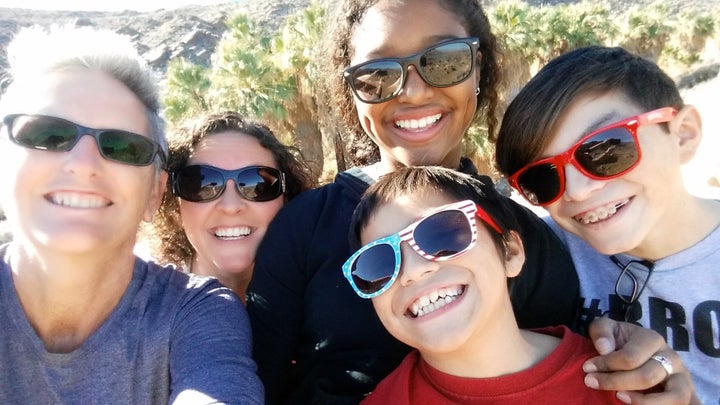 Stephanie and Robin speak at RaiseAChild events on behalf of Penny Lane Centers, the foster family agency that helped them build their family. However, they campaign for fostering and adoption wherever they can, including Stephanie's car.
Stephanie, who put her career on hold to be a stay-at-home Mom, recently began driving for Uber, the transportation company that uses smart phone apps to match riders with drivers, who typically use their own vehicles.
"With the kids in school, it's something I do occasionally. I'm having a lot of fun with it and the topics of fostering and adoption always come up with my passengers. I never know if I've recruited a new parent, but I'm getting the word out there and who knows what good might come of it?" Stephanie pondered.
To prospective adoptive parents, Stephanie and Robin, who love to tell the story of their path to parenthood, advise others to not act on their desire to adopt without considering foster children from all age groups.
"We tell people they are capable of a lot more than they think. We tell them how scared we were at the idea of talking to a teenager, let alone raising one. We believe there is someone in charge of the details of our lives and that adoption demonstrates how God brings the right people together. And it is so worth it, so worth it," Robin added.
Have you thought about building a family through fostering or adoption? RaiseAChild is the nationwide leader in the recruitment and support of LGBT and all prospective parents interested in building families through fostering and adoption to meet the needs of the 415,000 children in the foster care system of the United States. RaiseAChild recruits, educates and nurtures supportive relationships equally with all prospective foster and adoptive parents while partnering with agencies to improve the process of advancing foster children to safe, loving and permanent homes. Take the Next Step to Parenthood at www.RaiseAChild.org or call us at (323) 417-1440.