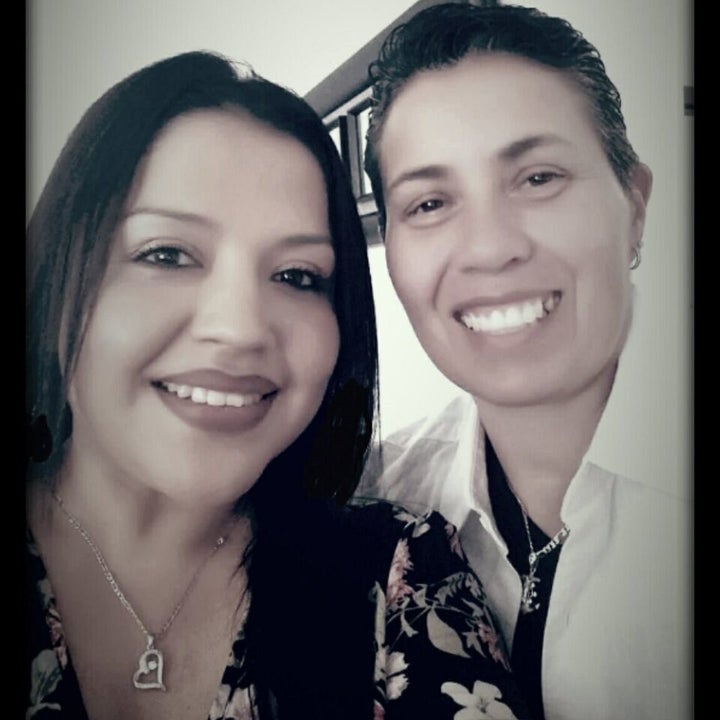 November is National Adoption Month, and RaiseAChild is celebrating our LGBTQ community with weekly "Let Love Define Family®" series for Huff Post Queer Voices. In this second of four series installments, contributing writer Beth Hallstrom introduces us to a thankful couple.
The stars aligned for Fila and Veronica Vasquez-Avelar of Huntington Park, California, and ordained a path to marriage and motherhood that causes even them to shake their heads with bemused delight.
"It was either destiny or God's wonderful sense of humor that brought us together and gave us this beautiful family. We are so blessed; everything is a blessing," said Fila with a laugh.
Fila, 42, and 48-year old Veronica met at work in 2013 and became friends. Both are Los Angeles County employees.
"By August of 2014, we thought why not take the next step and make a life together? Two years later, we were married. It was good that we were friends first. We had a strong foundation," Fila said.
As their friendship turned romantic, Fila and Veronica discovered that, at one time, they lived within houses of one another and they had visited many places around the world at the same time.
"Veronica also described to me, a night four years before we met. I was in a club with friends and she saw me from across the room. She even described what I was wearing, a red sweater!
"She didn't approach me because, she said, she thought I might be with someone and she didn't want to intrude. It's good, though, that we didn't meet that night. If it had happened then, our relationship probably would not have lasted. We were both in such different places in life," Fila recalled.
Their paths finally crossed for keeps at work and they discovered, among other similarities, they both have sons, now 21, and both definitely wanted more children.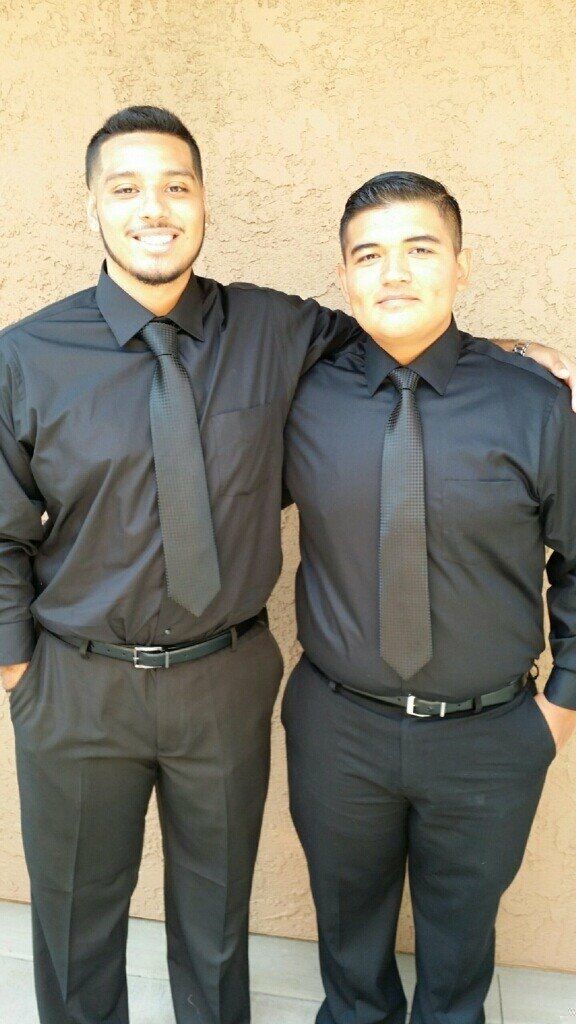 "It was obviously meant to be," Fila explained, "I tried insemination six times before I gave up and Veronica had several miscarriages. It was painful. On our own, we both had heartbreak."
Together, they turned to Los Angeles County's foster care system, an obvious choice for two municipal employees, pursuing adoption after a family council that included both sons.
"It was a long conversation and the boys were very much for it, but both said they weren't changing any diapers," she noted with a laugh.
The family welcomed a baby boy in January and were assured the infant had no family to seek custody. Then, a relative appeared and wanted the child. Thirty-three days later, he left their home.
"It was devastating. We could only watch through the window as they drove away with him. We were happy he would be with other siblings, but it was still hard," Fila said.
Then the stars aligned once more and, on April 2, 10-month old Michael came into their lives and immediately fit in.
"He looks like Veronica! He looks like my son! He looks so much like our family, it's amazing!," Fila exclaimed.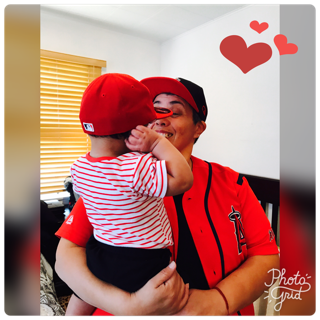 Veronica's son from a previous relationship, Sean, and Fila's biological son, Tony, embrace their big brother roles enthusiastically. They pitch in with Michael's care and refer to him as "little bro." Fila said it is beautiful to see how the older boys dote on him.
Fila described Michael's first night home as surreal, especially after so many years since either mom cared for an infant. That night was also scary, she said, but their jitters were quickly dispelled and they turned their attention to a much more pressing issue: finding another security blanket for their son.
"His previous foster mother was incredible. She gave us so much information that helped us all adjust. It took about a week and a half for Michael to sleep through the night. He came with a little security blanket that he clutched constantly.
"Well, that blanket was not going to last much longer and we knew we needed to find a new one to replace that one when it bit the dust. We looked and looked but could not find one anywhere. Finally, we found the blanket that she paid $7.99 for on eBay for $50.
"It's not even a full-sized blanket, just a little square! But you have to do it for your kid. He loves it so it was worth it and we are going to have a great story to tell him when he's older," Fila said, chuckling.
The thoughtful foster mother also provided some priceless keepsakes for the new family, including mementos from Michael's biological mother that foster children rarely possess.
Fila explained that, as the adoption proceeded, Michael's biological mother gradually eased her way out of his life. She made him small gifts, including a hat and a photograph and asked that they stay with him always.
"We believe she knew she was not coming back. We will tell him his story 100 percent when he's older, who he is and who he came from. She loved him and it will be wonderful to share it with him," Fila said.
The gift from Michael's foster mother was just as extraordinary, she continued.
"When we found out Michael was ten months old, we were sorry that there wouldn't be any baby photos, no hospital photos. But then the foster mom gave us a baby life book. She took photos of him and wrote little stories and even included a letter for him to read later. It was a beautiful gesture. Since day one he was loved," she stated.
Fila said she and Veronica want potential adoptive parents to seriously consider county foster programs, citing the tremendous number of children waiting for homes.
The couple has high praise for the LA County Department of Children and Family Services.
"The Los Angeles County Department of Children and Family Services was 100 percent wonderful. They gave us constant updates and referrals to programs, like TIES for Families (Training, Intervention, Education and Services) at UCLA. They gave us so many tools to do things better," she said.
TIES is a highly-regarded effort that provides resources and support for foster and adopted children and their families.
"Everyone (in the county department of children and youth services) was so eager to place children - and there are so many children who need safe, secure, and loving homes - and that's what it's all about.
"They work so hard, they always return phone calls and are available for support. It was definitely a group effort. If it wasn't for all those people involved, this adoption would not have happened," Fila recalled.
She singled out one social worker, Diane Mendoza, for special credit. In yet another instance of aligned stars, Fila related how she and Veronica were hopelessly lost and late for their foster parent orientation program.
Diane, who was taking a coffee break, spotted the couple wandering through the building obviously bewildered. She intercepted them and guided them to the correct room.
"Since that moment, she never let us go. Diane was amazing, how she saw us through this. She will always be the one who held us together," Fila said.
The Vasquez-Avelar family welcome another addition: Tony is now a father. Mateo Marquez Salmeron was born September 30th at Torrance Memorial Hospital.
"Now we're going to be mothers and grandmothers at the same time, so that's terrifying. And wonderful. Adopting is a wonderful experience to go through. To give a child love his biological family is unable to give is so rewarding. It's a beautiful thing," she added.
Are you curious about the benefits of building a family through fostering or adoption? RaiseAChild is a national 501 (c) 3 nonprofit dedicated to building loving families for foster children®. RaiseAChild has engaged more than 3,600 prospective foster and adoptive parents as the nationwide leader in the recruitment and support of LGBT and all prospective parents interested in fostering and adoption. For more information, go to RaiseAChild.org or call (323) 417-1440.
Join us at a free, fun, and inspiring RaiseAChild "Let Love Define Family®" Info Event. Enjoy a special performance by actor/comedian Alec Mapa with complimentary food and beverages. We will answer all of your questions about the process, including all of the benefits of becoming a foster or adoptive parent. All are welcome.
Wed. Nov 15 @ 6:30p The New Children's Museum San Diego, CA
Tue. Nov 28 @ 6:30p Museum of Latin American Art Long Beach, CA
Wed. Nov 29 @ 6:30p The Ricardo Montalbán Theater Hollywood, CA
Thu. Nov 30 @ 6:30p The Discovery Cube Santa Ana, CA
Sat. Dec 2 @ 6:30p All Saints Church Pasadena, CA
Calling all HuffPost superfans!
Sign up for membership to become a founding member and help shape HuffPost's next chapter