Like most 4-year-olds, Phoebe Dooley loves toys, animals and stories. She has a wild imagination, a great sense of humor and a wisdom beyond her years. Her favorite color is pink.
Unlike most 4-year-olds, Phoebe is battling an aggressive brain cancer that is notoriously difficult to treat.
With the help of an altruistic photographer, Phoebe's parents want to shine a light on their daughter's story and encourage people to donate to cancer research.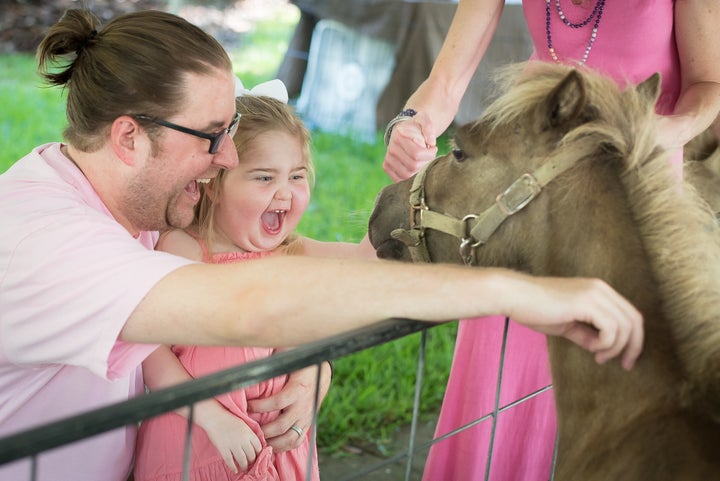 On March 22, 2016, Phoebe was diagnosed with diffuse intrinsic pontine glioma (DIPG), a brain tumor that affects approximately 300 children in the U.S. each year. Her parents, both doctors, had noticed her eyes crossing and head turning slightly when she watched television and brought her to an eye doctor. Though the doctor felt nothing was wrong with Phoebe, he recommended a precautionary MRI, which revealed the tumor in her brain stem.
At their first consultation, Phoebe's neuro-oncologist shared information about DIPG with her parents, Sarah and Cole. "It's actually one of the worst kinds," the couple told The Huffington Post. "It carries a vary grim prognosis. Phoebe's doctor told us that there have been no significant improvements in the treatment of this disease since the 1960s."
Because of the tumor's location in the brain stem, surgery is generally not an option, so the standard treatment is about six weeks of radiation, after which many kids experience tumor shrinkage and decrease of symptoms. The parents explained that this "honeymoon period" generally lasts a number of months.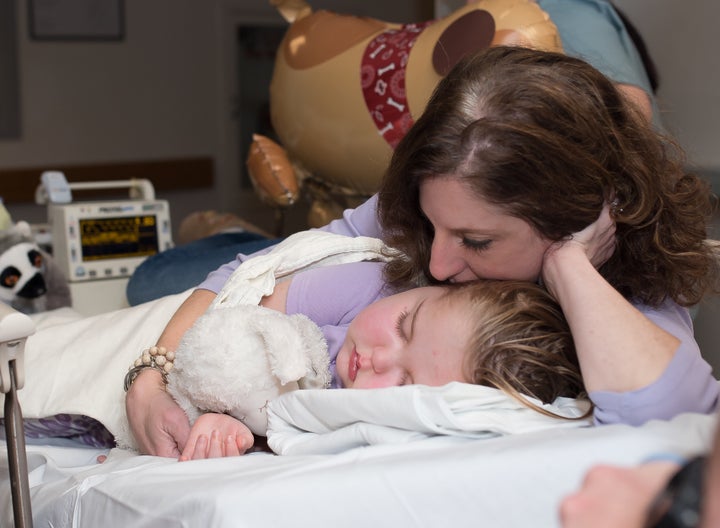 "Unfortunately, there is no known cure and the tumor will come back," the parents explained, adding that there is little to be done once the symptoms return.
"Children affected by this tumor eventually lose the ability to speak, eat, swallow, move their limbs," said Sarah. "It grows in an area that controls the heart rate and breathing, and they eventually succumb to this disease. They are mentally aware of what is happening to them and must feel like they are 'trapped in a body' that isn't working as it should."
The average life expectancy for a child with DIPG is about 9 months from diagnosis. "We were now living every parent's worst nightmare," said the Dooleys.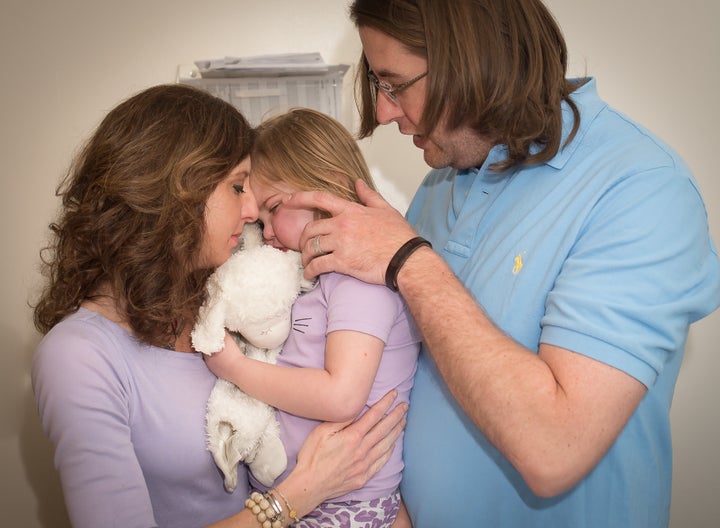 Following Phoeobe's diagnosis, the Dooleys embarked on a difficult journey. Phoebe had an infusaport implanted in her body so that she could receive daily sedatives for her radiation treatments. She also started taking steroids to help decrease swelling in the brain, a common side effect of radiation. Soon after, she started her radiation treatments, five days a week for six weeks.
"This was a really difficult time because Phoebe got significantly worse during radiation initially," Cole recalled. She experienced leg pain to the point of refusing to walk, stopped playing with her toys and spent most of her time sitting and lying down to watch TV or sleep. The steroids gave her a voracious appetite, and her body weight doubled in about three weeks.
"She essentially went from a little girl that loved to run and jump, endlessly played with her toys, and seemed to have no limit to a little girl that did absolutely nothing," Sarah said. "We were terrified that she was actively dying at this point in time."
The parents said the whole treatment process was incredibly scary for everyone, especially Phoebe. "We would have to wake her up at 6:15 a.m. every morning. We would load her up in the car in her pajamas and she would cry inconsolably most days before her treatment," they recalled. "She didn't really know what was happening to her, but she would tell us she was 'scared' and did not like it when they gave her the 'sleepy medicines.'"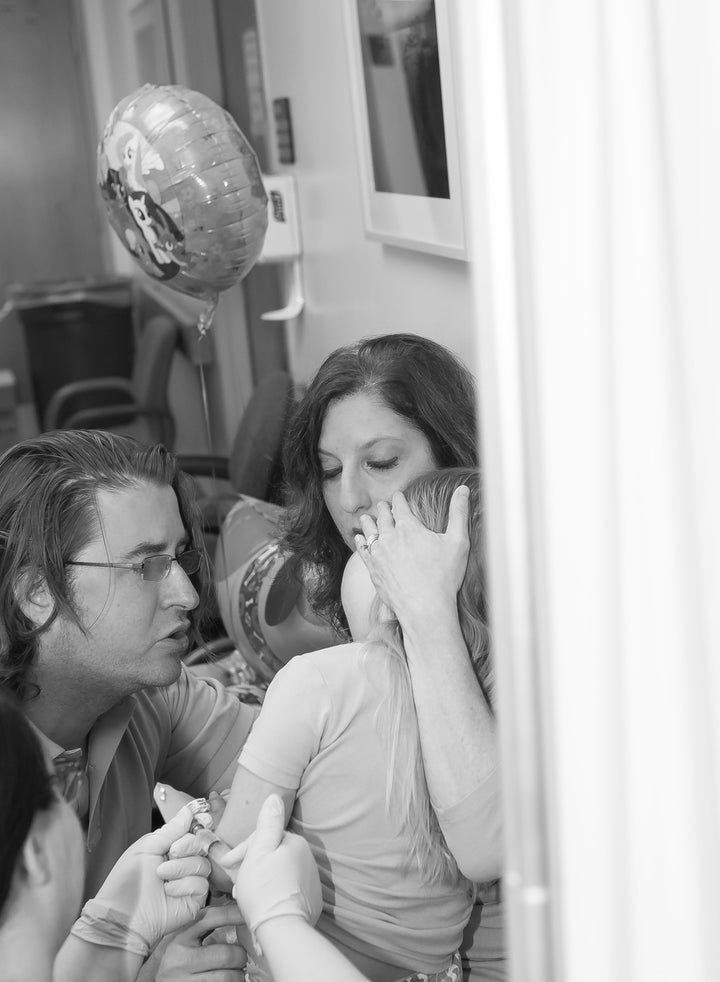 After the family received Phoebe's diagnosis, a friend put them in touch with Stacey Steinberg, a well-known family photographer in the Gainesville, Florida area, where the Dooleys live. Stacey has photographed kids facing heartbreaking medical circumstances for her "Shared Hope Project" and volunteered her services to the family. She photographed Phoebe on May 13 ― the last day of her radiation treatment at University of Florida Health.
"It had been a pretty intense, dark time for us," Cole and Sarah recalled. "We would arrive at the hospital at around 7 a.m. daily for six weeks, she would be sedated and then have her treatment. We started to see improvement towards the end of the six weeks and wanted Stacey to capture the last day of treatment."
By that time, Phoebe had started having energy again and wanted to play. "It seemed every day, we were seeing more of the 'old Phoebe' coming back to us," said the parents. "We felt reassured that we had made the right choice to endure all that we had with radiation because it seemed we would get more time with her ― not just time, but quality time."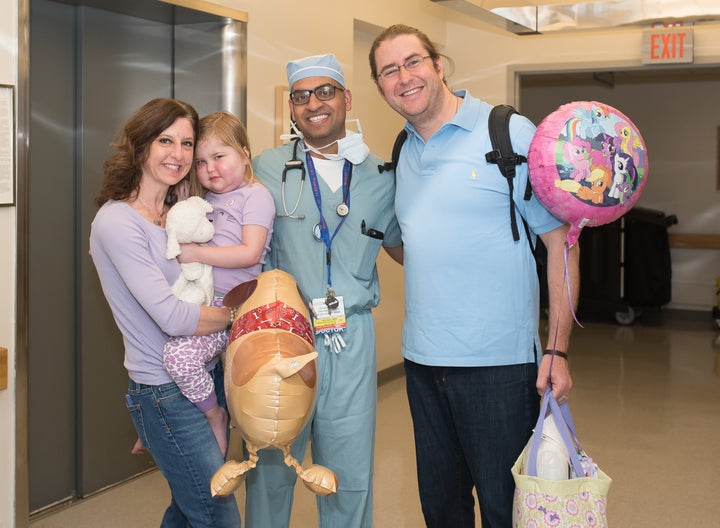 After radiation, Phoebe started a clinical trial at Cincinnati Children's Hospital, where she received an oral chemotherapy drug that targets DIPG tumors. Since June, the Dooleys have been traveling back and forth to Cincinnati for monthly visits.
"We went into this realizing that it would not likely be a cure, but maybe it would slow growth down to allow us more time," Sarah said. Being in Cincinnati comes with the added benefit of being closer to family, as all of their immediate relatives live in the Midwest.
Phoebe continued to improve each day, with her post-radiation scan showing significant tumor shrinkage and her July MRI indicating the tumor was "stable." Over the past two weeks, however, she started showing small signs of change for the worse. An MRI on Sept. 22 confirmed slight tumor growth.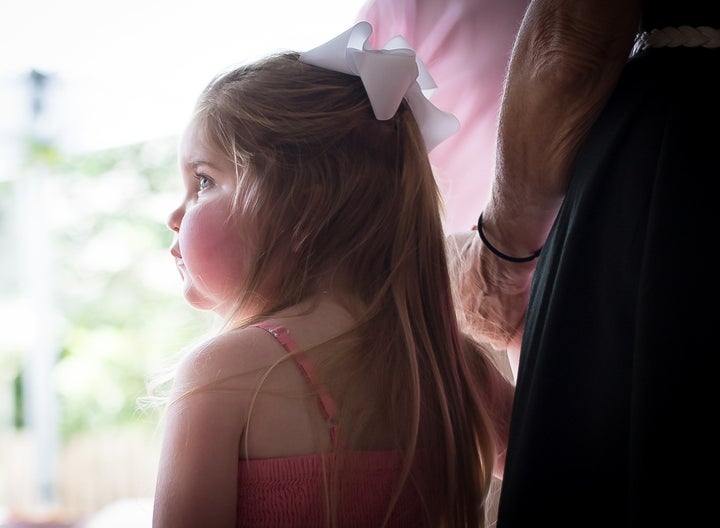 "Although she's still very active, happy, and playful, the news was devastating," Cole said. "We have felt like we are racing against a 'ticking clock', and now it feels even worse knowing the tumor has had some slight growth. We know the statistics are not good."
The Dooleys plan to continue the chemotherapy drug trial as long as they can in hopes of delaying further tumor growth.
Today, Sarah and Cole are on a mission to fight Phoebe's cancer and to raise funds and awareness. They started an organization called Face Kids' Cancer to encourage people to donate.
They want Stacey's photos of Phoebe to play a role in the cause. "We really hope though that people see these and it makes them want to do something, to change something, and commit to it," said the parents. "We hope that Stacey's photos make people aware of this problem and help get pediatric cancer the attention that so many other types of cancers now have."
Each year, approximately 16,000 children in the U.S. are diagnosed with cancer, and an almost 2,000 of those kids die from the disease. It is the leading cause of death by disease for children past infancy. Yet only four percent of federal funding for cancer research is allocated specifically to pediatric cancer.
"Pediatric cancer is not something that people talk about," Cole said. "As we said before, our family story is every family's worst nightmare. People do not want to realize that children can die from disease. So these photos do something invaluable … they get people talking."
The parents also emphasized that no one is immune to the possibility of this devastating diagnosis. "We have tried to do everything 'right,'" Sarah said. "She only eats grass fed beef, organic food and loves fruits and vegetables. We avoided red dye, unhealthy carbohydrates, candy/juice and only give her whole grains. She is one of the healthiest eating children we have ever seen."
Ultimately, the Dooleys said they do not want people to "just get sad" at the sight of Stacey's photos. "A lot of people see these and are paralyzed," Cole said. "I hope people will find a way to get involved, help a family that is struggling, donate to pediatric cancer research."
In fact, they want people to "get really mad." Cole said, "I hope that they see the brave little kids fight these diseases with fewer resources. Frankly, I hope people get mad as hell."
Cole and Sarah also support Stacey's mission to capture some of the beauty in the dark circumstances of cancer. The parents explained:
"We hope they see how strong little kids with illnesses are. We hope they see that little kids that are sick don't let being sick define them. When a sick child is faced with the same circumstances that would make an adult sleep or stay in bed, the kid will keep playing. They are stronger than anyone thinks, and a lot of time they are much wiser than you would normally see in the same age child. We hope that people see Phoebe's strength, her beauty, her grace despite all that is happening."
For her part, Phoebe is still fighting and amazing everyone around her. "Our daughter is very tender-hearted," said Sarah. "When she looks at you, she has a way of looking into your soul. She has a way of capturing the hearts of everyone she meets. She has a beautiful soul and has been a fighter since day one."
Admiring their daughter's strength, the parents added, "We picked the name Phoebe because it means 'radiant light.' It turned out that it fits perfectly."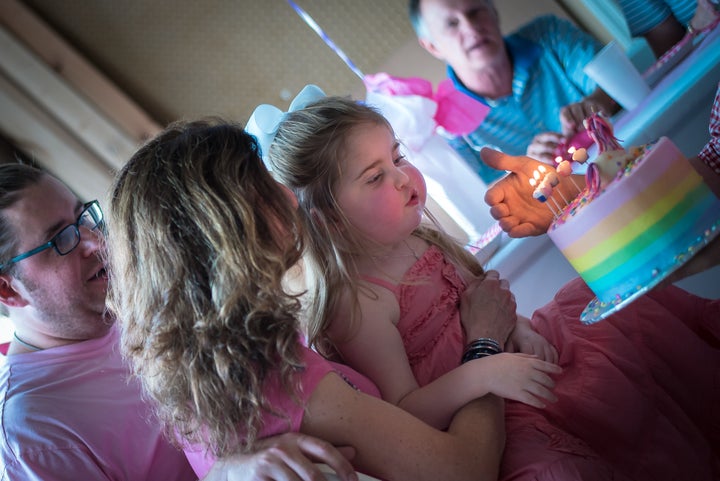 Related
Before You Go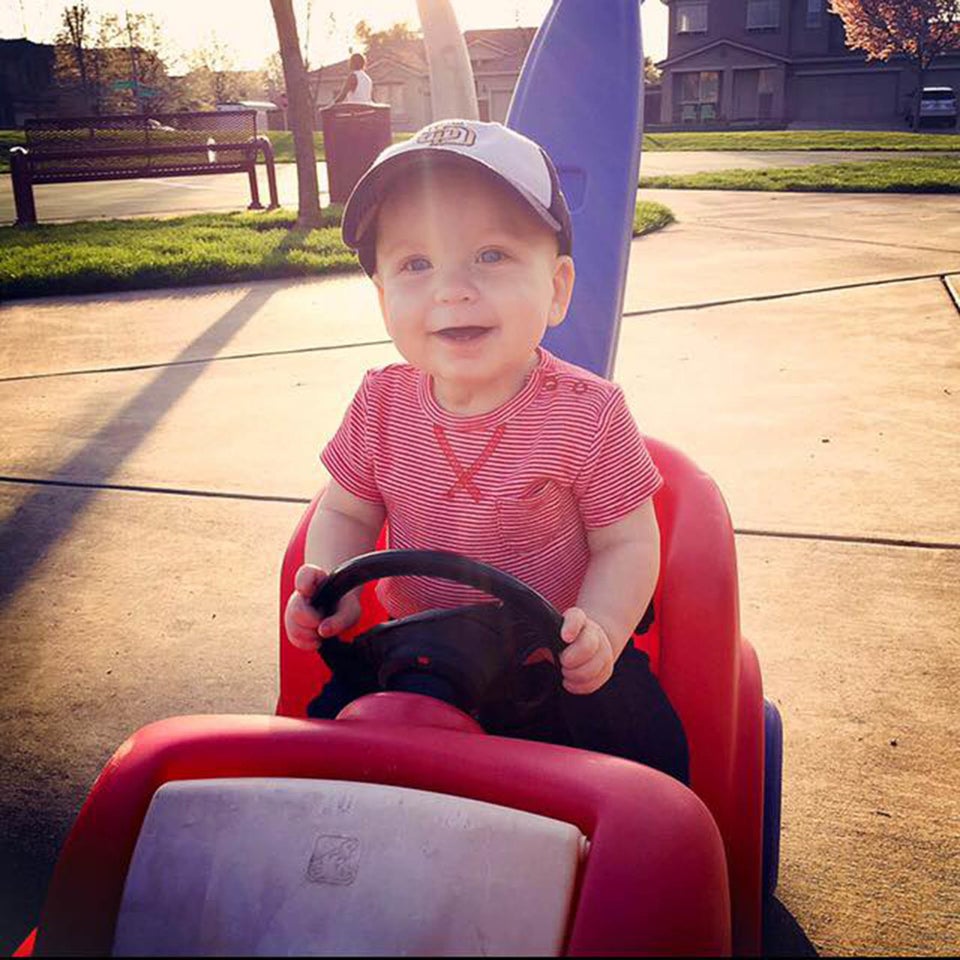 The Faces Of Pediatric Cancer