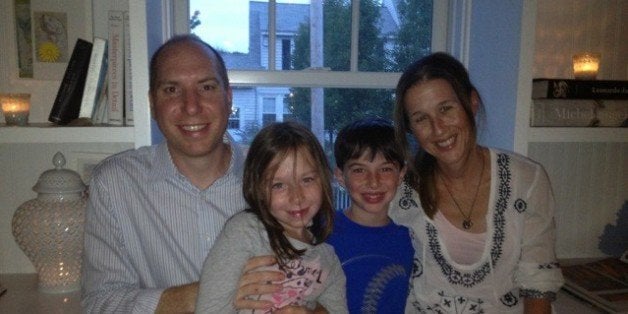 I am a planner. In the days before iCal, I used the Palm Pilot, the Franklin Planner and even the desk calendar that fit neatly onto my blotter. I like to have plans and to see them laid out in front of me. Although my husband doesn't like to make the plans, he has admitted that he is more than happy to have them. And my kids definitely love a full calendar.
"What are we doing today?" I usually hear on a Saturday afternoon -- and that's after a soccer game and a play date. I think we are just naturally social people, and we love to do fun things with our friends and our family. We've always been up for seeing the latest show or movie and trying the new restaurant in town. So, when I update my husband on our latest plans through my iCal, he usually happily confirms it through his iPhone, and our Clouds are in sync.
Yet lately even the Apple geniuses must be confused up in that Cloud. Is it even up? I think more likely it's just everywhere. Our plans are made, and then they are just as quickly broken. There always seems to be something. Kids get sick, babysitters get sick, we get sick, there is too much snow, there is not enough snow, too few kids show up for the game, we forgot how far away the birthday party really was, we forgot where the birthday party actually was, and sometimes, it seems we forgot why we even made the plans at all.
What's taken me by surprise, at least lately, is that I am often pleased when those way too many scheduled-in-advance plans get canceled. They always sound like good ideas when I make them, yet as it gets closer to the time, not so much. It turns out that some of our best plans were not even made. They just happened.
Last winter break, our long-planned family ski vacation was canceled when unseasonably warm temperatures in the Northeast left us with no snow. While staring at our blank calendars, we caught a train into New York City and got last minute tickets for "The Bubble Show" -- a super family fun event that we followed up with by visiting our friends from college who lived in the city. We never get to see them because of our busy schedules, but it just so happened that their plans were canceled too. Not what we planned and if we tried to plan it, I know that it wouldn't have turned out that great.
With the busy fall season upon us and holidays creeping up quickly, it seems everyone is more scheduled than ever. That's why I was pleasantly surprised last Friday night to get a call from a friend wondering what we were doing that night. We had the school bingo night on our calendar for weeks, but my son was begging my husband to go and try out a chicken wing-only restaurant that he had heard about during a football game commercial. Yes, the kid likes wings!
It all fell into place when our friend announced that her husband and boys wanted to join my husband and son and try the wings. My son loves her son and does not get to see him enough with yes, you guessed it, all the crazy schedules and plans. And so, it became a last-minute night of friendship, fun and wings. I could have never planned that one even with all the well in advance good intentions in the world
Perhaps I am putting a new energy out to the universe that is very different from the iCloud-planned universe. Yes, I make the plans, but as we get closer to the actual date, I somehow don't want them to happen, or at least not in the way I planned them to.
I tell myself every so often that I will not become so scheduled, but it's kind of inevitable. So now, as I make the plans, I wait for life to happen and for the Cloud to get confused. Then the unplanned plans neither get made, confirmed or synced. They just are.
Related