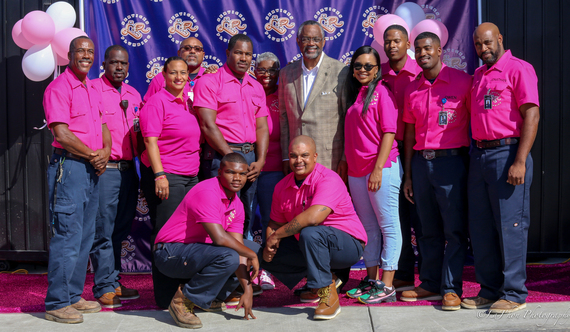 It's pretty safe to say that we all know exactly how our plumber looks. We also know what he does, and what it smells like - as much as we can salute them in their infinite wisdom of all things drains, pipes, stops and water pressure related, it's not like we'll stick around to watch them and get a glance of that money shot - the hairy top quarter of a hairy crack poking from the top of some blue Hagar pants that probably expand at the waist. (I do not know this fact for sure, but just go with it)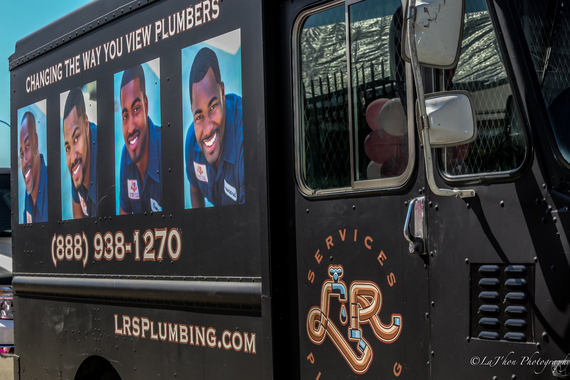 So, what if one of these guys was the plumber that greeted you at the door? That might change the game a little.
What would you do to call one of these guys?
Would you shove an entire meal down your kitchen sink and clog it, change into a sheer leopard print teddy before calling the good guys at LRS Plumbing in LA at 2AM? Yes, folks - this really has happened.
LRS Plumbing, established in 1997, made waves not just for their good customer service and professionalism - but for also being what many of their customers considered to be some serious eye candy.
Here's another reason to love these guys and, more importantly is that they are known for giving so much to their community in a variety of ways.
The local black owned business has committed itself to "changing the way you view plumbers." The company also encourages community empowerment and development in urban communities.
The month of October as we know, is Breast Cancer Awareness month. The family member of an LRS employee, like many others out there, has been affected by this disease - the family at LRS wanted to share in the support of this cause.
"For the month of October, all of our trucks have been decorated with pink ribbons and our uniform shirts have been changed to pink in support of Breast Cancer Awareness." Leonard Redway II, one of the owners of LRS Plumbing along with his brothers.
To further support his efforts, Leonard forged a relationship with a major national organization in the fight for the cause.
"The National Breast Cancer Foundation's mission statement and everything about them fit perfectly with everything that we wanted to do."
The National Breast Cancer Foundation (NBCF) is a recipient of Charity Navigator's highest 4-star rating for eleven years. The organization is known for its early detection, education and support services.
LRS Plumbing is donating 10% of all of its earnings to NBCF along with donations taken at recent community events such as the Taste of Soul family festival, an annual event that's held on Crenshaw Boulevard in Los Angeles. On October 30th, a special gathering will be held at the LRS office in which two breast cancer survivors will be on hand to share their stories with the community. The hope is that the event will encourage more donations to this important cause.
In a recent conversation, Leonard and I took a brief look back at how he and his brothers started their business and how they became synonymous with giving back to the community they serve.
"From the beginning, we had a lot of ideas on what we wanted to do in the community. Obviously, finances take precedence when you're just starting a business." Leonard said.
"We saved some money and put out a calendar," he said. "The intent was to get some buzz and popularity swinging in our direction; something that would set us apart from our competition."
After being featured on The Steve Harvey Morning Show, the awareness of the plumbers that the ladies loved began to spread - this gave the Redway brothers the ability to build on that momentum. That appearance would lead to their first major partnership in the community with the Jenesse Center, an organization dedicated to domestic violence intervention.
All proceeds from the sale of the calendars were donated to the Jenesse Center. Leonard has a clear vision for what he hopes the partnership between LRS Plumbing and NBCF will bring.
"A lot of organizations are trying to find a cure, that's a very good thing - they've been trying for years. I'm learning that the best thing at this point would be to continue to raise awareness of the disease, early detection, mammograms and the different treatments that are available." Leonard said.
Giving for most is an act of kindness, for some it's required; but for LRS - its business as usual. An event specific to their company is held in November and December it's called The Season of Giving. Yes, even though they really give all year.
"We learn so much about the hardships suffered by people in our community. Last year, we were able to help a lady get sufficient heating as well as a new washer and dryer. We try to do as much as we can, there are a lot of people out there who need help."
Calling all HuffPost superfans!
Sign up for membership to become a founding member and help shape HuffPost's next chapter