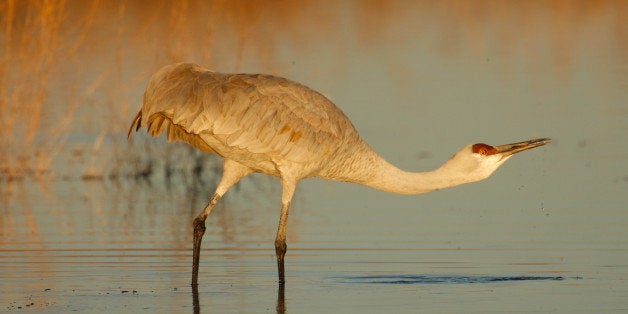 As a former director of the U.S. Fish and Wildlife Service who was responsible for the conservation and stewardship of the entire National Wildlife Refuge System, I am appalled by the illegal armed occupation of Malheur National Wildlife Refuge in southeastern Oregon.
In a blatant attempt to steal public resources for themselves, these extremists are essentially telling the rest of the American public to keep out. These occupiers do not have the "rights" they claim to have over these lands. Rather, federal land management grants the American public privileges to use federal lands and resources. These extremists defy our Constitution and flout our national heritage.
Conservation luminaries such as Theodore Roosevelt, Gifford Pinchot and others set aside federal lands for the American public to use and enjoy instead of ceding them to the country's wealthiest families and large mining, timbering, oil and railroad businesses -- controversial conservation decisions at the time they were made, but ones that have been validated and celebrated by American families ever since.
President Roosevelt eloquently defended his decision to reserve the public domain for the American people in his speech on "The New Nationalism":
Conservation is a great moral issue, for it involves the patriotic duty of insuring the safety and continuance of the nation. Let me add that the health and vitality of our people are at least as well worth conserving as their forests, waters, lands, and minerals, and in this great work the national government must bear a most important part.
The National Wildlife Refuge System was established through Roosevelt's landmark efforts to protect and conserve our nation's wildlife resources for the benefit, use and enjoyment of all. Malheur National Wildlife Refuge in particular, was established in 1908 by Roosevelt because of its critical importance for migratory birds. In addition to being an economic boon to local communities, national wildlife refuges are special places dedicated to the conservation of this country's rich fish and wildlife legacy. The system has grown since Roosevelt's time, to more than 560 refuges, covering over 150 million acres of land and waters in all 50 states, making it the largest network of its kind in the world. Millions of Americans visit national wildlife refuges every year for wildlife viewing and other wildlife dependent recreational activities. Thus, the system's conservation is crucial for us now and for future generations.
Other federal land systems were also established, each with a mission of providing for the American public. The National Park System preserves some of our most cherished landscapes and historic monuments. The National Forest System protects important wildlife habitat, provides spectacular hiking and camping opportunities, and provides food, fiber and clean water to millions of Americans across the country. Similarly, public lands administered by the Bureau of Land Management are increasingly valued for the wildlife and recreational opportunities they offer in addition to economic uses.
Contrary to the virulent claims of the occupiers at Malheur, we are fortunate to share in the inestimable riches of this public domain set aside for all of us. Even where companies and individuals have secured permission to use public resources, they are required to apply through a public process for this privilege. Nobody is allowed to just grab our public lands and resources for themselves.
When public lands are in the midst of this sort of armed and illegal dispute, my first thoughts are for the safety of the dedicated men and women responsible for the management and conservation of those lands. In the case of Malheur, the U.S. Fish and Wildlife Service has a dedicated professional wildlife refuge staff who work tirelessly for the benefit of the American public and the wildlife resources of that refuge. These exemplary public servants are the epitome of President Roosevelt's vision of American conservation and they deserve the respect of a thankful nation and not vitriolic abuse from armed anti-government extremists.
Our great network of public lands and our nation's visionary conservation laws protect a natural bounty and heritage that is the envy of the world. It is the birthright of every American, not just an angry few, to be able to use, conserve, protect and enjoy our public lands. While some may disagree over how best to manage our lands, waters and wildlife, storming a refuge headquarters is never justified and never the answer. I hope the occupation at Malheur ends quickly and peacefully, so that we can all return to our shared responsibility to manage our national commons for the betterment of our country and future generations.