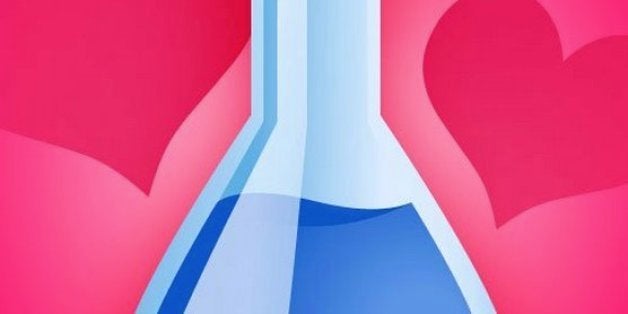 When Ryley Pogensky logs into OkCupid, he's faced with a gender labeling conundrum. If he chooses the category male, he'll only get matched with straight women who might not understand that he's transgender. If he chooses the categories female and gay to access queer matches, he is forced to misgender himself altogether.
"You have trans* men and women having to put their birth gender. It is almost ludicrous to look through profiles and see a trans* man with an F under his name," Pogensky, a social media marketer, said in an email.
Pogensky's experience is a familiar one for any dating website user whose gender or sexuality doesn't fit into the binary categories. As a queer cisgender woman (that means the sex I was assigned at birth matches my gender identity), I've found OkCupid's options marginalizing because I'm can only identify as straight, gay, or bisexual. That's why today, Pogensky is leading a "blackout" of OkCupid to draw attention to the site's limited gender and sexuality options. Participants are replacing their profile photos on the website with a black box, and then logging out for 24 hours, so that us LGBTQ people can use accurate -- and dignified -- labels to identify ourselves and access our appropriate matches.
Compared with other dating sites, OkCupid has been a standout ally to LGBTQ people. The site was among one of the most vocal tech companies to come out against Mozilla for appointing (now former) CEO Brendan Eich because he donated money to the Proposition 8 campaign in 2008. More of my queer-identified friends use it than any other dating website because the options are varied -- just not varied enough. On the website, users can only identify as male or female, and as straight, gay, or bisexual. Last year, Pogensky created a Change.org petition that gathered over 1,000 signatures asking the site to expand its options. OkCupid responded by saying that expanding the options "involves a lot of reworking of the site, because we built it in a pretty binary way," though they "absolutely want to add more gender and orientation options in the future -- it's something we're working towards." That was nearly a year ago. (OkCupid did not respond to a request for comment for this blog post.)
OkCupid is the focus of the boycott because it is among the most progressive and popular sites for queer people and millenials, and could be a trailblazer for other dating websites. "I have made friends around the world using OkCupid and utilize it heavily ... They are clearly the most capable and willing of all of the dating sites to make a change like this. Staying progressive means that you fight and stand up for multiple minorities, not just the ones that will make you popular to investors," Pogensky wrote in an email.
My personal boycott of OkCupid began some months ago when I deleted my account because there is no option to identify as "queer" in addition to bisexual, the terms that most accurately describe my sexuality. (Other incentives to leave, of course, were the tokenizing and perverted messages from couples and men that have nothing to do with OkCupid's policies -- just a few of its unsavory users.) In the grand scheme of problems for LGBTQ people, the options of a dating website might seem like minutia. While our counterparts in places like Uganda and Russia are criminalized, and members of our community are physically attacked in even accepting places like New York City, it's a privilege to focus our ire on a dating website. But, with so much of our lives lived in the digital realm, we are legitimatized when an institution as popular as OkCupid recognizes trans* and non-binary identities and sexualities. That recognition has the power to change the hearts and minds of those who would deny our rights in the physical world.
Homophobia and transphobia outside of the Internet translate into why some LGBTQ people decline to use online dating websites at all. "It is also a danger to trans* people using the site when they may be matched with an intolerant person who does not read profile details or for other reasons is unaware that the "male" or "female" person they are interested in is on the queer spectrum ... LGBTQ violence is a real danger, especially for trans women dating men, and I would hate to think that someone could be hurt or worse," Trey Greene, a transgender man, wrote in an email. Greene said he'd like to participate in the boycott, but hasn't joined OkCupid due to the website's limits.
For singer and trans activist Chase Garrett, coming out in an online dating platform was "tricky." "I had it listed on my about me, but that didn't help because if whoever was interested didn't read my profile, I'd have to disclose my identity again...If people choose not to disclose their genders, that's fine. But for those who want to openly identify, they deserve options too," she wrote in an email.
If adding just a few new categories seems too complicated for programmers, Facebook expanded its gender options in February by adding over 50 new categories for more than one billion monthly users. Pogensky identifies as a Trans* Man on that website; OkCupid could follow. "The thing is OkCupid uses math in order to match people to one another. So allowing that many options would seriously be hard for programmers. Ideally folks would be able to choose Queer under their sexuality and Trans* men and women would be able to identify as such if they wanted to," he said in an email.
Expanding the options would give users the autonomy to choose their identities -- or not. One trans woman (who asked to remain anonymous) who's no longer active on the site said that she "found the sexuality options on OkCupid very limiting. None of the three choices really fit but I chose "bisexual" because it most accurately described my situation," adding in an email that she would "never choose "trans female" as a gender option even if it were available because a) I don't see myself as different from any other women and b) It would likely limit the number of matches I receive (assuming people would be able to filter) and c) it would increase the volume of messages that I already had to deal with from fools, fetishists, or people who are "curious" about hooking up with a trans girl" (you can see some of those messages on her blog).
As if online dating wasn't fraught enough with anxiety over finding and meeting a suitable match, the limited options add another layer of angst.
"For those of us who fall outside of society's gender and sexuality binaries, the leap of faith into the world of online dating can be more daunting than to our heteronormative counterparts -- it is utterly confusing. Identifying as a trans* human being makes choosing "female" or "male" an inadequate description of my gender identity, and my three options for sexual orientation fall even shorter in capturing an accurate snapshot of my life," Hutch, who identifies as genderqueer, wrote in an email.

To participate in the blackout to get OkCupid to expand its gender and sexuality options, just change your profile photo to a black box, logout of the site for the rest of the day, then sign the Change.org petition. And, who knows, you might just find a hot date in the meantime.
*The asterisk after the word "trans" denotes the spectrum of all trans identities.
Popular in the Community