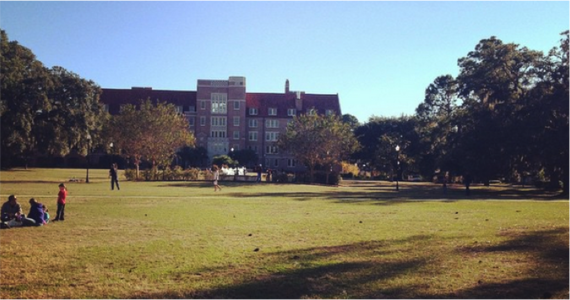 It's been a tough news week for college fraternities in the U.S.
The horrifying video coming out of the University of Oklahoma's Sigma Alpha Epsilon fraternity has put the entire collegiate Greek system under a microscope.
Given the severity of their actions, the scrutiny is justified.
But the intolerance and bigotry on display at SAE is far from representative of the majority of fraternities and sororities on college campuses throughout the country. Bring up the topic to a typical member of the greek life community and you're likely to hear a combination of anger, disgust, and frustration.
Some chapters are letting their actions do the talking and changing the perception of the Greek system.
Take Tom Allen, president of the Alpha Sigma Phi chapter at the University of Michigan. His fraternity recently set out to raise $15,000 for the Autism Alliance of Michigan.
"Fraternities often get a lot of negative attention but not many people realize the immense philanthropic work that fraternity men do and the positive impact that this type of organizational experience has on a college student," says Allen, who oversaw the fundraising for the event.
This was Michigan's annual Winterfest broomball tournament. Broomball, in case you were wondering, is a lot like hockey. It's played on ice, but players wear boots and use a broom to hit (you guessed it) a ball into the goal.
Weeks before the event, the members of Alpha Sigma Phi begin to build a homemade ice rink. They also start raising some serious money.
Using a peer-to-peer fundraising model, fraternity chapters at Michigan set up their own fundraising pages, asking friends, family, and loved ones to donate to the cause. Besides the good feelings that come with donating money to a worthy cause, students have a bit of extra motivation for raising money.
The chapter that raises the most money gets the best bracket for the tournament.
That extra motivation resulted in meeting and exceeding their goal by 134 percent.
Down in Tallahassee, Florida on the campus of Florida State University, members of the Greek community come together to spearhead fundraising efforts for Dance Marathon, an annual 40-hour event that raises money for the Children's Miracle Network.
That event raised over $1.1 million this year.
Jenna Jackson, a member of the Chi Omega sorority at FSU, served as the executive director for Dance Marathon this year. Reaching a million dollars was a goal they've held for a long time, and she takes pride in making it a reality.
But more rewarding than hitting a fundraising goal is seeing the impact of that donation in person.
"Our donation went to the cardiac unit at Shands Children's Hospital," Jackson recalled, "While visiting the facility, we saw a mother crying in the elevator. We asked if she was okay, and she explained that she just got the call that her son would receive a needed heart transplant. The only way he was able to receive the transplant was by being at this cardiac unit that we helped fund."
Jackson expressed her frustration that these types of stories too often don't get the attention that they should.
"Humans can only take so much information, and overgeneralization is an ugly way that information overload is manifested," says Chris Millett, an alumnus of Beta Theta Pi at the University of Louisville.
"It's easy to blame fraternities but erasing the fraternity doesn't erase the problem. Those people still exist and will still flaunt their prejudices, fraternity or not."
"We were always participating and encouraging members to be a part of a blood drive, donate canned goods and clothing, go to this or that event, support this other chapter's philanthropy, participating in routine adopt-a-highway cleanings, and in general promoting a lifestyle of giving."
"You learn behaviors of caring for each other inside the fraternity that eventually generalize into helping others outside your organization. In a world where people are increasingly becoming more egocentric, it is amazing to be a part of a collectivist group that really is built on the success of the whole."
"I think the fraternity came at a crucial and impressionable time in my life when I was able to evaluate what kind of man I wanted to become."
These members of the Greek community are well aware of the public perception, but they also know actions speak louder than words. They let their philanthropy do the talking.
Ben Lamson helps nonprofits raise more money online by fixing bad donation pages, reaching more donors, and making crowdfunding easy.
Popular in the Community