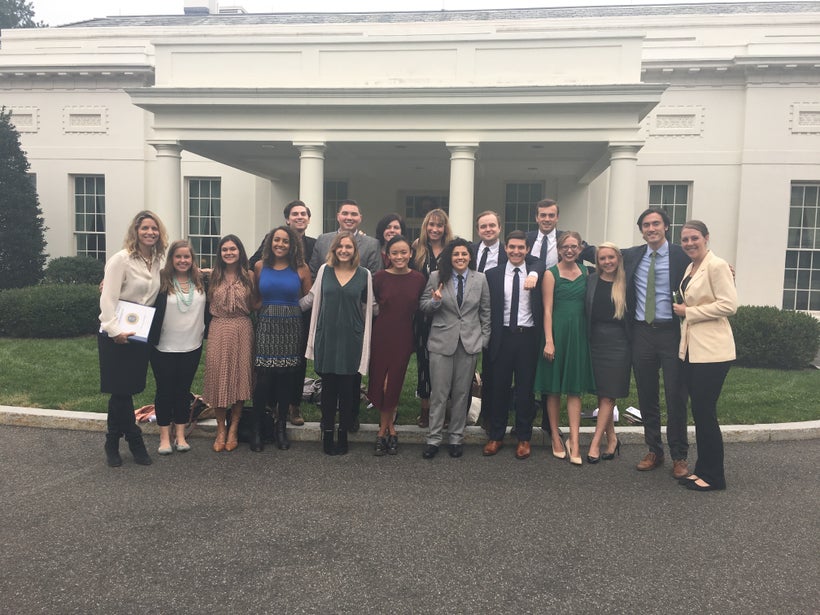 On June 1, 2016, panic swept UCLA's campus as text messages and emails spread the word of a lockdown in effect.
"Students and faculty were warned active shooters were at large on campus and ordered to shelter in place," recalls Tanner Kelly, 23, a senior at the time.
When the dust settled, news of tragedy emerged. A student had fatally shot a professor before turning the gun on himself.
"The incident brought home for me the very real dangers posed by one man with a gun," Kelly says.
That danger is both real and present for college students around the country. Young people are disproportionately affected by gun violence; it's the second leading cause of death for that age group. Yet, in a DoSomething.org survey of people ages 13 to 25, 85% feel silenced in the debate over gun violence prevention.
"We are the future. Millennials are quickly becoming the largest constituency in America. The longer we wait to speak out on the issues that will define our generation, the more lives are lost and the more families broken. We owe it to each other, to our kids, to take a stand while we can." — Tanner Kelly, 23
After the shooting at UCLA, Kelly took action and, weeks later, joined the group of students who lobbied for a gun violence research center in the University of California system. The state invested $5 million, marking the nation's first state-funded research effort to stop gun violence.
Just six months later, on October 7, as part of a DoSomething.org initiative, Kelly was one of the 11 students from around the country invited to the White House's Roosevelt Room, where they spoke with senior officials about gun violence prevention on college campuses. The students shared their personal experience surrounding gun violence and why they're so driven to find a solution.
Twenty-three-year-old Elyse Aviña, a student at the University of Texas (Austin), had jumped to action after the state passed the "campus carry" law, which permitted concealed carry of handguns at public universities. She co-founded Students Against Campus Carry, a group pushing for improvements on gun legislation in the state.
"I knew that I had to do something about this, if not for my own personal safety, then for the safety of my campus community," Aviña said.
Julia Schemmer, 19, took action after the December 2015 shooting in San Bernardino killed 14 and seriously injured 22 others.
"Nobody plans for a tragic event to happen in their hometown," Schemmer, a student at UC Riverside said. "But when the San Bernardino shootings happened only 10 miles away from my university, I immediately became aware of the proximity and frequency of mass shootings happening within my own community. And I was tired of it. It shouldn't be an act of courage to go to school, and we're tired of not feeling safe on our campuses."
Paulette Aniskoff, Director of the White House Office of Public Engagement, called meeting with the students "inspirational."
"One White House official simply said, 'This is why you need to tell your story,'" Kelly recalls, and the room fell silent. "These words spoke power into me, and left me with a renewed sense of purpose and vigor. At that moment, I vowed never to stop telling our story."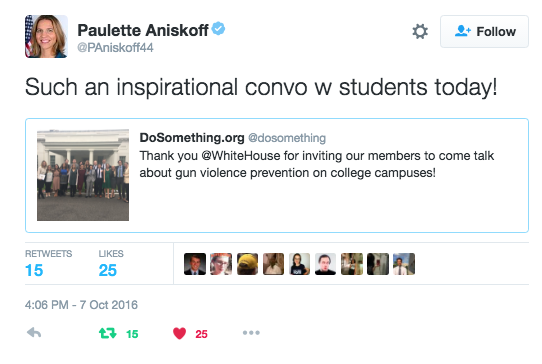 The #GunsOut Campaign
While that bona fide dream team of gun violence prevention activists delivered the message to the White House, they spoke on behalf of tens of thousands of other young people who took action through DoSomething.org's #GunsOut campaign.
In March, DoSomething.org activated 50,516 young people around gun violence prevention. They sent thousands of tweets to their school administrators, urging college presidents to take a public stand and put pressure on lawmakers by signing the official letter against guns on campus. By rolling up their sleeves, young people told colleges that the only guns allowed at school should be the ones they can flex.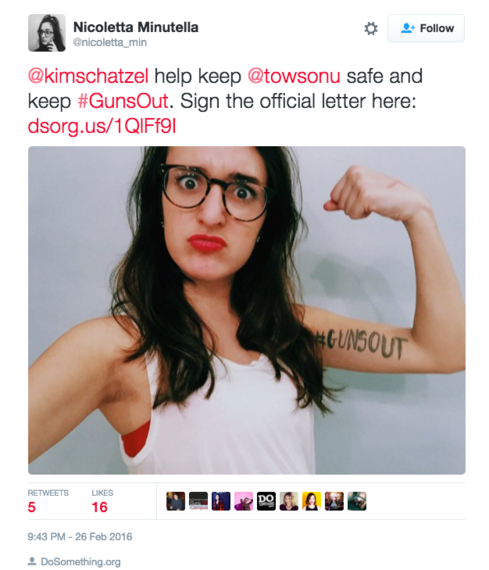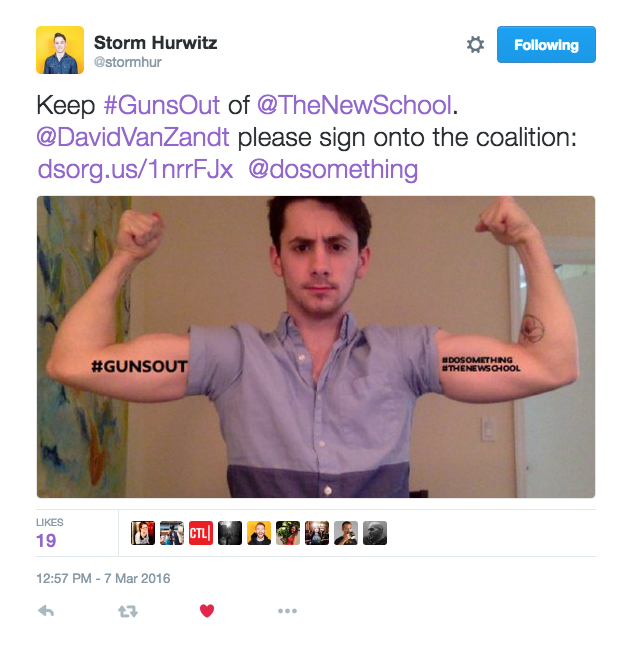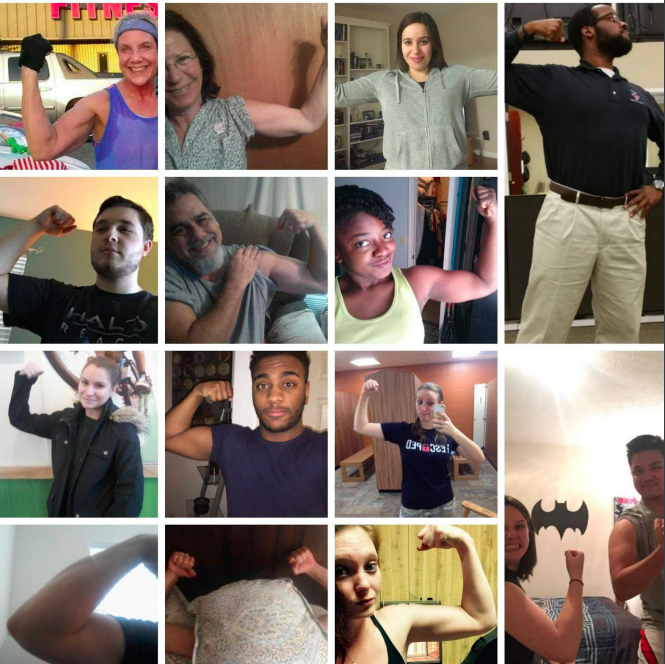 Beyond the social media push, other students published newspaper articles and met with their top school officials, urging their presidents to take a public stand against allowing guns on campus by joining the Keep Guns Off Campus coalition. This coalition has leveraged their platform to combat state legislation that would have allowed guns on campus across the country.
During the six-week-long campaign, five schools joined the 420 that had already signed onto the coalition against firearms on campus. That means 44,000 new students have the support of their president in the movement to end gun violence.
Meet the Student Activists
After their day at the White House, these students, with the support of DoSomething.org, are founding the first national coalition of students against gun violence.
Allison Plattsmier (22), Vanderbilt
A current graduate student in Vanderbilt's Community Development and Action program, Plattsmier rallied 81 students to speak out against gun violence on college campuses. Since then, she received a $1,000 grant to organize a law enforcement appreciation event and awareness campaign, and is now serving on the newly established Community-Oriented Results and Expectations (CORE) committee, a group that will make recommendations to the university's police department regarding safety and security on campus.
Rafi Sands (20), Tanner Kelly (23), and Daniel Siegel (21), UCLA; Julia Schemmer (19), UC Riverside
After the shooting on their campus, these students worked with the group that successfully lobbied for a gun violence research center in the University of California system.
"To many Americans, gun control is a simple black-and-white issue that falls neatly into the political spectrum: one side's success is the other side's loss. But I don't see it that way. There are a million and one creative ways to approach gun control that politicians and community leaders from across the spectrum can agree on, and young people are where these ideas are going to come from." — Rafi Sands, 20
Jessica Jin (25), Elyse Aviña (23), Ana Lucia López (20), Kailey Moore(21), Rosie Zander, University of Texas (Austin)
Jin founded the #CocksNotGlocks movement, which encouraged students to attach large dildos to their backpacks to highlight the hypocrisy of Texas's laws that prohibit public display of sex toys but allow students to carry guns in classrooms.
Aviña co-founded Students Against Campus Carry at UT-Austin. She has been working to create a legislative action group to promote improvements gun legislation in Texas. Her co-founder, Lopez, has testified for professors' rights to prohibit guns from their offices at a UT System Board of Regents meeting, participated as a panelist for a CBS Campus Carry Town Hall, helped organize the Cocks Not Glocks protest, and worked closely with Texas Gun Sense and Moms Demand Action.
Moore attended a Gun Free UT rally at the start of her junior year, and has since helped plan protests and rallies on campus with her fellow activists, while Zander was instrumental in garnering media national media attention around Texas' "campus carry" bill.
"DoSomething has given me the opportunity of a lifetime to have my voice respected and heard by those at the highest level of our government." — Rafi Sands, 20
Thomas Bergamo (19), Western Connecticut State University​
Bergamo is an active change-maker through DoSomething.org and participated in eight social good campaigns last year. He represented DoSomething.org as an ambassador and youth correspondent at the UN Foundation Social Good Summit and Master Class. A dedicated gun violence activist, Bergamo has spoken at campus events and hosted programs to make the issue a priority on campus.
That Day at the White House
Kelly said his time in the Roosevelt Room was empowering and surreal.
"Over the fireplace sat the famous portrait of President Teddy Roosevelt on his horse, and suddenly I could no longer feel my legs," he says. "Here I sat, at the epicenter of power and politics. This is where decisions are made that move the world, and I had a rare peek inside of it. In fact, I was allowed to be a part of it."
Jin, whose Cocks Not Glocks protest received national attention for its buzzy, irreverent stand on gun violence prevention, used humor to ease tension with White House officials, and to prove her point.
"I initially tried my best to avoid saying the words 'dildo' and 'cock'…especially since we were…just outside of the door to the Oval Office, within earshot of the president himself!" she says. "Still, the word 'cock' coming out of all our mouths was rather unavoidable because of the circumstances that brought us to the White House, and I think that just by getting the words out there, we managed to loosen the mood in the room for everyone…[As] soon as you get the discomfort and awkwardness and fear out of the way, you can finally start to talk seriously about how to effect change as activists."
Aviña describes her sense of validation and optimism after the conversation, noting "the receptiveness of President Obama's public engagement staff and the eagerness with which they answered our questions. It was really encouraging to see them so invested in our success against gun violence in our respective states."
What Happens Next
"Our ultimate hope is to take the momentum from our White House meeting and grow it into a national student movement against gun violence across America," says Kelly. "Through the extraordinary convening power of the White House and our partnership with DoSomething, we are now dialed in to a vast network of activists across the country."
"Our work is not possible without the support of DoSomething. I am so thankful to the organization for connecting us with the White House, providing us resources to be equipped for creating change on campus, and getting our message out there." — Julia Schemmer, 19
DoSomething.org Head of Campaigns Michaela Bethune who accompanied the students on their visit, is helping coordinate the first national coalition of students against gun violence.
"Giving 11 of these incredible members a seat at the table where some of the most important decisions are made was more than just symbolic of the fact that their voices were now literally being heard at the highest level," she says. "This conversation marked just the beginning of including and elevating the voices of young people, the voices of those who are most victimized by this epidemic, to not only understand the problem more fully, but to also hear new and refreshing perspectives on the solutions."
Want to join the movement against gun violence on campus? Learn more DoSomething.org's Guns Out: Advocate campaign.
Sarah Kim is the writing intern at DoSomething.org. She is currently a senior at Barnard College studying economics and sociology.
REAL LIFE. REAL NEWS. REAL VOICES.
Help us tell more of the stories that matter from voices that too often remain unheard.
This post was published on the now-closed HuffPost Contributor platform. Contributors control their own work and posted freely to our site. If you need to flag this entry as abusive,
send us an email
.