Canadian birth photographer Kim Brooks has been documenting labor and delivery for many years, but one recent experience was a first for her. On Feb. 11, she photographed a surrogate birth and witnessed one mom give another woman the gift of motherhood.
"Humans are incredible -- we are so unique to other animals that we can give such a gift," Kim told The Huffington Post, adding that the powerful birth experience made her tear up. "Being witness to a woman's gift of surrogacy so another can be a mother is womanhood and humanity like I've never seen before."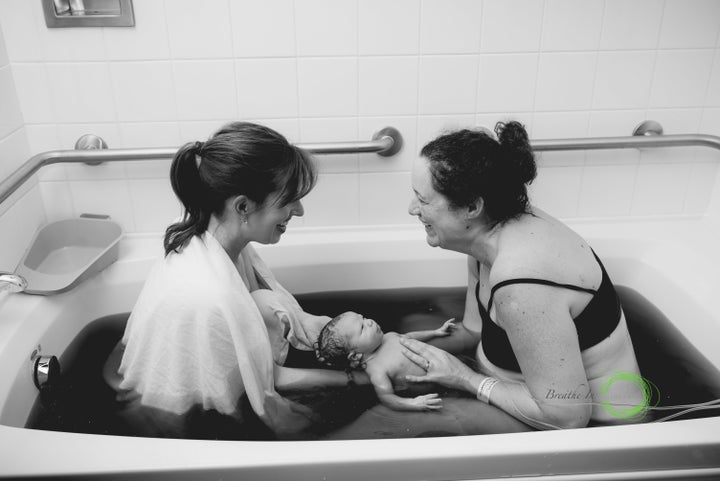 The story behind this birth is certainly emotional.
"When we did eventually decide to try and start a family, we soon discovered that it wasn't going to be as easy as we thought," Heather told HuffPost. After five failed IVF attempts, she and Craig decided they had given it their best shot. With seven frozen embryos remaining, they started looking into surrogacy.
Heather contacted agencies and conducted online research, but she found a frustrating lack of information about surrogacy in Canada and realized it would be a challenge to find a surrogate for her family. Though surrogacy is legal in Canada, the Assisted Human Reproduction Act prohibits prospective parents from paying a surrogate beyond her out-of-pocket expenses.
"I discovered quickly that there are more couples out there with infertility issues looking for surrogates than there are people willing to become a surrogate," Heather said. Discouraged, she mentioned her frustration while talking with a friend on the phone one day. The friend pledged to help her find a surrogate to carry her baby.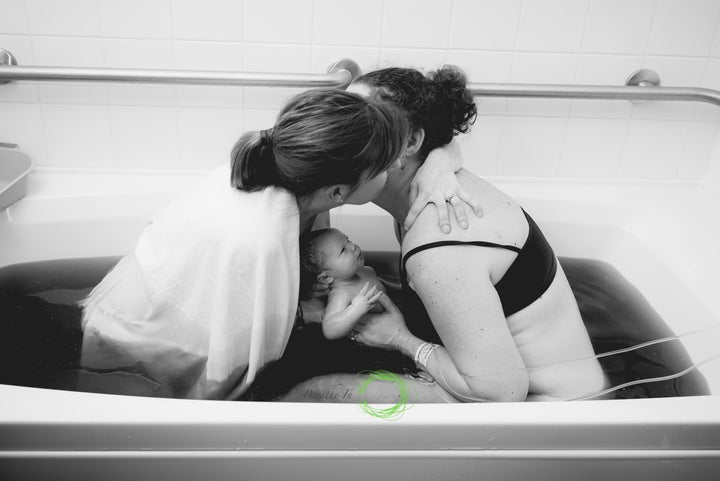 Meanwhile, an Ottawa mom, doula and photographer named Christine Crook had been wanting to become a surrogate since she gave birth to her own daughter 15 years ago.
When she and her husband wanted to start a family, they had no trouble conceiving, Christine told HuffPost. She was very affected, however, by a story she later read about a couple who suffered from infertility and couldn't get pregnant.
"I remember feeling devastated for that family," the mom said. "I felt so very blessed to be a mother and couldn't imagine my life without my baby! I decided that day that I would carry a baby for someone who couldn't. That one year of my life was worth giving someone a lifetime a joy."
In 2013, Christine tried to carry a baby for friends, but after multiple failed IVF attempts, she ultimately had a miscarriage. That couple is currently pursuing international adoption.
Meeting Heather and Craig was "really all meant to be," Christine said. After that first failed surrogacy attempt, Christine shared her experience with a colleague, who was pregnant as a surrogate at the time.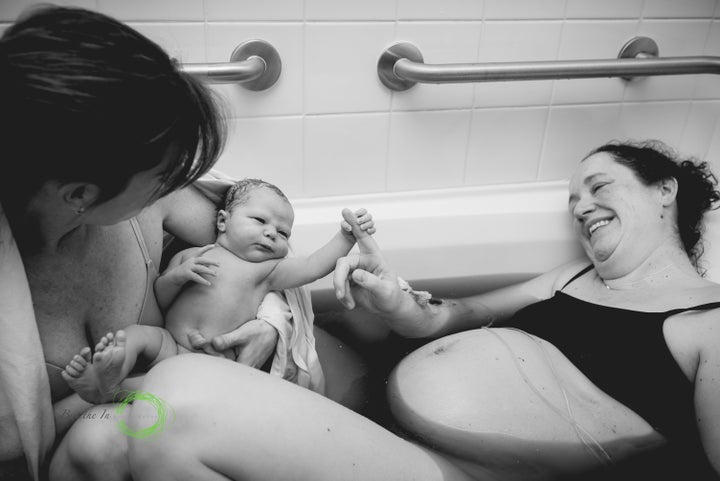 "She asked if I would still consider doing a surrogacy journey, even if it wasn't for 'friends,'" Christine recalled, noting that she told her colleague she would definitely consider it if the opportunity arose.
That same day, Christine's colleague stopped into the store where Heather's friend worked to do some shopping. Heather's friend congratulated the customer on her pregnancy, and she explained that she was a surrogate carrying for another couple. Heather's friend then said she coincidentally knew a couple looking for a surrogate, and the expectant mom replied that she had a friend looking to be a surrogate. The pair exchanged contact information and the rest is history.
Christine successfully became pregnant with the Dunbars' baby girl on the second IVF attempt. When it came time to give birth, Heather and Craig were there by her side. "It was incredibly beautiful and moving," Kim, the birth photographer, recalled. "Christine's elation upon passing over baby to Mom and Dad was the most beautiful thing I've ever seen -- such relief, joy and generosity."
Kim said Christine exclaimed, "I'm so happy she's here, I'm so happy! Your baby is here! Take your baby! Take your baby!"
Heather and Craig named their daughter Clara. "Having her delivered and in her mother's arms was the greatest relief I have ever felt in my life!" Christine said.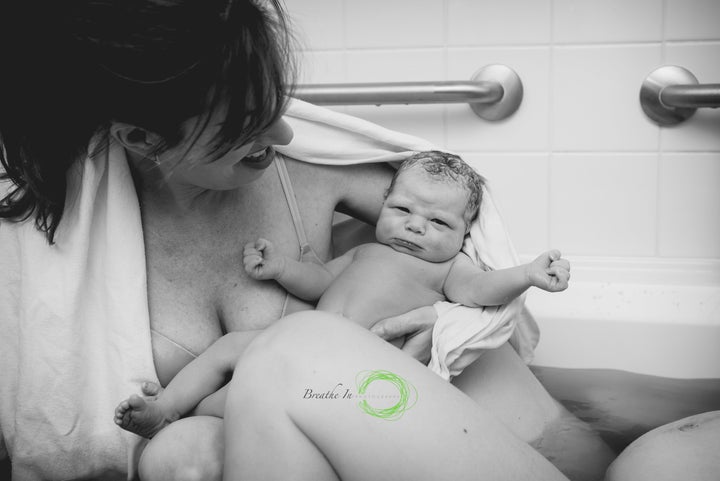 Christine, Heather and Kim all told HuffPost that they hope their story and photos will prompt more awareness and conversation about "the gift" of surrogacy.
"Our notions of motherhood, womanhood, parenthood, family and love can expand and evolve because we are human and there are opportunities like surrogacy," said Kim.
Christine said her surrogacy journey was "one of the most gratifying experiences" of her life. "I want others to know that the gift of surrogacy was worth everything that was endured to get to that moment of birth and handing that baby into her mothers arms," she explained. "If I accomplish nothing else in my lifetime, it's OK ... this was enough!"
Christine also witnessed the skepticism around surrogacy firsthand. "I was surprised by so many peoples' reactions when I told them I would not have any trouble 'giving the baby' to her parents," she said. While she worried the postpartum period might be difficult, it has been smooth sailing so far.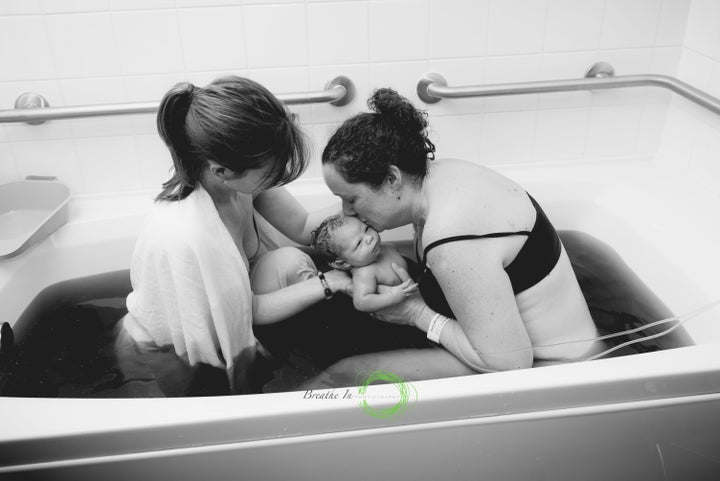 Heather and Craig said they feel incredibly lucky to have met Christine and gone through the surrogacy experience so closely with her.
"Our relationship with Christine is more than we could have asked for, and she made the whole experience a beautiful and joyful one," Heather said. "She is an amazing and selfless person to have gone through this whole process for someone."
Although their surrogacy journey has ended, the mom added that her family will maintain a lifelong connection and friendship with Christine. She will also remain a strong proponent of surrogacy, which she acknowledges can be a "sensitive" and "controversial topic."
"Surrogacy should be a choice available and open to everyone without fear of judgement or repercussion," she said. "I truly hope that these photos convey to people the beautiful and amazing results of a surrogacy journey and that without surrogacy this moment would not have been possible."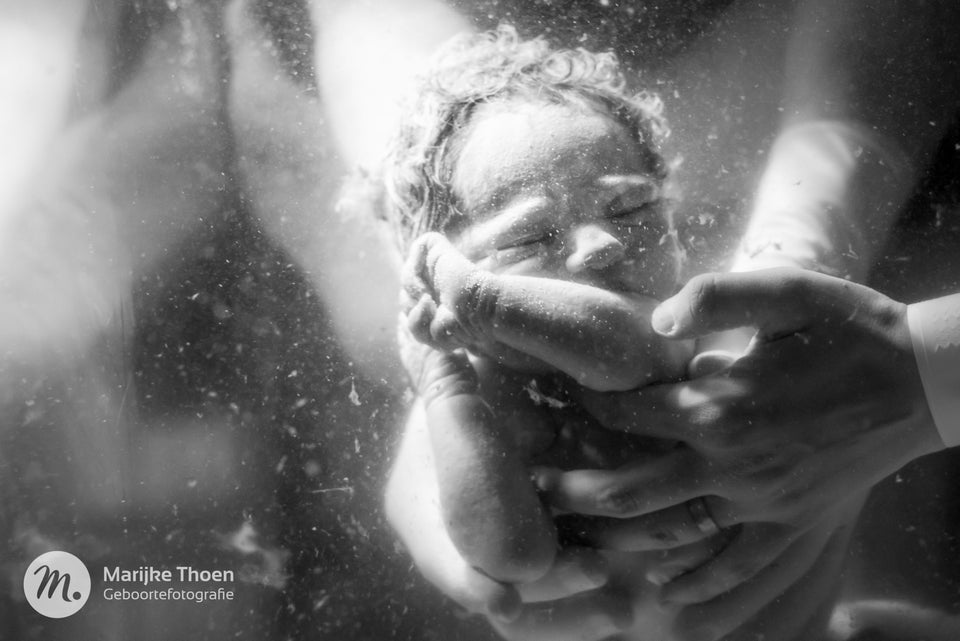 15 Photos That Capture The Beauty Of Birth
Popular in the Community